Canyon Guwang Sukawati Bali
Howdy traveler Canyon Guwang Sukawati Bali has actually been around for a long time, but has only just begun to be exposed to social media and tourism activists in recent years.
Is it a canyon or a canyon?
Canyon is a deep valley with steep cliffs formed by the erosion of river water flow. The canyon is also like deep and narrow valley with very steep slopes.
The spot location for the hidden canyon of Guwang Sukawati Bali is in the flow path Beji River which is located close to Pura Dalem Sukawati, Gianyar Regency, Bali.
Precisely located in the village of Guwang Sukawati close to the Guwang market.
Sukawati guwang market which is famous for its traditional market which of course is no stranger to travelers and to shopping tourism activists.
Location (For more details, a traveler can see location map here).
A Brief History of Guwang Village Beji
Guwang village has many historical relics from famous sculptors, one of which is the Garuda Wisnu statue which is right at the Beji T-junction and Lumbung Temple by Kebo Iwa legend of buwung hill.
While the meaning of the word "Get in"Meaning a shower of water contained in the flow of the Beji River.
The Guwang people, who are famous for their carvings, have no doubts until the first former president of Indonesia Ir. Sukarno also has an MP from guwang named Ida Behind Riti.
Because of his skill in sculpting embossed copper inscriptions, until now no one has matched his skills (source: cakepane. blogspot).
Of course, it is very suitable for tourist travelers with their families to come on a tour of the Guwang Sukawati Bali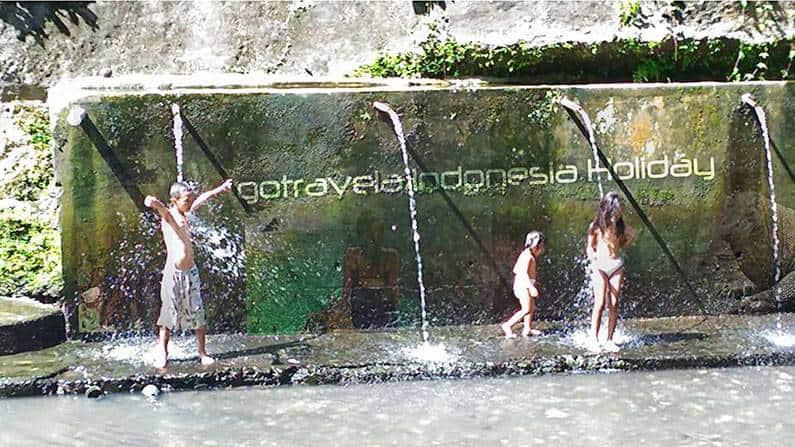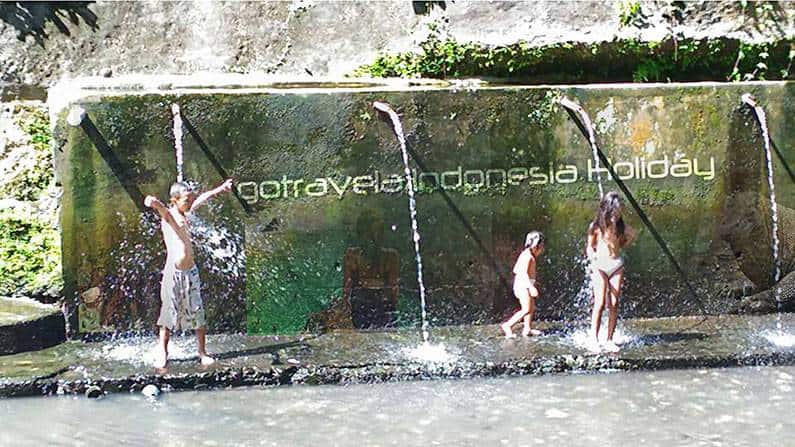 Canyon Guwang Sukawati Bali Ticket Prices
| | |
| --- | --- |
| Category | Entrance ticket |
| Mature | Rp. 10.000/Person |
| Children | Rp. 7.000/Person |
The ticket price does not include local guide tipping – we usually tip 50 thousand. The guide is very helpful and caring for the group.
Disadvantage: it is dangerous for a traveler if not accompanied by a local guide because the conditions and trekking paths are quite steep and slippery.
While the entrance ticket for foreign tourists is different Rp. 7.000 more expensive than local tourist ticket prices.
Access to the Guwang Sukawati Bali Canyon begins with going down the stairs right next to the temple next to the ticket booth.
A row of stairs leads down, a local guide will explain the history of this village and the gorge as well as people's life and culture.
Questions About Canyon Beji Guwang Sukawati
What is Beji Guwang Sukawati Hidden Canyon?
Hidden Canyon Beji Guwang Sukawati is a natural tourist attraction on the island of Bali in the form of a deep and narrow canyon or valley with very steep slopes due to erosion.
How much is the entrance ticket for Canyon Beji Sukawati?
Each domestic tourist is charged Rp. 10.000 (adults) and Rp. 7.000 (children). As for foreign tourists, the ticket price is Rp. 7.000 more expensive.
Where exactly is this tourist attraction located?
Canyon Beji Guwang Sukawati is located on the Guwang River, Sukawati District, Gianyar Regency, approximately 14 km from Denpasar. Travel time is 1 hour by motorbike or 1,5 hours by car.
What is the easiest way to get to the Beji Sukawati canyon?
From Denpasar City, take the Ida Bagus Mantra by pass route — the intersection of Ketewel Village — Jalan Raya Ketewel — Jalan Raya Guwang — Garuda Wisnu Statue in Guwang Village — Dalem Sukawati Temple.

From here, the journey to the next canyon must be taken on foot along the river for 700 meters.
What are some important tips when visiting Beji Guwang Gorge?
1. Wear comfortable sandals and clothes because you will be walking along the Guwang River which is full of slippery stones.
2. For the sake of safety and smooth travel, use the services of a local guide.
3. Should not bring small children under the age of 7 years considering the terrain is quite difficult.
4. Be polite, wear polite clothes, and keep clean because this tourist location is very sacred by local residents.
When is the best time to visit this hidden canyon?
Come during the dry season because at that time, the river flow is not too heavy so it is safe and easy to pass.

Don't come too late because the route back to the parking lot is quite dark and difficult to get to, even though it no longer crosses the river, but is a rice field area.
Adventure begins (Starting Point)
Eng.. Eng.. Eng Canyon Guwang Sukawati Bali Adventure started..!
The terrain and conditions are very challenging through the large and slippery river stones and sometimes even have to climb these big rocks. According to a local guide, these rocks are the remains of the rocks from the eruption of Mount Agung centuries ago.
Every now and then we have to let our feet get wet by crossing the river. Oh yeah... our advice is for travelers to just use sandals but no worries if you already bring your shoes, you can wrap them in a plastic bag and leave them with a local guide to help carry them.
Like the photo below, one of our team is struggling and struggling to climb the cliff walls of the canyon and even jumps from one rock to another.
Because some points of the riverbed are deep enough that they cannot be passed.
We do not recommend bringing small children under 7 years for trekking because it will be very troublesome and quite dangerous for the safety of the child.
But there's no need to worry that children can play and take a shower near the location after going down the stairs.
The farthest distance trekking this canyon is about 700 meters along the Beji tributary on foot.
But if the traveler is unable or tired and wants to end the trekking?! Just talk to the guide assistance and they will take you on the nearest short-trek.
It's a challenging and very beautiful adventure while traveling the Guwang Sukawati Bali river flow.
You will certainly be amazed by the beautiful scenery ranging from high cliffs, large trees that are hundreds of years old and local animals.
Finish Point Beji Sukawati Gorge
At the end of the adventure you will also find the Holy Temple with fresh holy water (spring). You can also use it to rinse after your tiring trekking.
This water shower drains water directly from a spring that appears to the ground.
Dress modestly but simply and relax when visiting this place (Pura Suci) because this area is one of the sacred areas for the people of this Guwang village.
Around our monitoring, there are also many local young people (Balinese), domestic tourists, foreign tourists and several families who visit this beji canyon.
For those who have an adventurous spirit and are used to exploring natural tourism, it will certainly be suitable to like the Canyon Guwang Sukawati Bali destination.
But for beginners and just trying this place, it could be a tiring challenge this time.
You just need to step steadily and carefully and follow the advice of local guides.
Canyon Guwang Sukawati Bali food stall
At the location of this holy water source, there are also sellers of food and drinks ranging from tipak cantok, salad, coca cola, snack snacks to Balinese specialties.
Guwang Sukawati Location Map
The location of Guwang Sukawati is not far, only 1 hour away from Denpasar or Kuta by using motorcycle.
You can also rent a cheap motorbike in Bali with us. It takes 1,5 hours by car, you can also use Cheap Avanza car rental Rp. 199k with us
Thus, we present the Canyon Guwang Sukawati Bali page to all travelers, hopefully this article is useful for readers, when determining your travel plan to Bali Island.
See you in our other articles.
Moral message: Ok, before ending my blog, there is a moral message "Don't forget to bring back your trash, traveler and don't damage it by polluting our beautiful nature."
We thank you if you leave a review trail for us.
Regards – Grace gotravela +6282144448095 Car rental and Indonesian tours.
If you liked this article, then please subscribe to us YouTube Channel for support us in presenting tourist video forward. You can also find us on Instagram or direct to Whats-app me to consult your travel plans.