Are you looking for a vacation destination in Lombok? There are some hidden waterfall in Lombok which can be your choice.
Tourist destinations in Lombok are arguably no less interesting than the very famous Island of the Gods.
Especially now that the Lombok tourism sector is being intensively developed. Curious about the waterfalls in Lombok? Let's discuss one by one.
---
tour operator & content specialist. Before joining gotravela, he spent years honing his skills at 'Tourism Industries Bali.
---
Who does not know the island of Lombok? The natural charm of this island has spread to various parts of the world.
One of the exotic tourist destinations in this country, it has a wealth of natural tourism potential, starting from its beautiful mountains, various types of tourism exotic beach, beautiful sky garden, and also the waterfall which is no less interesting.
Even some people think that tourism in Lombok is more attractive than Bali. Besides Mount Rinjani and beaches, waterfall tours are also a magnet for tourists in Lombok.
List of Lombok's Hidden Waterfalls
Many waterfalls are formed in Lombok because of the geographical condition of the island of Lombok which is composed of many waterfalls Hill, mountain and plateau.
Even when you climb Rinjani, you can find dozens of beautiful waterfalls. Not only that, this waterfall tourist attraction is even spread in West, North, and Central Lombok.
The very large number of waterfalls is an added value for potential destinations nature tourism in Lombok.
Curious about what waterfalls you will encounter? The following is a brief review of some hidden waterfall tours in Lombok.
1. Batara Lenjang Waterfall
The location of this destination is located in Mount Rinjani National Park, Senaru, Bayan, North Lombok. This waterfall is still very natural.
The uniqueness of this waterfall is that it has hot but clear water. Because the location is on the climbing route, to get there you have to go through the Mount Rinjani climbing route.
If you intend to visit the Batara Lenjang waterfall, we recommend that you hire someone as a guide.
You can find it at the entrance or bring your friends who have visited this place for more security.
2. Apeq Stone Waterfall
Batu Apeq Waterfall is also known as Tiu Sampurarung. The location is located in the village of Santong, Kayangan. This location is about 75 km from downtown Mataram.
The water is very clear and comes from Segara Anak Lake. This waterfall is claimed to be the second highest waterfall in West Nusa Tenggara.
The atmosphere is very cool, of course, very suitable for those of you who want to release fatigue. You can also play water and swim here. In addition, camping can also be one of your choices. So, bring adequate equipment.
3. Kerta Gangga Waterfall
The location of this destination is located in Kertaraharja Hamlet, Genggelang, Gangga, this location is about 42 km from Mataram or it takes about 1,5 hours to travel.
This 3-story waterfall has 2 different levels, one at the top while the other two are side by side at the top although one of them is a bit hidden.
For those of you who want to enjoy this waterfall, you are expected to be careful on the way.
The road is quite extreme with high climbs, sharp descents, and winding routes that require you to walk slowly. However, all will be paid off when you get to this waterfall.
4. Tiu Bombong
Located in Sempakoq Hamlet, Santong, Kenyangan, this tourist destination has a waterfall height of up to 60 meters and is like a twin waterfall with 2 waterfall streams that have moderate water discharge.
From the city of Mataram, you will travel for 2 hours.
5. Tiu Teja
The location of this waterfall is close to Tiu Bombong because it is just below it and is still located in the same location.
Teja in the local language means rainbow. If the weather is clear, you can see rainbows. If the rainy season, you will see 2 waterfalls. Meanwhile, during the dry season there is only one waterfall flow.
Tiu Teja still doesn't have a convenient road access. But it will be a fun trip for those of you who like to explore nature. Also make sure you're in good shape.
6. Tiu Pupas
This waterfall has a height of about 50 meters and below it there is a pool with an area of ​​​​about 100 square meters.
The location of Tiu Pupas is in Kerurak, Genggaleng, Gangga, North Lombok. From the city of Mataram, this location is about 70 km.
Access to Tiu Pupas is very easy. You don't need to spend extra energy to enjoy this one waterfall. Surrounded by steep cliffs, this is the Tiu Pupas pool which flows again into a river with its enchanting beauty.
7. Crazy Spring Waterfall
This waterfall is also often called the Sendang Gile Waterfall. From Mataram, the distance is about 60 km, more precisely in the village of Senaru, Bayan. This waterfall consists of 2 levels with 2 pools and has a height of about 32 m.
The journey to this waterfall will be exciting and fun. The atmosphere of the mountains while walking along a small river will make your trip very fresh.
8. Tiu Kelep
Still in North Lombok, Tiu Kelep is perhaps the most famous waterfall in Lombok. the journey to this destination requires you to pass through a tunnel-like path that requires an assistive light such as a flashlight.
This waterfall has a height of about 42 meters. This waterfall has two levels.
The main waterfall with the largest flow of water falls directly down. Meanwhile, the lower level is a smaller stream flowing from the cliffs. They all fall into the same pool.
This pool is perfect for you to use for swimming.
9. Batu Grain Waterfall
This tourist spot is located in Batu Butir, Medas, Gunung Sari. Batu Butir Waterfall consists of 5 waterfalls. Four of them are located close to each other. The first waterfall is about 45 meters high and is hidden behind a hill.
It is not easy to reach this location because you have to use rock climbing equipment. So if you want to visit here, don't forget to have adequate equipment.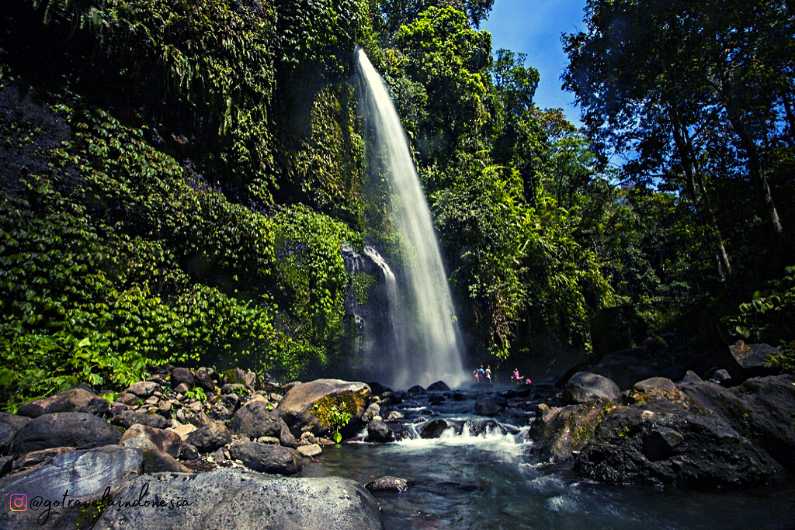 The Tourism Sector in Lombok is Growing
Recently, Lombok tourism has undergone a very rapid transformation. Plus the more open access to explore the interior of this island so that it will make Lombok tourism exploration easier. This includes access to several hidden waterfalls in Lombok.
Mandalika, which is located in Central Lombok, is one of the five super-priority destinations of the Ministry of Tourism in infrastructure completion.
This is aimed at strengthening the promotion of the tourism sector after the tourism industry was hit hard by the COVID-19 pandemic.
In addition, the 2021th series of the 15 MotoGP international event, which will host Mandalika, Praya, Central Lombok, NTB.
This of course will be a very large and profitable opportunity for the tourism sector in Lombok.
This prestigious event, of course, also becomes a boost for the local government in developing and upgrading tourist facilities, access to tourist attractions, and various other things that support this Lombok tourist attraction.
Waterfall attractions in Lombok will certainly have a very large positive impact. Especially considering how many tourists will come before and after this prestigious event is held.
That's a little information about waterfall attractions in Lombok and the development of the tourism sector. Hopefully useful and can add to your insight. Happy holidays to Lombok.