One of the reasons for visiting Gili Trawangan is that there are many of the best natural tourist attractions that you can find here Lombok.
For those of you who are preparing for a vacation but are confused about which tourist attractions you should visit, you must come to Gili Trawangan. Why? This is the reason.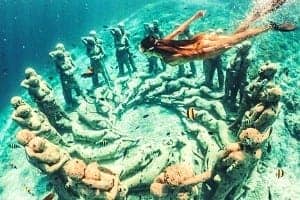 The Exile Gili Trawangan
One of the best reasons why you should travel to Gili Trawangan is The Exile on Gili Trawangan. The Exile is a relaxing place with hammocks and swings provided for guests.
Besides enjoying the rides, you can also get Instagramable photos in this place. The blue sky and the swings and hammock in the middle of the shallow sea make the scenery you are about to take even more impressive.
Besides providing hammock and also the swing at Exile also provides many other interesting photo spots. Starting from photo spots with rural nuances and also other natural scenery.
The Exile itself is a small inn that provides many interesting things for its guests. For those of you who are interested in visiting, you can visit it on the Trawangan Gili Trawangan highway, Lombok NTB.
Gili Air Lagoon Resort Gili Trawangan
One of the reasons why you should visit Gili Trawangan is because you can stay at Gili Air Lagoon Resort.
This tourist spot is one of the most interesting places to stay because it has a circular area with a water-filled center and a place to relax.
You can swim in the swimming pool at Gili Air Lagoon Resort or just relax in front of the inn that you rent. The huts here are made of wood and are directly connected to the swimming pool.
Therefore, if you like swimming you can stay at the resort today. Another thing that is no less interesting is that you can ride a transparent boat to add Instagramable photos while on vacation.
If you are interested, you can come directly to the location, namely Gili Air 83125 Lombok, West Nusa Tenggara.
Serving services rental car and tourist bus di Lombok at rental rates cheap, saving and easy requirements.

Casa Vintage Store
For those of you who like ancient but aesthetic views, you can come to Lombok Gili Trawangan. In this place there is a tourist attraction called Casa Vintage Store. Here you can find many vintage products that can decorate your home or as souvenirs.
In addition to buying vintage items, you can also enjoy the natural beauty and aesthetic vintage decorations at Casa Vintage Store. This is the uniqueness of Casa Vintage Store.
Besides selling these items, Casa Vintage Store also provides a service for you to relax.
One of the most interesting moments from Casa Vintage Store is when you enjoy the sunset with a bonfire. For those of you who are interested in visiting Casa Vintage Store, you can drive from the Gili Trawangan pier for 50 m and get to this Casa Vintage Store.
Pearl Beach Lounge
Pearl Beach Lounge is another reason why you must visit Lombok, West Nusa Tenggara to be precise to Gili Trawangan. This is because this place to eat offers a beautiful beach wrapped in a place to eat.
The Pearl Beach Lounge dining area is made of bamboo with no less delicious dishes. This place offers many delicious dishes so for those of you who come to Lombok to enjoy its culinary delights, this place should be one of the places to visit.
To enjoy culinary At Pearl Beach Lounge you can come to Gili Trawangan Lombok, West Nusa Tenggara. Make sure you also come to the Pearl Beach Lounge from 8 to 10 pm.
Snorkel tour Gili Trawangan
One of the main attractions and reasons for visiting Gili Trawangan offered is snorkeling tours.
Gili Trawangan has many beautiful and interesting snorkeling spots. You can find everything from coral reefs to small fish in this tourist area.
Snorkeling Packages in Lombok | Promo Price for 3 Gili Tour
In addition to the attractive scenery, you can also enjoy time on the beach by looking for marine animals such as starfish, crabs, and sea urchins. There are so many interesting activities that you can find here, therefore you should come to Gili Trawangan for your vacation time.
riding Horses on Gili Trawangan
Another activity that is no less interesting that you can do while traveling to Gili Trawangan is horseback riding on Gili Trawangan. You can ride a horse while on Gili Trawangan beach.
It would be very interesting not to enjoy the beauty of the beach while riding a horse, it's an unforgettable experience, right?
See also:
On Gili Trawangan, you can find not only beautiful scenery. However, you can also do many other tourist activities that will certainly make your holiday experience more satisfying.
Reasons to Visit Gili Trawangan As Your Main Destination.