Bounty Cruises Tickets
Bounty Cruises Bali Tickets (the yellow ship) is one of the best cruise ship vendors in Bali.
Of course, sailing to Nusa Lembongan with Bounty Cruises is a cruises and sailing tour that is combined with watersports and island tours that you should try.
When you are at Bali bali island Don't miss the opportunity to have a full day vacation aboard the Catamaran Bounty Cruises, of course with offers Bounty Cruises Bali 2023 Tickets.
Catamaran cruises Bali (medium size) with a max capacity. 400 people with a speed of up to 35 knots above the water surface, departing from Benoa Harbor Bali Pier I to Pontoon Boat Bounty Cruises tickets on Nusa Lembongan, of course your vacation on the island of Bali will increase to a scene which is definitely memorable..!!
Let's get to know the Bali Bounty Ship
Bounty Cruises Bali with Catamaran Ship / Catamaran Ship is a medium-sized cruises ship made by a ship company called Austal Ships Australia.
With a length of 44 meters and a configuration of 2 hulls or having 2 hulls, this ship is equipped with equipment that meets international safety standards and luxury class services.
The 3 large decks owned by this catamaran make the ship's stability very safe for cross-island and Bali strait trips.
Upper Deck Ship Bounty Cruises
Seat capacity/passenger seat is 121 (Indoor).
Outside seats/passenger seats totaling 89 (Outdoor).
There are facilities Bar / Bar Facility.
2 toilets.
TV & Video movie facilities.
Main Deck Ship Bounty Cruises
Main Deck passenger seat capacity is 214 (Indoor).
Outside seats/passenger seats totaling 66 (Outdoor).
There is a dance floor or dance floor.
There are facilities Bar / Bar Facility.
5 toilets.
TV & Video movie facilities.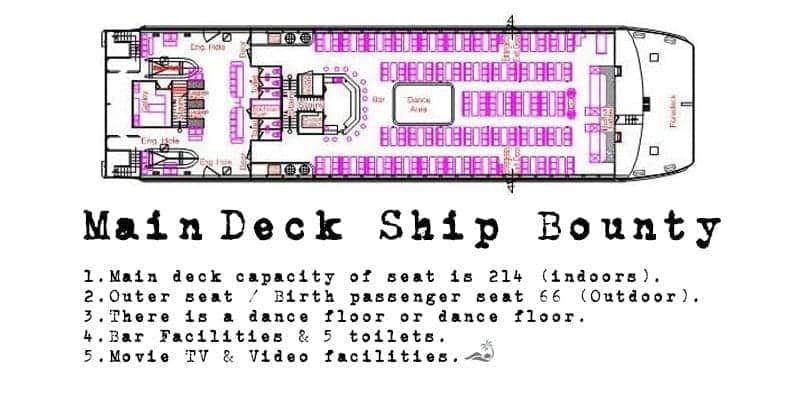 Sunset Deck Ship Bounty Cruises Bali
The passenger seat capacity is 79.
There is a dance floor or dance floor.
There are facilities Bar / Bar Facility.
Bounty Ticket Types & Prices
Bounty Cruises Tickets offers 2 kinds of sailing tour packages, namely:
Fullday Bounty Cruises Nusa Lembongan Package.
Dinner Cruise Packages.
Day Cruises Bounty to Nusa Lembongan

Fullday Cruises Nusa Lembongan is a tour package to Nusa Lembongan with watersport activities and full day Lembongan village tours.
Enjoy all the facilities and activities in the mid-ocean Pontoon near Nusa Lembongan Island, to tour around Lembongan Island and visit seaweed farmers in Nusa Lembongan, get it with the Bounty Cruises ticket price.
These full day cruises are full day exploration activities and spend your time following all the activities the bounty has to offer.
Like; village tours and watersports like snorkeling, aqua board, canoeing, glass bottom boat rides, banana boat, underwater viewing chamber, tour village or tour around the village and have an international buffet lunch on pontoon bounty cruises.
This day cruises program begins with sailing from Benoa Harbor, Bali at 09.30 Am (Morning) and arrived back to the port of Benoa hit 16.00 PM (Afternoon) and this package is one of the best choices for catamaran boat tours in Bali, where you traveler have the opportunity to explore the beauty and fantastic seas and the island of Nusa Lembongan – Bali.
destination: Nusa Lembongan Bali
Duration: 9:00 am – 4:00 pm
Boarding Commences: 8:00 am
Day Cruise Prices
| | |
| --- | --- |
| Day Cruises | On Sale |
| Domestic | Rp. 630.000/Pax |
| | |
| --- | --- |
| Day Cruises | On Sale |
| Overseas | US$. 70/Pax |
Child (3-11 yrs) 65% of adult price
Infant (0-<2 yrs) = FREE (FOC)
(What is prepared and brought in the Bounty Day Cruises program: Swimming costume, Sunscreen & Sunhat, Camera, and money for drinks and optional activities that will be taken there).
Dinner Cruise Packages
Bounty Cruises Ticket Prices together Dinner Cruise Packages is a program where when the moment the sun in Bali sinks or sunset, of course it will always be beautiful to look at, giving a memorable and romantic impression.
The beauty of this sunset will feel more romantic on a luxurious bounty catamaran. This spectacular moment will be complete accompanied by romantic music and dinner with loved ones. The Bounty cruises program in question is "Sunset Dinner Cruises".
Come on, travelers, don't miss this unforgettable moment with gotravelaindonesia.com, and get bounty cruises ticket prices! This ticket promo is the cheapest in Bali.
gotraveladmin
Location at Benoa Bali pier. Sunset Dinner Bali Bounty Cruises from 18:00 am – 20:30 pm. Travelers are better off getting ready 30 minutes in advance as boarding time is set at 17:30 am. During this special moment, Bounty Cruises ticket prices have completed the best facilities such as reception spots, restaurants, toilets/showers and changing rooms.
destination: Benoa Sea
Duration: 18:00 pm – 20:30 pm
Boarding Comments: 17:30 pm
Dinner Cruise Prices
| | |
| --- | --- |
| Dinner Cruises | On Sale |
| Domestic | Rp. 335.000/Pax |
| | |
| --- | --- |
| Dinner Cruises | On Sale |
| Overseas | US$. 37/Pax |
Child (3-11 yrs) 65% of adult price
Infant (0-<2 yrs) = FREE (FOC)
How to order Bounty Cruises Tickets above:
Please send a message via SMS,
Whatsapp
or email to check availability and wait for further confirmation, with Format:
Name : …………..
Number of people : …………..
Package : …………..
Tour Date : …………..
Reservations :
Whatsapp/SMS/Call : +6281999565666 / +6285333399175 (Click the number next to)
Email : gotravela.id@gmail.com

Bounty . Port/Wharf Location
Address: Jalan Wahana Tirta I, Pedungan, Denpasar Sel., South Denpasar, Bali 80112
Source Bounty Cruises Prices 2023
Bounty Cruises is an alternative for your cruises on the island of Bali. With us Go travela Indonesia – Rent a car and tour Indonesia you will get Bali Bounty Cruises ticket prices and feel the fun bounty cruises lembongan, bali bounty cruises, cheap bali bounty cruises, bali bounty cruise promos, bounty cruises package prices, bounty cruise dinner prices, bali bounty cruise tickets, cheap bounty cruise tickets, selling bounty cruise tickets.
We also provide promo packages for water tourism in Bali such as:
Hope page Bounty Cruises Bali this can help you determine the choice of your tour package while in Bali.
Cheers – Grace gotravela +6282144448095 – Bounty Cruises Ticket Promo.