Located in Kalenarogo Village, Southwest Sumba, East Nusa Tenggara (NTT) is Lake Weekuri Sumba.
A unique lake, mainly because of its brackish water, aka a mixture of fresh and salty water.
In recent times, this one brackish lake has begun to attract the attention of visitors and has become one of the attractive natural tourist destinations in NTT.
Curious about the beauty of this lake? Continue reading yes.
---
---
tour operator & content specialist. Before joining Gotravela, he spent years honing his skills at 'Tourism Industries".
Name Weekuri itself is rooted in the Sumba language. woe means water, and kuri means splash. That way, the name Weekuri was given with the meaning of water from the splash of coral that broke into the mainland and formed a lake.
Unique facts about Lake Weekuri Sumba
Lake Weekuri Sumba destination was originally a lagoon and is located near the sea. It's just that, sea water sneaks in through the cracks of the coral clusters around the lagoon area. Not only that, there are still several springs in this lake area.
The result is a natural phenomenon where you can witness for yourself the combination of various colors in one lake. Some are turquoise, some are bright blue.
In addition, there are also areas of the lake with cold water, and in different areas the water is warm. Interesting, right?
The uniqueness because of the origin and color of Lake Weekuri Sumba water may be the main attraction. Even so, its beauty becomes more clearly visible thanks to the line of lush trees that surround the lips of the lake. This view can certainly refresh the eyes and make the mind so relaxed.
Of course your body and mind will come back refreshed after a vacation here. And when you arrive at the lake, you will find a small round wooden house standing on the edge of the lake.
There, you can find shops that offer a variety of Sumba handicrafts such as ikat cloth, root bahar, and traditional bracelets.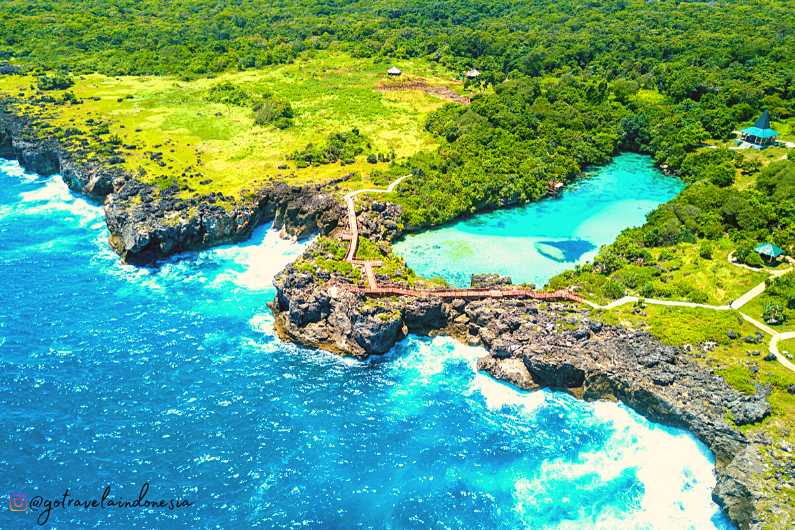 Also check later, guys:
Exploring Caves and Rocks
In the Weekuri Lake area of ​​Sumba, you can also explore the surrounding area, including the rocks on the edge of the lake that form a cave.
This cave is formed naturally. The rows of stalagmites and stalactites that look sturdy and give a touch of exotic nature and certainly cannot be imitated perfectly by humans.
Usually, these natural caves are used by tourists as a temporary stopover for shelter or relaxation, protected from the hot and scorching sun.
Then, you can also spend time enjoying the natural atmosphere on the giant rocks that become a "bridge" for the lake and the sea.
Here, you can also find various types of coral trees, sponges, and succulent plants such as cacti. Take it easy, because these rocks have a safe surface for you to climb on.
Swimming in Weekuri Sumba Lake? Of course, I can
Can you swim in Sumba's Weekuri Lake? Of course you can, because this lake is basically a lagoon. This means that the lake is not too deep, so it is safe for swimming or playing in the water with friends or family.
That way, you can prove for yourself the uniqueness of Lake Weekuri Sumba which has several points with different temperatures, right?
Location And Access To The Lake
To reach Lake Weekuri, you need to cover a distance of about 60 km from Tambolaka, the capital of Southwest Sumba Regency. The road conditions to the lake area are very diverse – some are paved, and some are still rocky.
In addition, you need to rent your own car because there is no public transportation that can reach this tourist area. However, all your efforts will be immediately paid off by its incomparable beauty!
See also:
Don't forget to visit Lake Weekuri Sumba if you are in East Nusa Tenggara. Happy holiday.