Hi travela friends, this time we will discuss Garuda Wisnu Kencana Cultural Park GWK Bali which is one of the myriad of tourist attractions on the island of the gods.
A myriad of tourist attractions in Bali can be found ranging from nature tourism, culinary tourism, educational tours to Balinese cultural tourism which has been worldwide and will never end.
Garuda Wisnu Kencana GWK
There are manifestations of thousands of famous Balinese maestro sculptors you will find in every corner to corner Bali Island / island of the gods.
The blood of art, religion and culture has been flowing for a long time in every blood and vein of the Balinese. Forming a blend of culture and art and stunning beauty that we can see and enjoy to this day.
All the gifts of art and culture on the island of Bali are neatly maintained in the life of the Balinese people.
But there is one place that displays a masterpiece of the largest sculpture that is predicted to be taller than the Statue of Liberty in the United States.
That is an iconic statue of Lord Vishnu riding a Garuda Bird. Garuda Wisnu Kencana Cultural Park or what is often abbreviated as GWK Bali.
Witnessing the splendor of the Garuda Wisnu Kencana Statue GWK Bali at an altitude of 263 meters above sea level.
Garuda Wisnu Kencana Entrance Ticket
Starting from the entrance gate to the cultural park area GWK Culture Park Today, Travela has been presented with the beauty of gardens and buildings as well as exotic garden lighting games.
A large parking lot and a neat and clean ticket booth have been arranged very well and professionally by the developer of the GWK Bali area.
Visitors are required to pay an entrance ticket to enjoy all the beauty of tourism at Garuda Wisnu Kencana GWK.
GWK Ticket Publish Price if you buy directly at GWK are:
On Weekday (Monday Friday) adults are charged Rp. 125.000 per person. But our promo is only Rp. 95.000 per person.
While Weekend (Saturday Sunday) ticket prices can be more expensive.
There is no entry fee for children under 3 years old or Infant.
This GWK Bali ticket is updated on 03 Jan – 31 Mar 2023 prices are subject to change at any time.
Online Price 03 Jan – 31 March 2023
GWK Tickets Only
All Markets | Domestic | Overseas
To go up to the GWK Statue (23rd floor) there is an additional fee IDR 50.000/pax.
And Buggy Ticket Prices IDR 30.000/pax.
Lunch All You Can Eat
Daily Buffet All You Can Eat IDR 160.000/pax ready every day. Minimum order 2 pax (reservation required).
The GWK ticket price above is valid only when you buy it online at gotravela indonesia.
GWK ticket prices above apply flat rate Rp. 95K/Pax (one price for all nationality).
Garuda Wisnu Kencana tickets are updated per date January 03, 2023 to March 31, 2023.
Children under 2 years old/infant/Infant free for free
Operating hours from 09.00 - 18.00 WITA.
Book & confirm please

Whatsapp

to gotravel cs 081999 565 666
Order by filling out the book form GWK Garuda Wisnu Kencana then send via whatsapp. This booking is no later than 1 x 24 hours, we will immediately answer if it is slow to respond.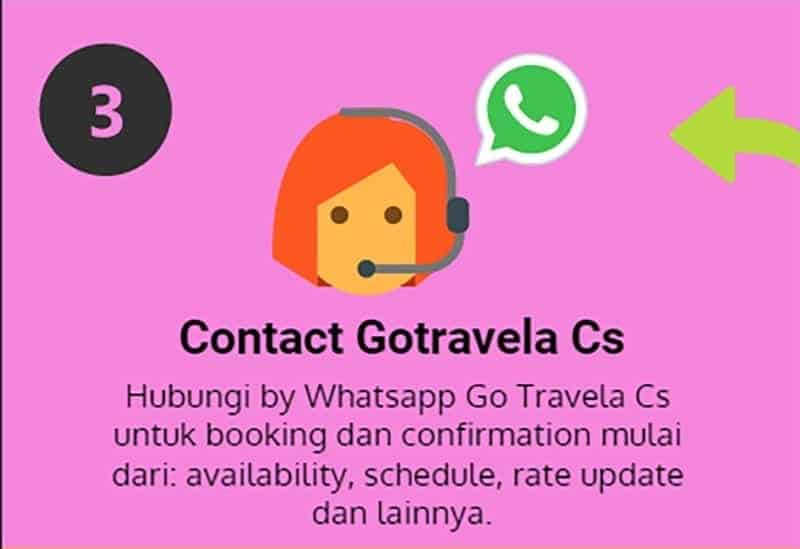 For travel friends who are on vacation with family or group-size and don't want to bother looking for lunch while in GWK, you can choose 2 classy restaurants in the GWK area.
That is GWK Home and Window Bali Resto. Of course with halal, Indonesian & international menus served.
For Jendela Bali Resto, you can re-consult or contact us again for prices and menus.
This tourist spot since November 26, 2021 (pandemic period) is open from 09:00 - 18:00 WITA.
Special for Friday, Saturday and Sunday, GWK is open from 09.00 – 19.00 WITA
GWK Cultural Park Attractions
Garuda Wisnu Kencana GWK is one of the most famous tourist attractions in Bali. This place is always crowded with tourists both from within and outside the country every day.
Many free shows you get
FREE WATCHING BUMBUNG JOGED AT 16.30 WITA
FREE WATCHING NEW GWK KECAK DANCE STARTING AT 18.00 WITA
FREE ENTRY ASANA ARTSEUM 09.00:18.00 – XNUMX:XNUMX
FREE ENTRY TO THE OGOH-OGOH MINI EXHIBITION
As a cultural park, Garuda Wisnu Kencana GWK has a variety of interesting attractions, ranging from enjoying the sunset, watching the Ramayana dance, cultural theater entertainment from morning to evening and of course the magnificent Garuda Wisnu Kencana statue.
Many tourists say, GWK Garuda Wisnu Kencana, one of the best tourist attraction in Bali that must be visited.
Curious? Let's look at the following Garuda Wisnu Kencana review.
GWK Bali Location
GWK Cultural Park Bali having its address at Jalan Raya Uluwatu, Ungasan Village, South Kuta, Badung Regency, Bali. If from Ngurah Rai airport ride a motorbike (motorbike rental in bali), you should travel about 15 to 20 minutes if the traffic is smooth.
If you don't know the location, you can also use google map or Car Rental in Bali and the driver and asked the driver to deliver directly to the location.
For group size, read also
The choice of car rental is more practical because usually this cultural park is always crowded by visitors and must find a parking location far from the entrance counter.
If you rent a car and driver, when you get there you are immediately dropped off at the counter. So no need to bother looking for and parking your car.
Attractions & Shows
It must have crossed your mind, what the heck can be found there?
2 Things you can meet and enjoy in this GWK cultural park, namely enjoying cultural performances & attractions. And secondly, enjoy the newest tallest statue in the world for your hunting 'Istagrammable' spots.
Alfonso Giostanov
Cultural show
Even though it has a main menu of a giant Garuda Wisnu statue, in the GWK area you can also enjoy various cultural performances at various facilities such as:
Tari barong & Kris at the Amphitheater
Balinese Dance at the Amphitheater
Rindik Instruments at Jendela Bali
Garuda Wisnu Ballet at the Amphitheater
Balinese Barong, Monkey, Rangda Dance at the Amphitheater
Balinese Cultural Parade at Lotus Pond . Street Theater
Joged Bumbung Dance at Street Theatre
And acoustic music performance by Trio Acoustic
GWK is also one of the places where tourists can watch the Kecak dance performances on the island of the gods Kecak dance in Uluwatu.
The Kecak dance performance opened with a parade of Kecak Dancers at the Lotus Pond Street Theater, then continued with a dance performance Kecak at the Amphitheater.
In addition to cultural performances, here is also a place to enjoy a beautiful sunset.
GWK Bali Sculpture History
The GWK cultural park has various attractions, but the main dish is the Garuda Wisnu statue.
This statue is very majestic and tall and is suitable as a place to take pictures. To find out more about this statue, let's look at the facts about the GWK statue.
statue height
This statue was built and carved by maestro I Nyoman Nuarta and is planned to be 120 meters high and 60 meters wide which makes it taller than the Statue of Liberty in America.
Of course when this statue is completed, the people of Bali in particular and Indonesia in general will be very proud of the splendor of this statue.
Development since 1992
The idea for the construction of the Garuda Wisnu statue began in 1990, and was initiated in 1992 by the Garuda Wisnu Kencana GWK Foundation. However, in 1997, development was hampered by the monetary crisis.
So more or less the construction of this statue took 28 years. Thanks to the hard work of the parties involved, this statue was completed in 2018 to be exact on September 26.
It was inaugurated by the 7th President of the Republic of Indonesia, Mr. Joko Widodo, in the GWK Cultural Park area.
The purpose of building this giant statue is not for Hindu religion, but to give Indonesia a new icon, namely a landmark that is well-known to foreign countries.
In addition, carved with Balinese sculpture, GWK will indirectly promote Balinese culture.
Two years to find the location
With that size and height, of course, the right location is needed, moreover this statue will become a proud landmark of Bali.
After the concept of the statue was completed, it took approximately 2 years to find the right location.
The current location of GWK Cultural Park was previously a wild limestone quarry that had been abandoned in a bad condition and no plants were able to live due to the lack of top soil.
In 1990, the development was carried out by involving the Minister of Tourism (Ministry of Tourism) at that time Mr. Joop Ave (late) Development Cabinet VI.
And the Governor of Bali Ida Bagus Oka (late) to start the Garuda Wisnu Kencana project and in 1993 the 2nd President of the Republic of Indonesia Suharto gave his blessing to the artist Nyoman Nuarta to make the GWK statue.
Purchased by PT Alam Sutera Reality Indonesia
After finding the location, construction began. However, in 2013, the ownership of GWK underwent a change.
PT Alam Sutera Realty Indonesia which is a well-known property development company in Indonesia that bought ownership from GWK Bali.
Targeted for completion in August 2018
The Garuda Wisnu Kencana GWK statue which has been made since 1992 is planned to be completed in August or September 2018.
However, according to I Nyoman Nuarta, the sculptor, he is optimistic that the statue of GWK will be completed before August 17 as a sweet and proud gift in welcoming the independence day of the Republic of Indonesia.
This rapid development is being encouraged by the government, which wants to make GWK a venue for the IMF-World Bank meeting in October.
Consists of 754 modules
With a very large size, the Garuda Wisnu statue was built by combining the modules that make up the statue consisting of 754 modules. As of 19 May 2018, 510 modules have been installed.
On May 13 2018, the head of the GWK statue was installed using a crane. This mounted head weighs 4 tons.
Then on the 20th, Vishnu's crown will be installed in a GWK grand pasupati event. Up to now, only 70% of the modules have been installed.
The steel frame supporting the multiple modules has been completed since February 2018.
Then from May to July 2018, the module was installed every day, if the weather allowed.
So if you visit the GWK cultural park, you will see the process of installing the Garuda Wisnu statue module, of course from a safe distance.
Has a green color
During its construction, the statue Garuda Wisnu Kencana GWK appears green. Many think that the color is because it was painted.
But it turns out that the green color is the result of corrosion of the module plate made of copper and brass.
Inauguration and Opening Ceremony
With a target for completion in August 2018 but finally the inauguration fell in September 2018. The opening ceremony as well as the inauguration of the statue Garuda Wisnu Kencana GWK has been carefully prepared and spectacular event.
According to I Nyoman Nuarta, in the opening ceremony there will be dance performances, and a parade that will be held from afternoon to evening.
In addition, there will be a video mapping of the process of building the statue and turning on special lighting.
The opening ceremony was also attended by the President of the Republic of Indonesia, Mr. Jokowi.
That's complete information about the attraction of GWK Bali that you can enjoy.
Thus, we created this site page, hopefully this information will be useful for travelers who want to visit Garuda Wisnu Kencana GWK Bali.
Besides being able to watch cultural performances, you can also spot tourist spots around the completed Garuda Wisnu.
Greetings Tourism
Alfonso Giostanov 0853333 99175 | Garuda Wisnu Kencana GWK Bali.