Geger Sawangan Beach Bali, one of the tourist spots in Bali which offers dazzling beauty.
Charming white sand that sparkles like pearls when the sun shines.
Wandering around the beach riding a Camel? You have to try it on this beach.
---
Spvr Tour Operator at Go travela. She loves to travel and write topics on potential destinations in the archipelago.
---
Bali is one of the tourist destinations that seems to keep a giant magnet that continues to attract tourists to keep coming and never feel bored.
The beauty given by each tourist spot will not make tourists disappointed because they have come to visit there. One of the interesting destinations to visit is Geger Sawangan Beach Bali.
Geger Sawangan Beach Bali has white sand which when exposed to sunlight will sparkle and you don't get this on other beach tours.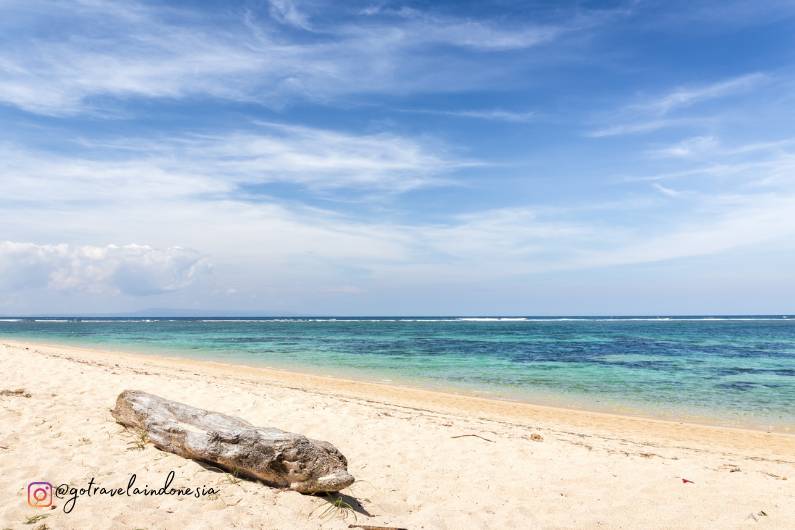 Location of Geger Sawangan Beach
The location of this beach is in Sawangan Village, Nusa Dua. If taken from I Gusti Ngurah Rai International Airport, the journey takes about 30 minutes. Then from the airport take the direction to Nusa Dua.
If you have arrived at the intersection of the Nusa Dua gate area, turn right to the South Nusa Dua area. Don't take the wrong turn because if you turn left you will pass Primary road to Tanjung Benoa the center of the game watersports in Bali.
This beach is located about 3 km after the BTDC area and access to enter there is a choice of two roads. For the first road before the Mulia Bali hotel and the other entering after the Mulia hotel.
If you are a hotel guest, you will have easier access because there is a private beach in the hotel area.
Beach Attractions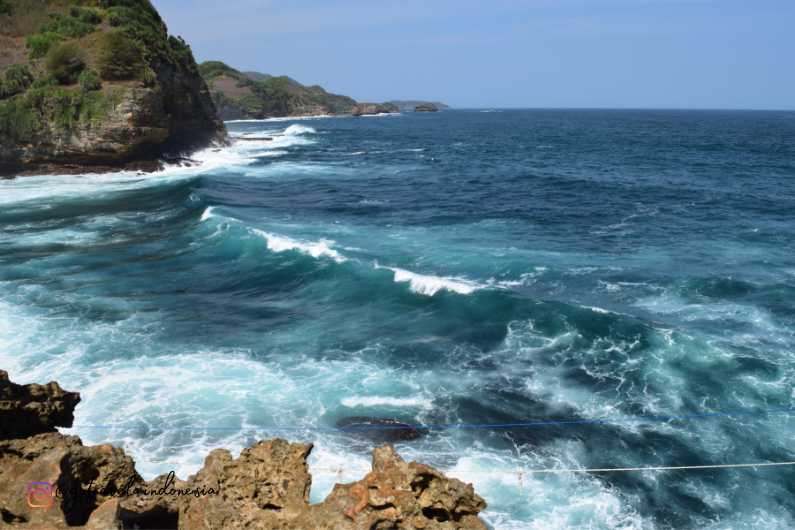 When you arrive at the location, you will see a temple called Pura Dalem Geger. The beauty of Geger Sawangan Beach can look very charming if you enjoy it from a height through this temple.
If you want to go to the beach, you can walk a little longer. On the north coast, you will find Mulia hotel's private beach.
Meanwhile, if you walk to the south, you will go to a beach with natural coral decorations. Beautiful and charming scenery awaits you at Geger Sawangan Beach.
The calm and peaceful atmosphere is the main attraction for tourists who want to really unwind with a vacation.
Calm and shallow waves make this beach always the choice of tourists who come with their children. Exactly located in front of the Bali Nikko hotel which is still part of the South Kuta area.
Another thing that really makes you feel at home on this beach is the beach area which is really clean because there are so many cleaners who keep the beach clean.
There are so many things you can do on this beach. For example, taking a walk to enjoy the beauty of the beach with a calm atmosphere, sunbathing, swimming, and playing Kanano.
Characteristics of Geger Sawangan Beach
Geger Sawangan Beach has characteristics that other beach tourism may not have. That is you can enjoy the beauty of this beach while riding a camel around.
Yep, you can find a camel which is a typical desert animal on this beach. Unique right?
In addition, on this beach you can also find seaweed farmers. This adds a natural feel to this beach even though it is flanked by luxurious resorts.
You can see farmers harvesting their cultivated seaweed. Of course this is a separate entertainment for you.
Seaweed cultivation at Geger Sawangan Beach is also an indication of a beach environment that is still very well maintained.
It is very rare to find residents around luxury resorts who still carry out traditional activities. You can find this kind of atmosphere at Geger Sawangan Beach.
If you are satisfied with enjoying the natural beauty of Geger Sawangan Beach, you can also continue your tour to Sawangan Beach to see the beauty and other uniqueness of this beach.
Bali is indeed a very satisfying place to be a tourist destination. All fatigue will disappear and you will be ready to return to a busy activity. Not only that, you will also get unforgettable memories if you vacation on this island.
See also:
That's a little information about Geger Sawangan Beach which has natural beauty with all its tranquility. Hopefully useful and happy holidays.