Bali Apv Rental Prices with Go Travela Indonesia explore the island of the gods with the best MPV in its class – rent an apv car in Bali.
Suzuki APV Arena Bali Car Rental It will definitely be very fun while on vacation to the island of Bali with your best friend, beloved girlfriend or with family.
Apv rental Bali
Visiting the cool and favorite tourist destination spots on the island of Bali, of course the time we have will not be enough.
But all of that will be answered when your vacation time is long to really be able to explore every corner of the island of Bali.
Leave has arrived, it means holidays have arrived, let's spend your time off and get the best Bali APV rental prices with gotravela!!
gotravel admin
Right now, my travel buddy is right on the apv rental price page in Bali with us, gotravela, which is one of the services Car Rental in Bali best and reliable.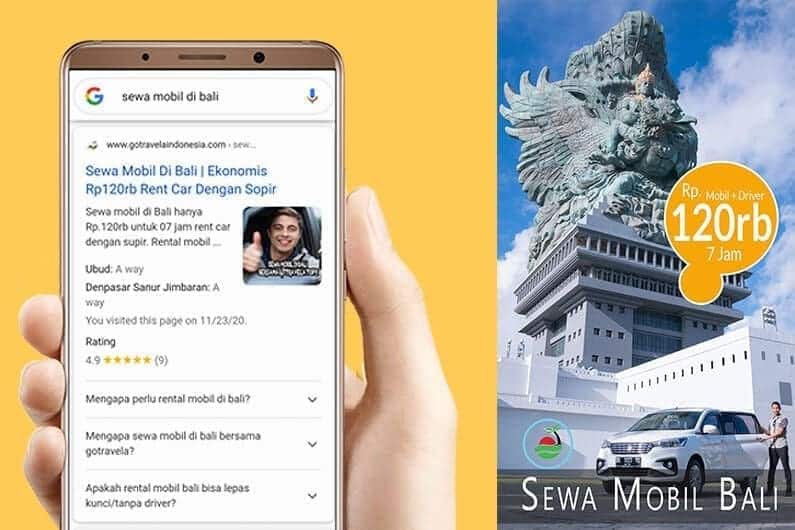 It's as if Bali never runs out of surprises with its beautiful beach magnets, its passionate nightlife and its culture which is full of ancestral spiritual culture.
Rental Price
Price Promo for Rent Suzuki APV Arena 12 Hours
Apv Unlock:
Rp. 225.000,-/24 Hours
Apv Rental + Driver Service + BBM:
Rp. 400.000,-/12 Hours
Bali apv car rental price What we have listed includes Jasa Raharja insurance for the car. In order to ensure each of our customers feel safe and comfortable during the holidays.
For more details about Terms and Conditions car rental please read again!.
Office: +62 361 4754 416
email: gotravela.id@gmail.com
WhatsApp Hours: 09 AM to 09 PM – +6281999 565 666
7 Hours Promo Car Rental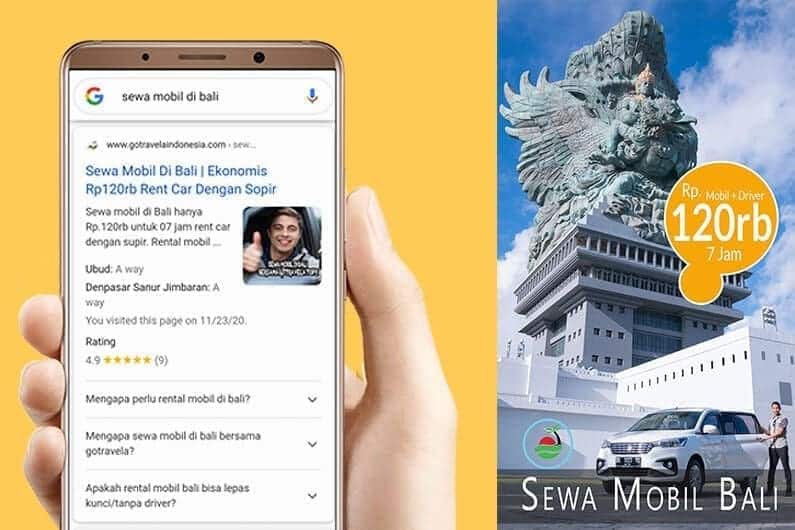 1 day package : Car Rental + Driver 1 day (Max 7 Hours/Day)
Price: IDR. 120.000 (Normal Price IDR 450.000)
Using car+driver maximum 7 hours/day
Extra Time : 35.000 / Hour
Tipping is mandatory (give directly to the driver) IDR 50.000
2 day package : Car Rental + Driver 2 day (Max 7 Hours/Day)
Price: IDR. 230.000 (Normal Price IDR 850.000)
Using car+driver maximum 2x (7 hours/day) time cannot Accumulate
Extra Time : 35.000 / Hour
Tipping is mandatory (give directly to the driver) IDR 90.000
PICK UP & DROP:
Tuban, Legian, Sunset Road, Seminyak, Kerobokan, Petitenget, Batu Belig, Canggu, Gatsu and Denpasar areas.
For hotel areas outside the area, please confirm with us again.
NOT INCLUDED:
Fuel, parking tickets, entrance tickets to tourist attractions, tolls and other personal needs.
ADDITIONAL COST:
IDR 30.000/hour if more than 7 hours/day
Tipping is mandatory (give directly to the driver) IDR 50.000 for 1 Day Promo and IDR 90.000 for 2 Days Promo.
PROVISION:
The type of car we use is AVANZA, APV, XENIA, BRIO with AC ( which was available at that time).
Promo Voucher valid until the date 15 Sept 2024
Minimum reservation 7 days prior to arrival.
1 Car maximum 6 people including driver for Avansa and Xenia
The voucher includes tax & service
Reservation to:
Book hours: 09Am – 09Pm | +6281999565666
email: gotravela.id@gmail.com
No pets allowed.
Not for tours to the Jembrana, Singaraja, Karangasem areas.
PAYMENT SYSTEM
For certainty, you need to transfer a minimum deposit of IDR 100.000 through BCA or Mandiri Gotravela.
You can make the remaining payment at the time of pick-up.
Airport Transfers
By using this private transfer shuttle, it makes it easier for travelers to order when they arrive at the airport. Our team will pick up the traveler and include your name signboard in the pick-up zone.
Kind of car: Avanza, Xenia, Brio and Apv
Includes: Car, Gasoline and Driver Unit (one drop transfer).
Transfers
Hard
Rate
Kuta
Seminyak
Kerobokan
By the way
Rp. 110.000
Denpasar
Sanur
Jimbaran
By the way
Rp. 120.000
Nusa Dua
Canggu
By the way
Rp. 150.000
Tanah Lot
Uluwatu
By the way
Rp. 180.000
Ubud
By the way
Rp. 220.000
Explore also:
Indonesian Rental Transportation
FAQ
Sometimes there are questions when you are planning your vacation?! What else for the first time to Bali.
Must be confusing sometimes? So, these are common questions that are usually asked when renting a cheap car in Bali.
How to visit a favorite tourist attraction that is quite far away?
The best way to get to this favorite location is by means of transportation and using a car rental service in Indonesia with us, gotravela, especially apv rental in Bali.
What are the modes of public transportation?
Public transportation between districts does exist, but it is inadequate. The only way is just to car rental in bali or rent an APV in Bali with us.
Is it expensive to rent a car in Bali?
Certainly not!! only in gottravela you will get the best promo price. Can you compare it to other transportation offers online?!

Or afraid of being lied to by naughty transportation services and playing with prices!! Don't worry, only at gottravela we provide the best offers and maximum service.
What year was the car released?
Make sure the car you are renting is a minimum year 2014 and above. This is important as a benchmark for the condition of the car engine that remains prime.
Insurance & Promo Offer
Choose a Bali APV car rental service that provides promo and flexible prices. Is the car insured or is there a replacement car if there is a problem with the previous car!
SOP Drivers
Users of rental vehicles must ensure the cleanliness and maintenance of the car. Get in the habit of checking first before you use.

Make sure the driver or driver is not only good at driving a car, but also understands and understands the destination and of course convinces the rental service that the driver is friendly, non-smoking and friendly.
If it can be cheap and convenient, why do you have to look for an expensive one? Because for us your satisfaction is our priority.
gotraveladmin
The answer is to use gotravel, an Indonesian car rental service
So there's no other way to say the best way to get to that favorite location is by means of transportation and using Car Rental Service Indonesia with Go Travela.
There are several things you need to pay attention to before deciding to choose Bali Apv Rental.
SERVICE WITH US
We try to provide the best service to our prospective and customers for the Bali APV rental price. Although we did not escape the name, complaints / complaints from guests. However, we are trying to improve ourselves by always evaluating the performance of our team and drivers.
We need your feedback or input about the services provided by our drivers! Not infrequently we contact guests and ask how the performance of our drivers while serving you with an avv rental in Bali.
From suggestions, complaints, inputs and compliments given by guests, this is our evaluation material to continuously improve APV car rental services in Bali with us. We provide other types of cars:
Toyota Avanza
Daihatsu Xenia
Toyota Innova Reborn
Toyota Alphard Bali
Quick Info Suzuki APV
Let's continue to read more brief info about this Apv type car.
Suzuki APV is MPV variant car (Multi Purpose Vehicles) or commonly called a family car that carries a 1500 cc engine. APV stands for All-Purpose Vehicles This is also the type of car that has a large body so that the cabin space will be more spacious.
The car is powered by a 1,5 liter or 4 inline-1,6 engine. In November 2007 Suzuki released the APV and improved it named APV Arena with the addition of more luxurious features and the Luxury / SGX type as flagships (captain seat version).
This car is perfect for a vacation in Bali with your family with a capacity of up to 8 adults.
With premium fuel that is quite economical and has great power, it is suitable for treading mountainous areas in Bali such as Kintamani, Bedugul or the northern areas of Bali.
The many modern features contained in the Suzuki APV Arena will add to its clear advantages among similar family car products in its class.
Suzuki Indonesia knowing very well the wants and needs of its customers, namely by launching the Suzuki APV Arena which is in the MPV Car class category. Changes made to the Suzuki APV Arena compared to its predecessor you will see as shown below Front Bumper and Grille, Head Lamp, Backdoor Garnish and Rear Lamp.
This Suzuki APV Arena vehicle is designed to be able to provide comfort and safety to passengers and those who drive it.
Car Rental Convenience
With the Bali apv rental price that we offer to be one of the mainstays of your choice in fulfilling your tourist transportation, the Bali apv rental price per day or apv rental in Bali + drivers in Bali using the APV feels comfortable and spacious suitable for family travelers.
This car is not recommended for more than 6 people, for group sizes above 6 passengers it would be better to use transportation that is ideal for group sizes such as:
It should also be noted that in addition to the Bali APV rental car, other cars such as the Avanza rental in Bali are also one of the best-selling MPV class vehicles rented by our customers.
There are many advantages to renting a Bali APV with a driver, such as not having to think about parking, traffic jams, you can rest without having to think about traffic jams.
Explore Bali Tourism Come on..? this year!
As we all know, the island of Bali provides interesting tourist attractions and for those of you who are traveling backpackers or solo travelers, you can also explore the island of Bali in a simple way, but of course you need the ability to drive this two-wheeler.
Travel back with motorbike rental in bali cheap jrengg..
Gotravela provides many choices of Bali tours that you can explore this year, let's start from:
Tour packages
There are many more tourist attractions in Bali that offer beautiful natural scenery and culture that is unequaled in the world. You can reach the spot by renting an APV in Bali.
We also offer tours in the form of water sports activities and tour packages, so you don't need to be busy looking for 1 by 1 destination to pack.
here bali tour packages other of our offerings;
Hopefully the 2021 Apv Bali Rental Prices page on this website can help you determine your travel choices on the island of Bali.
If you have any questions or suggestions for us, please write them in the comments column below – happy holidays and joy, your satisfaction is our happiness.
keep reading: Let's find out, what kind of rental transportation is there in Bali? »
Bali Apv Rental Prices | Cheap Apv Car Rental in Bali