Heha Ocean View is a recommendation for interesting tourist attractions because it has beautiful views and several beautiful photo spots.
Who doesn't know Jogja. The city, dubbed as a student city, also has a myriad of amazing tourist attractions.
In fact, several new tourist attractions have sprung up with a charm that is no less interesting than the previous tourist attraction.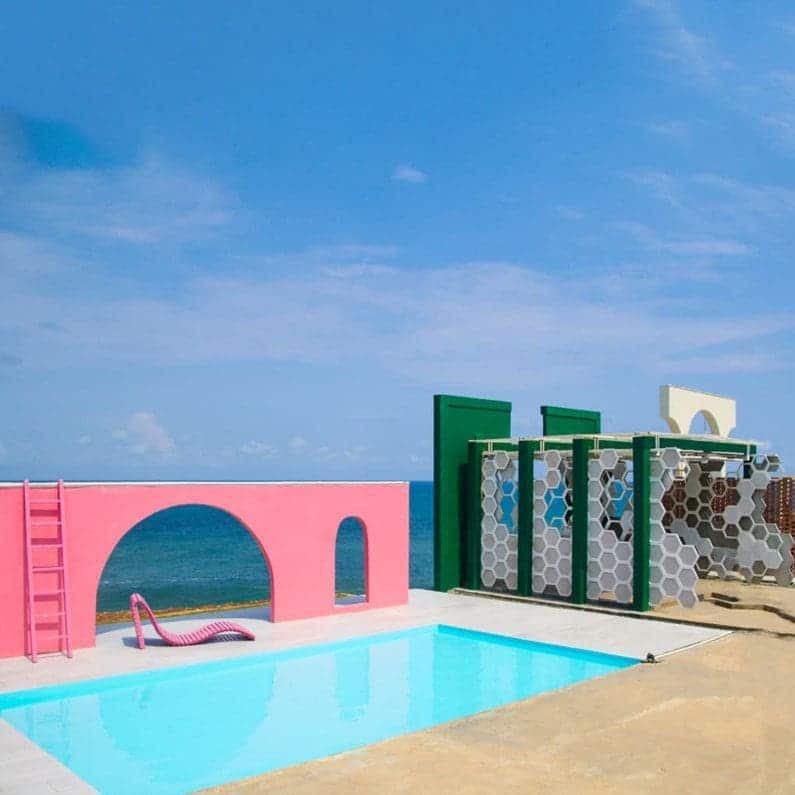 This spot is worth a visit for you lovers of nature tourism with views of the blue expanse of the sea.
Located in Gunung Kidul, this tour is never empty of tourists. Let's explore what is the charm of Heha Ocean?
Facilities Heha Ocean View
There are several photo rides that you can try to get great photos.
1. Rainbow Rides
True to its name, Rainbow. This vehicle is in the form of a box with bright colors like a rainbow. Standing in front of these colorful poles against a beautiful ocean backdrop will make for a very instagrammable photo. You will be charged Rp. 10.000 for per photo session here.
2. Pink Horizons
No less beautiful with the colorful Rainbow rides. Pink Horizon is a ride in the form of a pink wall with 2 arched windows and a semi-circular door. Above the wall there is a light that can give the impression of the horizon. If you want to take pictures in this vehicle, you have to pay Rp. 15.000 per photo session.
Want to go to hangout locations and unique tours in Jogja? You don't have to worry, we provide car rental in Jogja promo with a rental duration of 8 hours.
3. Hexagrams
At the heha ocean view location, you can take pictures with a hexagon or hexagon vector design background. This photo room is already very cool. If it is added to the ocean background, it becomes even more beautiful. To take pictures, each visitor is charged Rp. 20.000 per photo session.
4. TerraCurve
Want to take pictures with more amazing backgrounds? TerraCurve can be tried. This ride is designed with a curved door frame. There are also beautiful weaving. To take pictures here, tourists need to pay Rp. 20.000 per photo session.
5. Plane
There is a caravan plane ready to be used as your photo background. For information, the carawan plane is a small plane with a capacity of only 9 passengers and uses a propeller. Visitors will be charged Rp. 20.000 on this ride per photo session.
In addition to various rides for taking pictures, this tourist spot is also equipped with a large parking area, food court, prayer room, toilets, food and drink stalls, entertainment stage, and interesting parks.
Tips for Vacationing There
If you plan to take a vacation to Heha, you should make some preparations so that your vacation can be more enjoyable. Well, Gotravela has tips that you can do.
Better to come in the afternoon. Apart from the fact that the sun is not so hot, the scenery in the afternoon is more beautiful. You can watch the sunset here.
Because in Heha there are so many cool photo rides, don't forget to prepare clothes or OOTD your best version.
It is better to prepare extra money as a reserve fund if you are over budget.
Address and Route Location
The location is in Gunung Kidul Regency. But don't worry, you won't have any trouble finding it. Road access to the location is also good. Can be passed by motorbikes, cars and buses. The exact location is in Bolang, Girikarto, Panggang District, Gunung Kidul Regency.
Also Read:
If departing from the center of Yogyakarta, the time it takes is around 90 minutes with a distance of 46 km. Please access Google Map with the keyword Heha Beach Jogja.
How are you interested in coming to Haha Ocean View. Instagrammable photo hunters certainly won't be disappointed if they visit here.