How to order, so how do you buy and order with Go Travela Indonesia?
You can actually order through two different routes. If you already know what is your plan and take your package, simply remind type the product name and code in the post bar then
How to Order
1. Contact us to find out customer availability for booking tour packages in Bali, adventure tours in lombok, rafting in Bali, hotel bookings, car/motorcycle rentals in Bali can contact us to find out availability in several ways according to customer tastes and convenience.
Whatsapp: +62819 99 565 666 email: gotravela.id@gmail.com You also need to read our cheap car rental terms and conditions in Bali.
Please click "Contact us" in the menu bar then find fill out and put in the form of reservation with your valid description information.
You're Name: Make us easy and friendly to call and communicate each others.
Name of Tour/Packages : eg: Rafting in Bali, 4 Days 3 Nights Honeymoon, 3 Days Komodo and etc.
Code of Tour > (If any please mention).
Period of travel – When planning your trip and activities (made easy to check availability).
How many people
And other necessary details on the website, as well as how you want to pay for your order.
Then don't forget to fill your mail id and your Whatsapp number (If there are).
Finally, click the orange box to "SEND" your order.
How to Order and Process Payment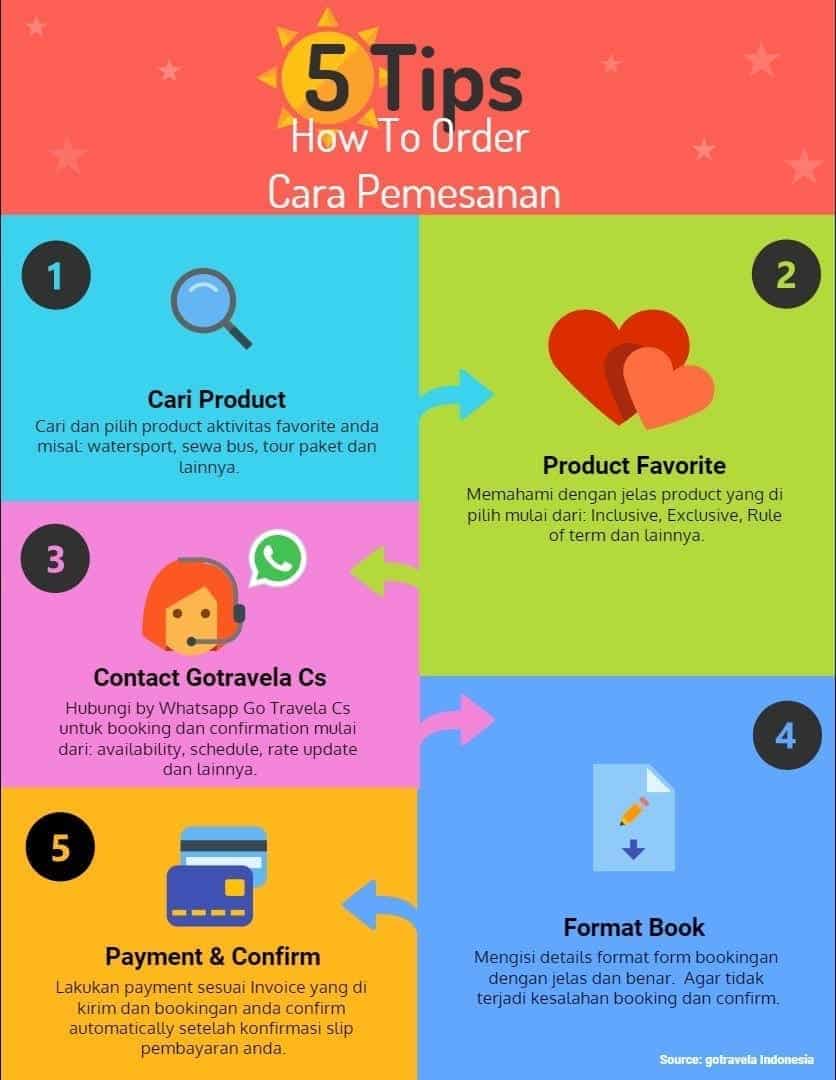 A. Order by Filling in the Book Form
Customers for booking tour packages, adventure tours, hotel bookings, car/motorcycle rentals in Bali can fill out the form below, no later than 1 x 24 hours we will answer immediately, don't forget to fill in your email, your name, the package/code ordered , Travel Period and other things you want to ask.
B. Or you can also leave a message in the comments of each of our posts.
You also need to read our cheap car rental terms and conditions in Bali.
For Customers you can contact us by telephone, text message, WhatsApp, leave a comment in our blog post or you can contact us with our social media chat to find out the availability of ways as your taste and convenience.
Email: gotravela.id@gmail.com or giostanov@gmail.com
Reservations by WhatsApp: +62819 99 565 666 (Whatsapp customer services)
Office/book hours: 09 Am to 09 Pm.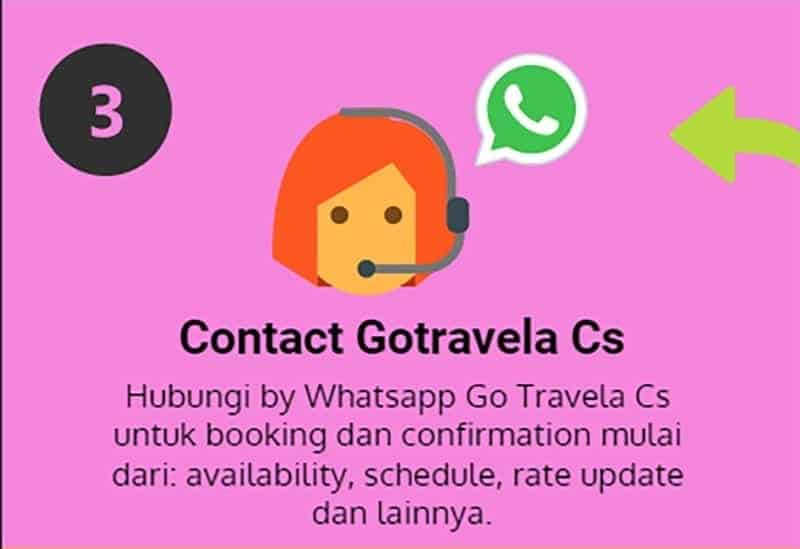 Term
Travel Terms and Conditions
Registration & Payment
The down payment paid to Gotraela Indonesia is non-refundable.
Registration without a deposit is non-binding and can be canceled without prior notification to the Participant.
If you do a re-schedule, it is only allowed a maximum of 1 week from the date of departure.
Payment of the tour fee is done 15 days before the departure date.
Registrations made less than 14 days before the departure date must be paid in full.
Participants whose booking has been confirmed, are requested to Re-Confirm to the agent regarding their booking at least 3 days before departure / use of services.
For registrants who are over 70 years old or have limited body or sensory functions or mental limitations, they must be accompanied by family members, friends or relatives who will be responsible during the tour.
Cancellation
If there is a cancellation of the tour event by the Participant before the departure date, the cancellation fee is as follows:
Deposit Payment Conditions :
a. After registration: Advance registration (Non Refundable)
Full Payment Conditions :
a. 30-15 calendar days before departure date: 30% of the tour fee
b. 14-07 calendar days before departure date: 50% of the tour fee
c. 06-03 calendar days before departure date : 75% of the tour fee
d. 03-00 calendar days before Departure date: 100% of the tour fee
The above cancellation fee also applies to:
Participants who change the departure date or change the package/type of tour.
Participants who are late in providing visa requirements from the time limit set by Gotravel Indonesia and result in Participants not being able to leave on time because their visa application is still being processed by the Embassy.
Cancellations made by one of the parties (Participants or Gotravel Indonesia) due to natural disasters, wars, disease outbreaks, terrorist acts or other 'Force Majeure' circumstances, the provisions above may change at any time without prior notice, depending on the policies of airlines, hotels and agents abroad.
(Force Majeure; An event that occurs beyond human ability and cannot be avoided so that an activity cannot be carried out properly).
Gotravela Indonesia has the right to cancel the registration of tour participants who have not paid a down payment or payment within the time limit set by Gotravela Indonesia.
If the visa application is rejected, while the ticket has been issued before the visa application is approved, due to necessity in connection with the deadline determined by the airline (airlines), the visa fee is non-refundable and Participants are still subject to cancellation and administrative fines in accordance with the conditions related to the airlines, hotels and overseas agents.
Participant registration advances are non-refundable if the Participant cancels unilaterally.
Money refund
Airplane, train and other transportation tickets and unused accommodation are non-refundable.
If the prospective tour participant is unable/sick before the scheduled departure date, the refund/cancellation fee will refer to the cancellation article.
If there are services in the package that are not used by Participants due to absence or illness during the trip, Participants are not entitled to demand a refund.
For tour participants who are not allowed to enter or are subject to deportation by the immigration of the local country (even though they already have a visa), or who are refused by the airline, or on the way suffer from illness, or have a mental disorder, or on the way have an accident, they are forced to returning or deviating from the trip that has been determined in the tour program, or forced to cancel part/almost the entire trip after departure, are not entitled to a refund or any other form of return for services that have not been or are not used.
Order Forms:
Now that you know how to order, you can now get how to pay.
How to pay
Noted:
For foreign or Overseas we only accept payment by inter bank transfer or cash payment upon arrival.
Payment Process At Gotravela Indonesia Holiday
For the certainty of ordering tour packages or vehicle rentals in Bali, we need a down payment of 1 x the price of vehicle rental in a day.
If you need a hotel voucher or vehicle to rent during the high season in Bali, namely during Lebaran, Christmas and New Year holidays, and the school holiday season, we recommend that you make a reservation in advance so you can get a room or vehicle to rent.
For payment for booking Hotel Vouchers, Rafting, Activity, Package tours, Bali car rental, car rental and drivers in Bali or other services on this website.

We only use one account name, namely A/N Sherly Gracia Rumondor. If you are asked to make a payment not from the bank account listed below, then do not make the payment (Be careful).
DP is transferred to the bank account below the one in the name of Sherly Grace Rumondor.
BANK BCA & MANDIRI
BTPN GENIUS BANK
Note: Payment is only made through the company owner's account above.
All transactions made outside the account number are not our responsibility.
Payment confirmation
If the customer has made a down payment, we hope that you immediately provide information to us via:
Email:
gotravela.id@gmail.com
giostanov@gmail.com
gottravela.cs@gmail.com
Phone, SMS, iMessage, WhatsApp:
+6285 3333 99 175 (Telkomsel | iMessage | WhatsApp).
+62821 4444 8095 (Telkomsel | WhatsApp).
Address
Jl. Tukad Badung XIII No. 4 Renon Denpasar – Bali
Proof of payment
After we receive payment from the customer, we will send confirmation of receipt of payment and receipt of payment via email.
If you rent a car with us, you are advised to read car rental terms and conditions gottravelIndonesia.
Cheers – Grace Rumondor Owner Gotravela Indonesia (How to Order)