The Bajo Catamaran Comfort Ship has an unforgettable experience with an exclusive vacation using a cruise ship like a private property.
The Bajo catamaran is available for those of you who want to enjoy a vacation around the world Labuan Bajo to Raja Ampat only with the closest peoplesebab capacity cabin yang terbatas).
Catamaran Comfort Podcast
Comfortable Catamaran
A comfortable luxury catamaran with a special design to carry no more than four passengers.
With a four or six day trip, you can enjoy your vacation without anyone bothering you with rent a boat in Labuan Bajo.
About Comfort Catamaran Bass
Catamaran cruises are designed specifically to meet the needs of tourists who want to explore tourist attractions by sea.
Therefore this ship is commonly known as houseboat.
Surely you know caravan cars, right? as a mobile home. So if it is at sea it will be called a houseboat.
The concept is not much different from a caravan which seems to carry the contents of the house in a vehicle.
Labuan Bajo houseboat
Comfortable This Catamaran carries the same concept, namely a house/room in a catamaran.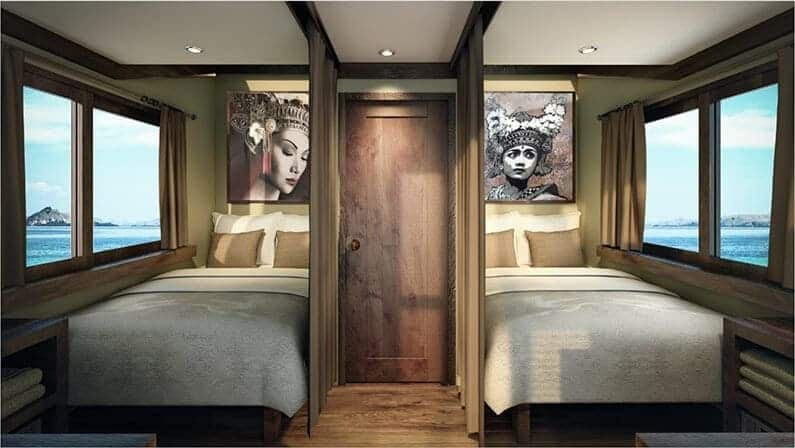 Comfortable Catamaran is not just putting a bed and resting needs.
However, the houseboat is indeed a special design plan to have an atmosphere like in your own home.
So the comfortable and luxurious atmosphere is really felt in your trip.
Multi Hulls
Some houseboat the latest has used a double hull, so that the balance of the ship is better maintained from the waves.
This two-hulled ship will avoid swaying to the left and right so that conditions in the cabin can be more stable.
Exploring the seas of the Nusa Tenggara islands is indeed very challenging.
The beauty of the tourist locations is even more pronounced when exploring by cruise ship. You can sail with your beloved partner, family or with close friends.
The Bajo Catamaran is a mini yacht measuring 53 square meters that can carry 4 tourists at once.
This boat will take you around Labuan Bajo and its surroundings in a pleasant 4 – 6 day trip.
This catamaran type boat is one of the accommodation options that is starting to attract local and overseas tourists.
The comfort and luxury is equivalent to a five-star hotel. Tourists can enjoy the beauty of the waters of the archipelago with complete facilities.
Convenient Catamaran Rental Prices
coming soon!!
Product Specification Comfortable Catamaran
Specifications of the Bajo Catamaran Comfortable Boat for you to know:
Ship Length: 10 meters/33 feet
Material: Fiber
Draft: 68 cm
Engine : 2 x 150hp YAMAHA, 15Kts
Communication Tools: GPS, Radar, Plotter, Fish Finder, Wifi
Crews: 2 crews
Passenger : 4 people (Max)
Cabin : 1
Toilets : 1
Security : Fire Extinguishers, Life Jackets and Tires, First Aid Kits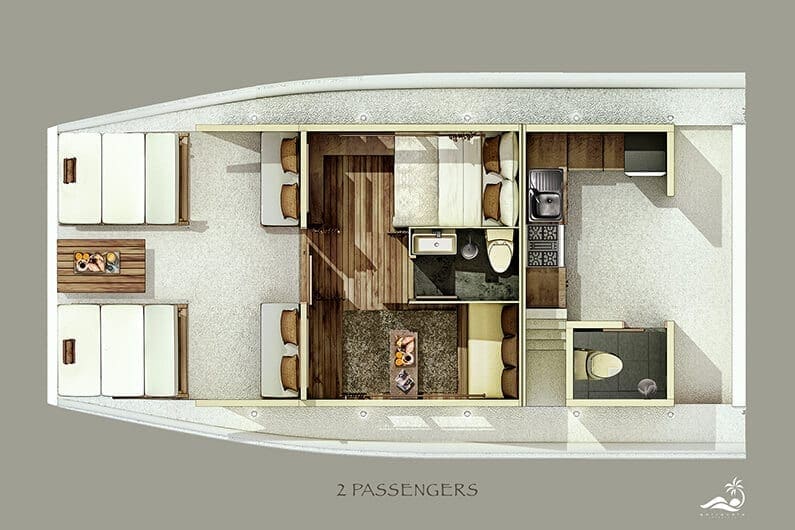 The design of the comfortable catamaran is specifically to meet the needs of a private vacation without leaving the elements of comfort and luxury.
It was like being in a presidential suite floating on the blue ocean.
Today, vacation trips using houseboats are increasingly popular.
Holidays with this house ship seem to provide the experience of traveling on a luxury cruise ship. You must be curious to try it.
Holiday provider services with houseboats will usually offer vacation packages in a certain number of days.
You are free to choose the time and day of departure. You can experience many types of holiday activities with this houseboat.
Comfortable Bajo Catamaran Boat Facilities
The Bajo Catamaran is divided into three parts, namely the front deck, rear deck and main deck.
All three are decorated with interiors and various furnishings for comfort and to meet your needs while sailing.
The main deck is divided into two separate rooms with queen size beds. The interior is luxurious and elegant.
A large painting themed typical of the archipelago completes the interior of the room. This makes the cabin feel like a classy hotel room.
The bed is comfortable and soft with clean sheets and blankets that always smell good.
There is a wardrobe that can accommodate your clothes for several days. The windows are wide enough so you can look up at the sky while lying down.
Front Deck Boats
On the front deck, there is a terrace with lounge chairs for sunbathing. From this place, you can enjoy an unforgettable amazing sea view.
When the afternoon arrives, the sunset treats are serene and immersive.
When night falls you can enjoy dinner under the starry sky and the cool romantic night breeze.
You can relax while chatting warmly with your partner with dishes and red wine.
Rear deck design for kitchen, toilet and crew room.
You don't have to worry about being disturbed by the presence of the crew. When is Comfortable The Bajo catamaran fully guarantees your freedom and privacy while sailing.
Boat facilities
In general, the facilities that you will get in the cabin are:
Private Bedroom and Bath
Wardrobe
AC
Internet connection
Toiletries
Food and Drink
Bajo's comfortable catamaran is different from other catamaran cruises. This ship is more private and exclusive because it is only for a few people.
You will not be disturbed by the existing crew because the only one who will serve you is the captain and cabin crew.
Travel Packages & Maps
The Bajo Catamaran Comfort Ship offers a luxurious and enjoyable sea trip package. You can enjoy the beauty and richness of Indonesian marine coral reefs with the provided diving facilities.
This boat trip is available in two options, namely:
4-day trip, with routes namely Labuan Bajo, Mesa, Sebayur, Giri Lawa Laut, Giri Lawa Darat, Manta Point, Secret Pink Beach, Rinca, Kalong, back to Labuan Bajo.
6 days by route Labuan Bajo, Bidadari, Pengah, Padar, Kalong, back to Labuan Bajo.
You can see the price of the trip package with the Comfortable Catamaran Bajo in the attached catalog. The price includes:
Welcome drink
Complete meal package i.e. breakfast, lunch and dinner
24 hour service
Coffee, tea and mineral water
Cabin cleaning every day
Towels and toiletries
Internet connection (wifi)
Marine park tax
Snorkeling equipment
Entrance ticket to tourist attractions
You can choose the day and time of departure according to your wishes. Make sure your vacation with this luxury ship is truly memorable and exciting. Invite your family or partner to enjoy a vacation as comfortable as possible without being disturbed by others.
Traveling with the Bajo Catamaran Comfort boat will be an exciting and fun sea trip.
It was like occupying a hotel room floating above the vast ocean.
This holiday experience will not be forgotten and will definitely make you yearn to enjoy it again.
Meet too;
Conclusion Comfortable Catamaran by Comfortable Group
Comfortable Group is one of the big companies that dominate the tourism business in Indonesia.
This company focuses on providing luxury and exclusive services for foreign and local tourists. One of them is the comfortable catamaran bajo ship.
Comfortable Group provides a private yacht that you can rent for a vacation on the high seas. The Catamaran Bajo is a 10-meter double-hulled ship that can be filled by only four passengers.
This cruise ship will take you around various locations such as Laboan Bajo, Raja Ampat to Komodo island.
You will feel the majesty of the rooms on the ship as grand as five-star hotel suites.
Comfortable Group is committed to providing quality products to support your vacation and make it an unforgettable moment.
This group is truly dedicated to providing the best, high-quality and luxurious services for its users.
If you liked this article, then please subscribe to us YouTube Channel for support us in presenting tourist video forward. You can also find us on Instagram or direct to Whats-app me to consult your travel plans.
Labuan Bajo Catamaran Comfort Boat