Typical Souvenirs of Sumbawa
There are various souvenirs typical of Sumbawa that you can make as souvenirs.
Where is your vacation to Sumbawa this time? Is it to Mata Jitu Waterfall, Lembo Lake, Lakey Beach, or others? Yes, this island does have a lot of stunning tourist destinations that will make your vacation even more memorable.
Sumbawa which is one of the regencies in West Nusa Tenggara administratively.
Also Sumbawa is an island full of natural tourism charm next to the islands of Lombok & Gili.
See also: Places & Entrance Tickets for Lombok Tours & All of NTB. and The charm of Moyo Island, Sumbawa Besar
Talking about a vacation to Sumbawa, there is one thing you should not forget, namely bringing a 'gift' for your family or relatives.
No need to be confused if you go to Sumbawa, you can choose so many kinds of typical souvenirs. What about? Here is a list of typical Sumbawa souvenirs for you.
NTB Souvenir List
List of typical Sumbawa souvenirs in the form of food, handicrafts, and so on that you must take home when traveling to Sumbawa.
1. Effective
Manjareal is a traditional Sumbawa cake with a sweet and savory taste. The ingredients are ground peanuts cooked with sugar until smooth. Then mix with rice flour or sago.
This dough is then printed using palm leaves with a shape similar to the curly symbols (clubs) on playing cards. Then dry!
How to eat it later is enough to pierce it with your finger to get it out of the mold. The dense texture is crumbly and melts in the mouth.
We guarantee that the family at home will love this snack.
You can get manjareal at some souvenir shops typical of Sumbawa. Usually sold at a price of IDR 10.000/pack.
2. Babingka Cake
This traditional snack is the target of tourists when visiting Sumbawa. In Java, it is almost similar to wingko tripe, but it is square in shape and the material is slightly different. Babingka cake is made from glutinous rice flour mixed with young coconut, coconut milk, and brown sugar, then baked. It tastes so sweet and savory. While the texture is chewy and slightly rough from young coconut.
When you come to the manufacturing center, you will immediately smell the delicious smell of roasted young coconut. You can buy babingka cake, just visit the market or the center for typical Sumbawa souvenirs.
Also find out what tour package offers are for you this year
3. Sumbawa Honey
The typical Sumbawa souvenir that you must bring home is the original honey from the Sumbawa forest. How is it different from honey in general?
Sumbawa honey comes from Apis Dorsata bees whose food sources are nectar from the bidara tree and coffee.
You can only find these bees in the forests of Sumbawa.
Another advantage of Sumbawa honey is that the bees are not farm bees, but directly take them from the forest.
So the availability is quite limited. The water content is also lower than honey produced in other areas.
Original Sumbawa honey is free from dyes, preservatives, and sweeteners. Speaking of properties, this honey has many benefits for health and beauty.
Suggestion: Travelers who want to get genuine sellers of Sumbawa forest honey can contact Mr. Nasruddin, a native Sumbawa who accepts online deliveries throughout the archipelago. We bought it too and it's proven to be authentic.
Whatsapp + 62 878-4123-1765
There are two kinds of Sumbawa honey that you can buy, namely white honey and black honey.
Usually the packaging is in small bottles up to 1 liter jerry cans. As for the price of real forest honey between Rp 100.000 - Rp 300.000.
4. Wild Horse Milk
It's not legal to travel to land of samawa, if you haven't bought souvenirs typical of Sumbawa in the form of wild horse milk. This flagship product of West Nusa Tenggara is already very well known, even to foreign countries. Call it wild horse milk because after the milk is squeezed the horse returns to the wild.
Wild horse milk has a more savory taste than cow's milk because it has a higher sugar content. But don't worry, the calories in this milk are quite low, so it won't make you fat fast.
Then what are the benefits? Wild horse milk can cure various diseases and is good for beauty.
One of the properties of this milk which is quite popular and proven is to increase male stamina in having sex.
Usually the tourists will visit the center of wild horse milk cultivation directly to get the fresh ones (new milk).
5. Wild Horse Milk Candy
Some people may still feel strange when drinking wild horse milk for the first time. Because the taste is quite different from cow's milk. For those of you who also feel this way or need a taste recognition, there is an alternative that you can try, namely wild horse milk candy.
The taste of this candy is certainly not as strong as when drinking milk directly. Because there is a processing process and the addition of ingredients, such as sugar.
However, you can still get the good content of wild horse milk from this candy. Almost all souvenir shops typical of Sumbawa provide this candy. You can buy them in large packs of 28 candies or small packs of 12 candies.
6. Seaweed Dodol
Another typical Sumbawa souvenir that you should not miss is the seaweed lunkhead. The reason, this lunkhead is different from dodol in general which is soft and sticky in texture. Dodol seaweed has a chewy texture similar to jelly.
The color is not brown, but red, yellow, green, and orange. All of these colors adjust to the taste, namely the taste of fruits and vegetables, including strawberry, pineapple, melon, durian, chayote, tomato, and many more.
In addition to its delicious taste, this dodol also has many vitamins from seaweed. It's perfect as a healthy snack for your relatives and friends. The price of seaweed lunkhead is quite diverse, depending on the weight of the packaging you buy.
7. Tempeh Plecing Chips
For those of you who are spicy lovers, you can try Sumbawa special souvenirs in the form of pelecing tempe chips. You are certainly familiar with this typical pelecing chili sauce from the people of Nusa Tenggara.
Usually this sauce is for dipping boiled kale. But now, you can take it home in the form of tempeh chips.
The savory and spicy taste of the nampol from the pelecing sauce is so pronounced in these chips. For those of you who are not too strong spicy can eat it with rice. No need to bother looking for it, almost all gift shops provide this snack.
8. Baso Siong (Roasted Corn)
This one snack should not be left out of the list of souvenirs that you must buy when you go to Sumbawa.
Baso Lunch is processed corn by roasting. Some people may imagine the taste will be bitter and hard. But apparently, the people of Sumbawa managed to make roasted corn have a savory, salty and crunchy taste.
This is of course because of their secret spice recipe. Almost all the way to tourist destinations there is always a souvenir shop typical of Sumbawa that sells baso siong. The price is quite varied.
9. Labuhan Botong Shrimp Shrimp
Making chili sauce is incomplete without shrimp paste. When you visit Sumbawa, it's a good idea to bring home the Labuhan Botong shrimp paste.
This original shrimp paste is a superior product that is a favorite of the local community. The ingredients are made from fresh shrimp straight from the Sumbawa sea.
The advantage of Labuhan Botong shrimp paste is the delicious taste of the shrimp that is so pronounced when making the chili paste.
Local people usually use this shrimp paste as a dipping sauce for grilled fish. You can bring home these typical Sumbawa souvenirs by buying them, just come to the traditional and modern markets of the big city of Sumbawa.
See also:
10. Sumbawa Oil
Sumbawa special souvenirs are not only in the form of food, but there is also rubbing oil with various benefits.
This oil is made of 44 types herbs and spices and certain woody roots. The production of Sumbawa oil can not be done arbitrarily.
Sandro (the name for the oil maker) must be a man who during the manufacturing process and it is forbidden to come into contact with women.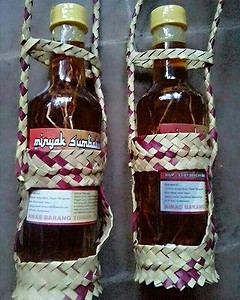 In addition, this oil is only made during the month of Muharram. Local people believe that if these regulations are not followed, they will reduce the efficacy of the oil itself.
The characteristics of Sumbawa oil are quite diverse. Because each sandro has a different compounding technique and material composition.
In general, these materials are kept secret. That is why on the packaging only the instructions for use and benefits are listed. This is to prevent plagiarism from being misused.
11. Kre'alang
As is known, almost all areas of West and East Nusa Tenggara are the best producers of woven fabrics.
Especially for Sumbawa you can bring home kre'alang. This weaving craft is in the form of a sarong made using sesek.
The size is smaller than usual. The hallmark of kre'alang is that the motif is in the form of an animal or plant and is made of gold colored thread.
You can buy souvenirs typical of Sumbawa at the kre'alang craftsman center, namely Poto Village.
Due to the long manufacturing process and purely hand made, kre'alang cloth is priced a little expensive, which is around 1,5 million per piece.
Well, that's a list of typical Sumbawa souvenirs that you must take home when you visit there. Please prepare your budget and buy everything.
Enjoy the holidays and don't forget to bring gifts for your family or relatives at home.
If you liked this article, then please subscribe to us YouTube Channel for support us in presenting tourist video forward. You can also find us on Instagram or direct to Whats-app me to consult your travel plans.
Appreciate us if you leave travela trace in the comments
keep reading: Do you want to explore West Nusa Tenggara, this year? »
Typical Sumbawa Souvenirs That You Must Bring Home