Atuh Beach Nusa Penida is in the spotlight of world tourists. Incredibly beautiful landscapes make many pairs of eyes do not get tired of enjoying it. What is the charm of the beauty of Atuh Beach? Bali 3 Nusa this?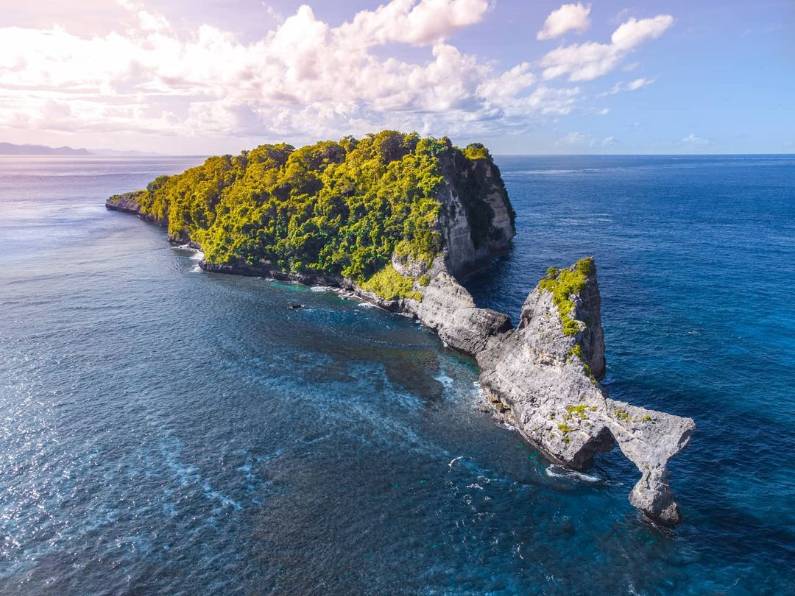 Foreign tourists are very familiar with Atuh Beach Nusa Penida. This beach, which is located on the southeast side of Nusa Penida, has an exotic natural atmosphere. Of course this is increasingly admired by many visitors. Its hidden location makes it seem natural.
It wouldn't be complete if you went on holiday to Bali without visiting Nusa Penida. Make Atuh Beach one of your holiday destinations. The location is in Pejukutan Village, Klungkung, Bali.
To get there you can use Nusa Penida car rental services trusted one. Reliable drivers are ready to take you to explore the Island of the Gods.
Travel buddy, get it with us too Sanur to Nusa Penida crossing ticket

Atuh Beach Nusa Penida Attractions
Atuh Beach is a bay beach that has a natural and exotic atmosphere. There you will see a view of the rocks.
The towering rock cliffs look very beautiful. The beach sand looks clean and golden. Its charm is increasingly alluring with the blue color of the sea water.
From above, you will see 4 enchanting coral islands. The locals gave it the names Batu Melawang or Pepadasan, Batu Abah, Batu Paon and Bukit Jineng. Selfie fans can take advantage of this natural charm as a background for taking pictures.
1. Enjoy the Beauty of the Rising Sun
We recommend that you come in the morning around 5.00:XNUMX in the morning so you can enjoy the beauty of the sunrise. You can get a peaceful atmosphere with stunning views at Atuh Beach Nusa Penida.
2. The beauty of the sand on the beach
Atuh Beach is famous for its beaches with high cliffs. However, there is also a stretch of sand which, although not too wide, is gentle enough. So it is suitable as a place to relax.
Relaxing while enjoying the fresh young coconut is certainly very pleasant. You can rent lounge chairs on the beach. Besides relaxing on the beach you can also walk around to enjoy the charm around Atuh Beach Nusa Penida.
3. Enjoying the Natural Beauty of Atuh Beach
To get to the beach, you have to go down a fairly steep road. It took about 10 minutes to walk. If you still have more energy to explore around the beach, it doesn't hurt to do it.
Because, there are still interesting spots that can be visited. His name is Raja Lima / Molenteng Tree House Nusa Penida.
This tree house is visited by many visitors to hunt sunrise photos. But you will be charged rent if you come to the tree house.
Also Read:
Atuh Beach Facilities
You could say the facilities on this beach are quite sufficient. There is a large parking area to park your vehicle safely. In addition to the parking area, there are also stalls selling a variety of food and drinks. Although simple, but enough to treat hunger and thirst.
Then, there are also chair rentals for sunbathing on the beach while enjoying the beauty of the blue ocean. There are also several public toilets there.
If you want to spend the night on the beach, you can rent House on stilts in King Five. However, be sure to make a reservation before coming. Because the number is very limited. It is feared that if you do not make a reservation in advance, the stilt house is already fully rented by other visitors.
Atuh Beach Nusa Penida is so enchanting that it is worth a visit. Make sure to do all the preparations well so that the holidays are fun. Happy Holidays!