Blue Lagoon Beach Bali is a beach located in Karangasem.
Blue Lagoon Beach Bali has beautiful white sand. The underwater charm is so stunning that it is always visited by tourists. You can also explore the beaches on this beautiful island.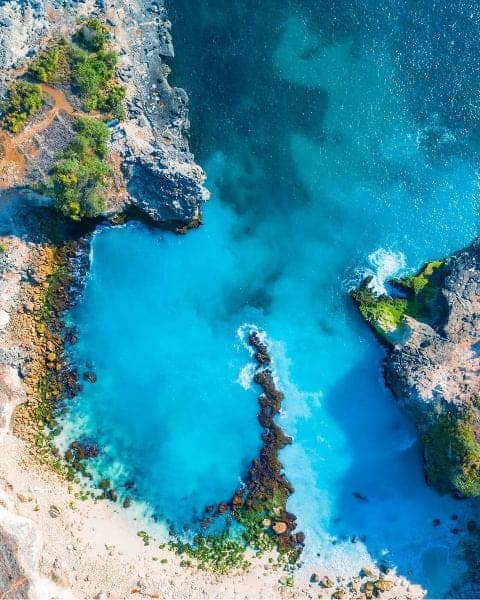 Anyone will admit that Bali is a special island. The charm of the tour is so amazing. In fact, until very famous in the international arena. The name Bali is also more popular than the name Indonesia, the country where the existence of Bali is located.
One of the stunning destinations is Blue Lagoon Beach. Many visitors come to this location for a vacation with family, friends or loved ones.
The beauty of the panorama of Blue Lagoon Beach Bali is undeniable. Because it is so famous, many domestic tourists and foreign tourists travel here.
To get to this destination, you have to order early fast boat crossing to nusa lembongan from sanur. Then Nusa Lembongan motorbike rental to cross the yellow bridge or better known as the yellow bridge.
Blue Lagoon Beach Attractions in Bali
The calming atmosphere is perfect for unwinding from the busyness of daily work. If you have plans for a vacation with your family, Blue Lagoon Beach can be your list of vacation destinations. What's on this beach? Let's get to know more about Blue Lagoon Beach.
Of course, the vast expanse of white sand coupled with the blue sea water is a very beautiful sight. Our eyes can freely see to the farthest point. Of course this can reduce stress due to busy daily routines.
Blue Lagoon Beach Bali also has a beautiful and cool atmosphere. This is also one of the attractions that make many people come here. Many want to find a calm atmosphere so they can comfortably relax.
If you are looking for a quiet and comfortable place, this beach is the answer. Because, this beach is really still maintained its beauty. You could say it is a hidden beach in Bali.
Another uniqueness of this tour is that you can find sacred buildings Sileyukti Temple. This temple is still used by the surrounding Hindu community to pray.
Location and Route to the Beach
Blue Lagoon Beach Bali is located in Padangbai, Mangosteen, Karangasem, Bali. The location is very close to Padangbai Beach. The distance is only about 800 meters.
To come to Blue Lagoon Beach is very easy. First, from Denpasar City to Karangasem with a long journey of about 1,5 hours. Next, head to Padang Bai Harbor. From the port to arrive at the Blue Lagoon it takes about 10-20 minutes.
If you have arrived at the parking lot, you have to pass the stairs that go down for about 5 minutes. Even though you are tired, all of that will pay off when you see the charm of Blue Lagoon Beach Bali.
Interesting Activities at Tourist Locations
There are fun things you can do while on vacation at Blue Lagoon Beach, namely:
1. Sunbathing
Sunbathing on the beach with white sand is the most favored thing by foreign tourists. Being on the beach will be very comfortable because of the breeze.
2. Diving
Diving and snorkeling activities are also the target of tourists. The richness of the underwater world is able to hypnotize anyone who sees it. The clear water allows you to see various animals in the sea.
3. Take pictures
Don't miss out on capturing photos at the location of the Blue Lagoon Beach Bali tourist spot. Beautiful scenery can be your background, you know. Besides taking pictures on the beach, there is nothing wrong with taking pictures near the temple. But keep your manners.
4. Swim
Tourists are allowed to swim on the beach. The water is very clear. The visitors will be very happy playing in the water around the beach.
Also Read:
5. Fishing
There are other activities that can be done at Blue Lagoon Beach Bali, namely fishing. Visitors who get fish will usually immediately process their catch on the beach. Wow, it must be very delicious to eat grilled fish on the beach.
Blue Lagoon Beach Bali is indeed an interesting tourist spot. Many fun activities can be done here. Let's schedule a trip to Blue Lagoon Beach.