Kuta Beach, the English name of Kuta Beach is of course very familiar to the ears of tourists. Not only domestic tourists, but Kuta Beach is very popular with foreign tourists. What's so special about Kuta Beach in Bali?
Kuta Beach was once a fishing village. Later, the area was converted into a tourist spot.
Until now, Kuta Beach has become a spot top tourist attractions in Bali. In fact, if you go to Bali it feels incomplete without spending time on this beach.
To make transportation easier when on vacation to Kuta Beach, you can Bali car rental on Gotravela with attractive offers!
Location of Kuta Beach Bali
Kuta Beach is located on Jalan Pantai Kuta, Kuta, Badung, Bali. This beach is adjacent to Legian Beach and Seminyak Beach.
The location is quite strategic so it is easy to find. If you go to Bali by plane and get off at Ngurah Rai Airport, please head to Jalan Kemayoran. Then, to Jalan Dewi Sartika. Next, go to Jalan Kartaka until you arrive at Jalan Pantai Kuta.
You only need to travel for 15 minutes. If the road conditions are congested, it is at least 30 minutes away.
You can motorbike rental too lol! You can also use public transportation such as buses that will stop at the Kuta central parking area. Next, you have to take a shuttle to get to the beach location.
Kuta Beach Facilities
You could say that Kuta Bali Beach facilities are complete. The tourists will feel comfortable and facilitated with all the facilities provided.
The following facilities can be enjoyed:
1. Culinary Tour
For culinary lovers, you can enjoy a variety of processed Balinese foods here. Many restaurants and cafes provide culinary menus. In fact, there is one that is open 24 hours, namely Mcdonald's Kuta.
2. Shopping
If you want to find Balinese souvenirs to be used as souvenirs, there are also places to shop here. For example, Centro Discovery Shopping Mall and Beachwalk Shopping Center. In addition to souvenirs, there sell clothes and other types of crafts.
3. Evening Entertainment
Kuta is famous for its nightlife. You can visit the Bar and Lounge or Beach Club and House to unwind because small parties are usually held.
Besides that, there are other places that can be recommended, such as Sky Garden on Jalan Legian, Velvet Hypnotized, Alleycats and many others.
4. Overnight
It feels like a visit to Kuta Beach Bali will not be complete if you don't spend the night. Yes, because Kuta Beach offers nightly entertainment that is not to be missed. In fact, the sunset moment was so beautiful.
There are many choices places to stay and hotels on Kuta Beach this.
Interesting Activities on Kuta Beach
1. Swim
Visitors are allowed to swim on the beach. The beach water is so clear that it is very fun to play in the water here.
For security, there are guard and rescue teams on standby at 40 points. But you should still be careful when swimming.
2. Surfing
The waves at Kuta Beach Bali are perfect for surfing activities. Many surfers do not waste the moment to surf.
Surf lessons are also available here for tourists who are interested in learning to surf. For surfboards, you can rent them at an hourly rate.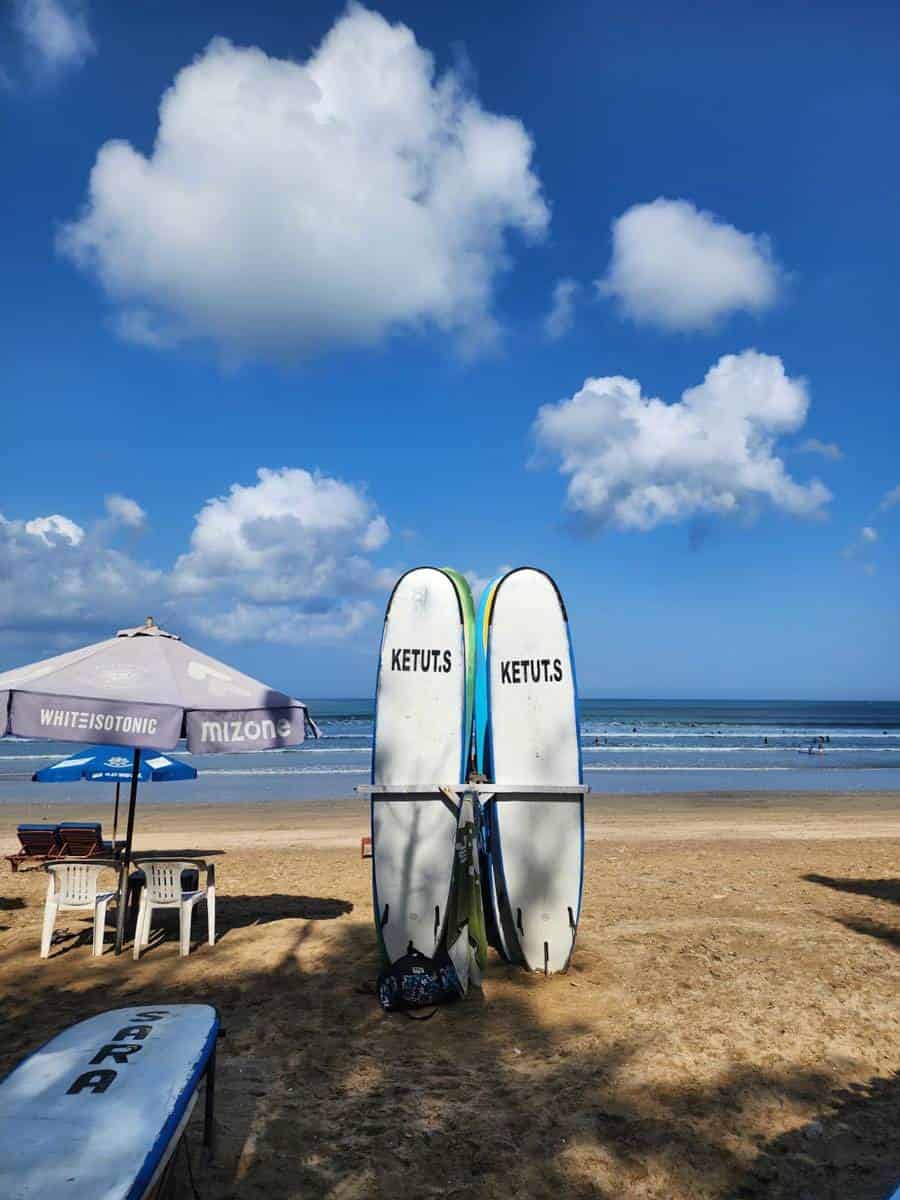 3. Sunbathing
Sunbathing on the beach is a favorite activity for foreign tourists. They deliberately lay in the hot sun. If you want to sunbathe too, make sure to wear sunscreen so you don't burn your skin.
4. Reflexology
While sunbathing enjoying the beautiful beach view, tourists can also enjoy reflexology. Feeling tired from daily activities can be lost by doing this reflexology.
Read Also Yuk
5. Bali Slingshot
To get your adrenaline pumping, let's try Bali Slingshot. This ride will make you feel thrown in the air with a giant catapult.
Kuta Beach is still a leading tourist attraction in Bali. How are you interested in spending vacation time at this beach?