This article on the safest beach in Labuan Bajo for children's swimming, is a beach recommendation that is suitable for families while in the Komodo National Park area.
Komodo National Park is a new Bali icon for East Indonesia Tourism.
Where the government is currently focusing on developing future tourism destinations specifically for eastern Indonesia.
---
tour operator & content specialist. Before joining gotravela, he spent years honing his skills at 'Tourism Industries Bali.
---
The Safest Beach In Labuan Bajo This is suitable for children's playground and swimming with calm waves
Beaches in Labuan Bajo
Labuan Bajo has been known as a marine tourism destination that has been recognized for its beauty.
If you bring your family members for a vacation in Labuan Bajo, then of the many beaches available, there are also some of the safest beaches in Labuan Bajo that you can choose from.
How To Get To The Beach
But it's also a good idea to understand later the best way to get to the beach location is by going to Labuan Bajo komodo flores east nusa first.
Then from Komodo airport, Labuan Bajo, you will go to Bajo Harbor with bajo car rental transfers and book in advance Labuan Bajo boat rental.
These beaches are certainly very suitable for children who generally like to play in the water. They can spend time playing without worrying about the waves.
What are these beaches? The Safest Beach In Labuan Bajo, Suitable For Children's Playground
1. Kanawa Beach
Kanawa Beach is a repository of unique marine life
When vacationing in Labuan Bajo, not a few tourists choose Kanawa Island as a tourist destination.
This is because on this island there are amazing views and beaches with clear water.
Even at low tide, you have the opportunity to see starfish. Perfect for bringing the kids on vacation to this place.
And for those of you who like diving, don't miss this opportunity to see the coral reefs that thrive on the seabed and their diverse fish.
Even the marine animals are also quite a lot, such as whale sharks, manta rays, sunfish, sea horses, parrot fish, and many more.
Also read later, guys
2.Pink Beach
Pink Komodo Beach with Pink Sand Beach
The safest beach in Labuan Bajo next is Pink Komodo Beach with its pink sand.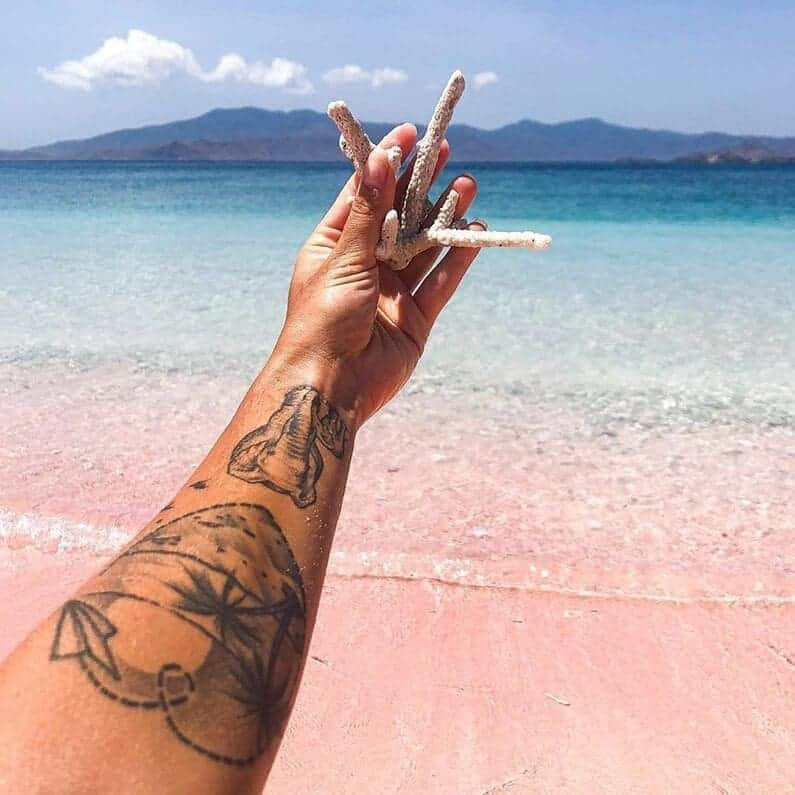 Located in Sekaroh Village, Jerowaru, East Lombok Regency, West Nusa Tenggara, this beach has always been a destination for tourists who come to Labuah Bajo.
When swept by the waves, the pink color in the sand will be more clearly visible. On this beach there are at least 260 species of coral reefs, 1000 species of fish, and 70 species of sponges.
3. Moringa Beach
Kelor Beach is the paradise of Indonesia with calm waves
This is an Indonesian paradise that you can't stop to marvel at.
If you go to Labuan Bajo, then take the time to come to Kelor Beach which will make your vacation even more satisfying.
The stretch of white sand, calm waves, and super beautiful natural scenery, is perfect for relaxing, playing in the water, and hunting for cool photos.
The waves are very calm, perfect for bringing your child to swim on this beach to their heart's content.
You can even do snorkeling to enjoy the underwater scenery in the form of unspoiled corals.
4. Manjarite Beach
Manjarite Beach on a Serene Uninhabited Island
Not far from Kelor Island, it will take you about 40 minutes to reach the safest beach in Labuan Bajo, namely Manjarite Beach.
If you see the pier with the hills surrounding it, then you can be sure that it is Panjarite Beach.
The water is clear green, making sunlight easily penetrate the water and you can also clearly see the fish and coral at the bottom.
Manjarite Island itself is uninhabited, so it's very quiet to spend a vacation in this place.
See also:
5. Beach Front Kalong Island
The beach is right in front of Kalong Island with hordes of bats and the beauty of the beach
As the name implies, on this beach there are many bats or bats.
But this does not interfere with your vacation and you can still enjoy the beauty of the safest beach in Labuan Bajo.
The stretch of white sand combined with the blue sea water makes it difficult for you to move on from this place.
Especially if you use the time until the afternoon, you have the opportunity to watch the amazing sunset.
Explore our offers:
So, for those of you who want to take your children on vacation to Labuan Bajo and can explore the beach to your heart's content, then the row of the safest beaches in Labuan Bajo can be your reference.