Who would have thought that the market could also become a tourist attraction, namely the Lok Baintan Floating Market. The market located in Kalimantan This south has its own charm because it floats on the Martapura River, Banjarmasin City. What are the other unique things in this floating market? Let's read it here.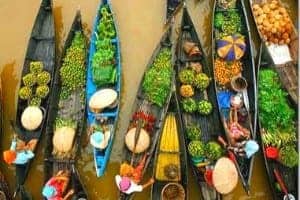 Description of Lok Baintan Floating Market
Lok Baintan Floating Market is a market that floats in the vast waters of Kalimantan. Local residents call Lok Baintan Market as the Martapura River market because it is located above the Martapura River.
This market is the same as other markets on the mainland. Selling various food needs such as vegetables, spices, fish and meat. The sellers boarded his body-sized boat which was full of the material they were going to sell on the front and back.
Small vessels used to sell various vegetables are called klotok. Klotok will be climbed by women with head coverings. Head cover is also known as tanggui. The tanggui they use come from tapih or jarit ties. However, there are also those who wear headscarves in general and round hats.
The hat is useful as a heat barrier. Lok Baintan Market is open from 05.30 to 10.00. During that time, you will see such a beautiful sight. Beautiful color combination of the reflection of sea water, the color of the ship and vegetables.
Market location
To visit the Lok Baintan Floating Market, you just have to come to Sungai Tabuk Banjar District. Then go to Sungai Pinang Village. The market that has existed from the Banjar Sultanate is only open for 4 hours. The sellers will go home and do all the household needs.
Lok Baintan Floating Market sales centers do not only come from farmers from surrounding villages. There are also from neighboring villages, such as Sungai Lenge, Sungai Bakung Village, Sungai Paku Alam Village, Sungai Saka Bunut Village, Sungai Madang Village, and Sungai Tanifah Village.
A struggle that is not easy for you if you want to see the uniqueness Lok Baintan Market. The terrain you are going to is quite difficult because it is far from urban areas. By boat, about 3 hours from downtown Banjarmasin you will find a wide sea to cross.
The Uniqueness of Lok Baintan Floating Market
Barter system still applies
The trading system in this market is still quite traditional because the system applies barter, namely buying one or more goods by exchanging goods of equal value.
For example, a fruit seller needs carrots, then exchanges fruit for a carrot seller. thus both sellers get what they need.
However, if you want to buy vegetables with money the Lok Baintan floating market traders also accept cash transactions.
Low prices, direct from farmers
Because directly from farmers and very fresh, anti-pesticide of course if you want to go shopping. Every day, traders will harvest vegetables or produce in the amount they need to sell. Don't be surprised when the fruits and vegetables are so fresh!
Selling using cold powder
The woman who sells on the boat always wears cold powder on her face, no wonder if there is a white color stuck to every woman's face.
See also:
Lok Baintan Market Kalimantan is a sales tradition that is still natural, we need to preserve it as the country's cultural wealth. May be useful.