A Closer Look at Labuhan Bajo with the Mata Komodo Boat
Talking about tourist destinations in the East Nusa Tenggara area, Labuhan Bajo is a must-visit place. Yes, these islands are a marine tourism paradise as well as the most unique place in the world.
How come? Not only does it offer the natural beauty of the coast through a variety of beach beauty or underwater panoramas, Labuhan Bajo also offers an unforgettable experience, namely sailing komodo tour by witnessing ancient reptiles, Komodo dragons directly in their natural habitat.
You will get a variety of these experiences by sailing using the Mata Komodo vessel.
MATA KOMODO SHIP RENTAL PRICE
Prices are based on charter/vessel following the number of days and participants. Valid for all markets, both domestic and overseas!
| | |
| --- | --- |
| Remarks | 1-2 Pax |
| Full day | - |
| 2D1Women | 9.750K |
| 3D2Women | 13.250K |
| 4D3Women | 16.750K |
| | |
| --- | --- |
| Remarks | 3-4 Pax |
| Full day | - |
| 2D1Women | 11.750K |
| 3D2Women | 15.250K |
| 4D3Women | 19.750K |
| | |
| --- | --- |
| Remarks | 5-6 Pax |
| Full day | - |
| 2D1Women | 14000K |
| 3D2Women | 17.550K |
| 4D3Women | 23.000K |
| | |
| --- | --- |
| Remarks | 7-8 Pax |
| Full day | - |
| 2D1Women | 16.000K |
| 3D2Women | 19.500K |
| 4D3Women | 25.000K |
Room/Cabin
Bathroom
Dining Area
Specific Boat
Facilities
Bedroom/Cabin
The Komodo dragon bedroom is an important priority for our attention, it is important to create a comfortable sleep for you. Complementary devices also become a support that is no less important.
There are 4 cabins or 4 bedrooms with jumbo size beds and clean and elegant white themed decorations.
Queen bed size 160 x 200 for sharing.
The cabin room is curtained and can see the ocean view from the right and left corners.
Each room is equipped with Standing Air Conditioner 1/2 PK Brand Changhong
There are speakers, power plugs and room lights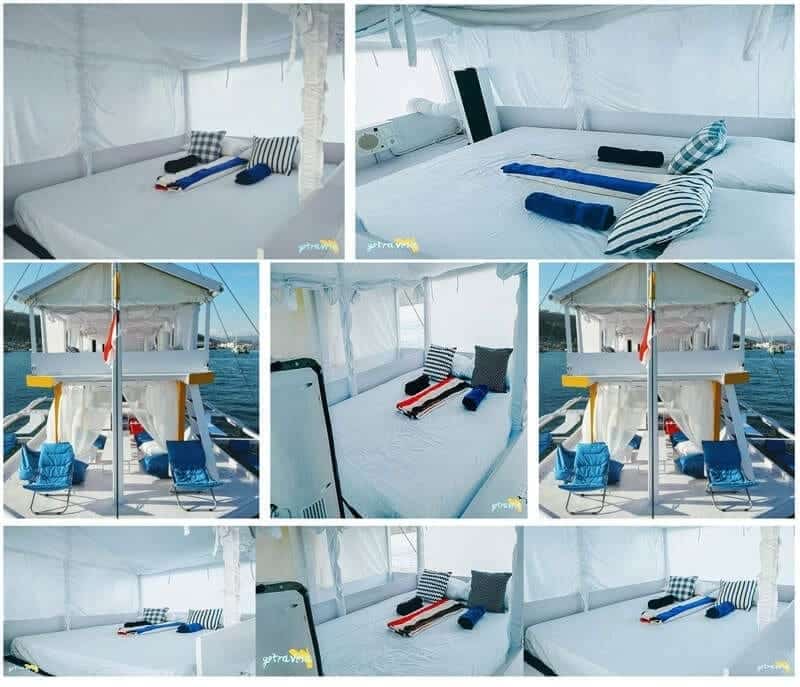 Bathroom/Toilet
The bathroom is also an important thing that we keep clean. Considering that you will be sailing on a minimum day trip or even days, we will pay attention to your comfort.
2 clean bathrooms are available on this komodo eye ship.
Shower
Wasteful
The toilet seat is comfortable and with an interesting theme.
Bathroom design with neutral color mosaic walls that will make you comfortable
Dining Area
We created a dining area on the front deck, with the intention that you can eat comfortably while enjoying the view of the ocean and the breeze.
The ship's clean kitchen and complete cooking utensils function as a place to cook. The food we cook is specially prepared for consumers.
Specific Boat
Build Year: 2017
Type: Traditional Wooden Boat
Dimensions: 17m Length , 6m width
Engine : Mitsubishi 4 cylinder PS 125 & Jiandong 300 HP
Guest Capacity : 8 guests for overnight – 12 guests for full day trip
Cabin : 4 Double Beds
Crew : 3 including Captain
Safety Equipment : 17 life jackets, 2 lifebouys, 3 fire extinguishers, radio, lifeboat, first aid
Cabin : 4 Double Beds
Facilities: outdoor dining area, cabin with AC, sundeck, 2 bathrooms, snorkeling equipment, soft drinks, water sliding, 6 beanbags, cinema at night, Free Wine or Bear
Notice: The number of participants is more than 8 people. We will submit the sleep configurations back to the group leader. Coz we only have 4 cabins and you can make one cabin with triple share!
Inclusion
Private boat rental in Labuan Bajo
Pick & Drop Airport/Hotels
Boat with air-conditioned rooms – 4 master rooms with double beds
Meal (breakfast, lunch, dinner) and snacks per designated package – full day will only serve lunch
Drinking water, tea and coffee
Snorkeling equipment(s)
Exclusion
Entrace fee for National Komodo Park – IDR 150,000/person for local or domestic tourist or IDR 350,000/person for international tourist
Documentation & Drones
Ranger fees/tips
Guide fees/tips
In order to be able to explore safely and easily with the wooden boat that was made in 2017, you can book a Mata Komodo Boat ticket at Gotravela Indonesia.
Uniquely, by ordering rent a boat in Labuan Bajo with Gotravela Indonesia, you will actually get a cheaper price than having to order directly from the ship. Interesting right?!
Book here
The ship carrying the Mitsubishi 4 cylinder 125 PS engine will not only take you sailing to Komodo Island, but also to many other interesting tourist destinations around the natural habitat of the giant reptile which the community calls 'ora'.
Komodo Sailing Itinerary
A number of interesting tourist destinations that will be visited with a cruise using the Mata Komodo Ship include, Padar, Rinca, Taka Makassar, Kanawa Island, Manta Point, Gili Lawa, Pink Beach, Kalong Island, Kelor Island, Bidadari Island. In addition, there are many more land tours as well as snorkeling expeditions that can be explored in a series of tours with the Komodo Eye Ship.
Padar Island
Cruise to Padar Island will take you to the experience of seeing a mini island that is so green and very clean. On this island you can also find a beach with unique pink sand.
Rinca Island and Kanawa Island
Shifting to Rinca here, you will be able to get a closer look at Komodo. Even water sports lovers will surely be amazed when they try snorkeling on Kanawa Island or in Manjarite. Not only peeking at a variety of beautiful coral reefs, at these two locations, tourists will also be able to see the beauty of the underwater world Komodo National Park with a variety of beautiful animals, such as colorful fish like a painting in a fairy tale.
Meanwhile, you don't have to worry about safety and comfort while sailing with this Mata Komodo Ship. The reason is, the ship with a length of 17 meters and a width of 5 meters is equipped with quite complete safety equipment, ranging from life jackets and buoys, as well as fire engines, lifeboats, radios and accident first aid kits.
Conclusion & Facilities
Regarding comfort, even though it is not a large cruise ship, the Mata Komodo Ship is equipped with a myriad of luxurious facilities to pamper the traveler. Supported by 4 double bed cabins, Mata Komodo Vessel is ready to serve 8 guests who want to spend the night.
Equipped with a curtained cabin space, tourists will be able to enjoy the scenery along the cruise while relaxing.
Amazingly, the Mata Komodo Ship is also attractively designed with the dining room on the front deck. Not without reason, such a design is deliberately made so that tourists can enjoy the scenery throughout the cruise without being disturbed, including when dining with a partner or group.
Complementing these conveniences, the Komodo Eye Ship is also equipped with complete sanitation, such as a clean bathroom with shower, toilet seat and sink.
Also check out our other offers:
Let's Go to Komodo National Park
How about you, can't wait to experience a different visit to Labuhan Bajo? Come on, schedule your vacation and contact Gotravela Indonesia right now to get the best price.