Sailing Labuhan Bajo with Phinisi MV CAJOMA III, More Private and Impressive
Labuan Bajo is famous as the main entrance to Komodo National Park. Because the destination area is small islands, it is certain that the trip can only be done by boat.
Along with the development of tourism in the Komodo National Park area as a world-class tourist destination, getting transportation to and from Labuhan Bajo is not a difficult matter.
There are many choices of boats that can be rented, both modern, semi-modern models, large sizes for groups of many people to small sizes for few people and even private ones.
Well, if you belong to the group of tourists who like komodo private sailing tour or don't want to be too crowded, Sailing Labuhan Bajo with Phinisi MV CAJOMA III can be an option. Besides being more private, sailing on a ship made in 2014 is also more impressive.
PHINISI MV CAJOMA III RENT PRICE
Prices are per ship. Valid for all markets, both domestic and overseas!
| | |
| --- | --- |
| Remarks | 1-4 Pax |
| Full day | 27.400K |
| 2D1Women | 30.450K |
| 3D2Women | 38.715K |
| 4D3Women | 49.590K |
| | |
| --- | --- |
| Remarks | 5-6 Pax |
| Full day | 27.400K |
| 2D1Women | 32.625K |
| 3D2Women | 42.630K |
| 4D3Women | 54.375K |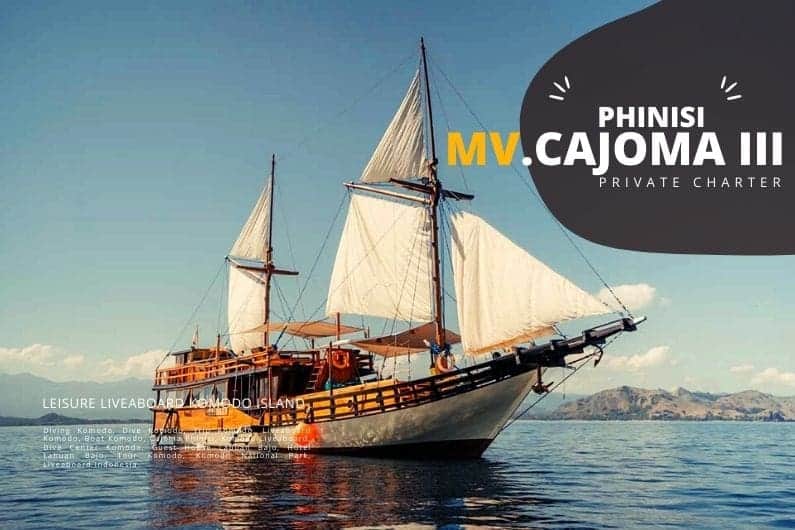 | | |
| --- | --- |
| Remarks | 7-8Pax |
| Full day | 27.400K |
| 2D1Women | 36.540K |
| 3D2Women | 48.285K |
| 4D3Women | 60.465K |
Private Cajoma Komodo Island
Cabins & Facilities
Bathroom
Dine & Lounge Area
Specific Boat
Safety & Navigation
Cabins & Facilities
The ship's cabin bedroom has a luxury full furnish feel.
Cabin Double & Bunk Bed Style
Air Conditioning Cabins
En-Suite bathrooms Hot & Cold Shower
Daily housekeeping
Non-Diver (Snorkeler) Friendly
Audio & video entertainment
1 indoor dining
Sun Deck
charging stations
Dive Platforms
1 Bauer Scuba Compressor
20 scuba tanks
Upper Deck : Lazy Chair & bean Bag
1x BBQ Dinner phinisi mv cajoma CAJOMA
1 tender boat
Middle Deck 1 Cabin
cabin 1 : Bunkbed style Double Bed + Single Bed
Capacity 3 people
Lower Deck 3 Cabins
cabin 2 : Double Bed
Capacity 2 Person
cabin 3 : 1 Double Bed + 1 Single Bed
Capacity 3 Person
Bathroom/Toilet
The bathroom is also an important thing that we keep clean. Considering that you will be sailing on a minimum day trip or even days, we will still pay attention to your comfort.
Dine & Lounge Area
Epic lounge and dining area designed for your comfort
Specifications Phinisi
Name of Vessel : MV CAJOMA III
Type: Phinissi Bugisse Schooner
Year Built : 2014
Made of: Teak and ironwood
GT : 33 No. 09/00m
Length: 30 meters
Width: 5 meters
Speed ​​: 8 knots /hour
Main engine 6D/16 Mitsubishi or 6 Cylinder Mitsubishi
2 Generators 10 KVA and 7,5 KVA generators
2 x 25 KVA Dynamos
4 solar cells
Water Tank: 10.000 ltr
No of Guest Cabins : 3 Cabins AC, en-suite bathroom
Number of Crew Cabin : 1
Crew Bathrooms : 1
Number of Guests : max 8 persons
Furuno GPS Navigation
Furuno's Radar
VHS radio icom
SSB radio icom
Compass
binocular
18 life jackets
2 lifebouys
Ringbuoy 2 Pcs
4 Fire Extinguishers
1 life raft (15 people)
SearchLight
Oxygen Tank Set
Parachute Signals
For Gallery image photo & video Phinisi MV Cajoma III you can click on the link!
Notice: For the Phinisi MV Cajoma III 1 Day Trip package max. capacity 15 people with the offer column above "Fullday".
Inclusions:
Return Transfer airport/hotel – vessel (depending on vessel destination)
Cabin AC Ensuite Bathroom & amenities
Fullboard meals 3x/day, Evening Snack 1x/day, Free Flow Mineral Water, Soft Drink, Tea & Coffee
Insurance
Snorkeling Gears, Local Guide
Excursion / Land Visit / Island Hopping
Exclusion
Admission Fee Komodo National Park / Marine fees
Local Government Retribution
Komodo Island Rangers / Rinca Island
Domestic or International flight tickets
Hotels and meals before and after the vessel
Dive Accident Insurance
Alcoholic drinks, Personal expenses
Crew gratuities & other donations
Dive equipment rental (other than dive cylinders, weights and weight belts).
Typical Bugis Design
As the name suggests, the Phinisi MV CAJOMA III carries a typical Bugis ship design as well as the pride of Indonesia, Phinisi.
The classic look can be seen from the hull which is made of teak and iron wood. The 7 accompanying screens make Phinisi MV CAJOMA III look so enchanting.
Book here
However, as a semi-modern ship, of course Phinisi MV CAJOMA III does not fully rely on wind power as its propulsion. There is a Mitsubishi 6D/16 6 Cylinder engine which is the main strength. In addition, the ship with a length of 30 meters and a width of 5 meters is also reinforced with two generators with a power of 10 Kva and 7,5 Kva.
Healing Board
Uniquely, despite having a large size, Phinisi MV CAJOMA III does not contain many passengers. Guest capacity is limited to 8 people.
For the sake of pampering tourists, there are 3 air-conditioned cabins complete with bathrooms in them that have hot and cold water facilities with showers.
The capacity of the ship that only accommodates a few guests allows guests to enjoy a more memorable vacation time. Especially for you couples who want to enjoy time together without being disturbed by many people.
In addition, with not many guests participating in this cruise, you can of course also have more freedom to enjoy the outside view from various angles, including enjoying time in the parts of the ship.
Play Lobby
Yes, Phinisi MV CAJOMA III is equipped with a main lobby, kitchen, 1 indoor dining room (indoor dining). Not to forget there is a sun deck which is usually used for sunbathing or enjoying the natural scenery along the cruise to the maximum.
Those of you who prefer to lie down will also feel at home on the upper deck thanks to the lazy chair and bean bag facilities. However, if you are the type of person who likes to relax indoors during the cruise, you will also not be bored because there is entertainment from audio & video entertainment from this ship.
Conclusion
Present as mini cruises, Phinisi MV CAJOMA III is like a walking hotel. Dining facilities 3 times a day complete with snacks, unlimited mineral water as well as soft drinks, tea and coffee.
Also check out our other offers:
No need to worry about the 'stomach', because the cruise with Phinisi MV.CAJOMA III is equipped with In addition to adequate rest and entertainment facilities, there are also scuba bauer compressor facilities, as well as 20 scuba tanks.
Moreover, Phinisi MV CAJOMA III also has 2 speedboats which are used to maximize sea transportation.
So, what are you waiting for, schedule your vacation immediately and get an unforgettable experience sailing Labuhan Bajo with Phinisi MV.CAJOMA III. Get the best rental rates only at Gotravela Indonesia. (y)