Bali Scooter Hire is a fun way to explore Bali island. Scooter hire bali, bali bike rental in bali, riding motorcycle rental agency without license. Bali Scooter Rental, Your Best Friend for Unforgettable Motorbike Adventures in Bali.
Go Travela Indonesia motorcycle rental agency service in Kuta Bali with mainstay product Car Rental and Tourism Indonesia Packages present Bali Motorbike Hire Service offers alternative holidays for you traveling in Indonesia and we do everything to make renting a motorbike or scooter on Bali convenient and easy for you!
Bali Scooter Hire
Bali Scooter Rental, Bali bike rental or Rent a motorbike in Bali like locals call it is an essential service for all tourists who want to enjoy this beautiful island. Yes, you can rent a car or take a taxi to explore Bali. Your travel agency might provide that mentioned vehicle for your visit.
However, if you are going alone or in a group of two with your friends or loved one, and you want to enjoy a true adventure in Bali, an eclectic scooter or motorbike is the best choice.
Sewa Motor in Bahasa means a motorcycle rental/moto de location/aluguer de motociclos/Motorradmiete/прокат мотоциклов.
Ride Scooter to Explore
With a scooter, you can almost reach any great place in Bali Islands. If you want to visit a temple or a traditional market, the scooter can help you go there. Or, if you plan to enjoy the beach, try the wave, or sightseeing in the traditional village, this vehicle is a good friend for your journey. If you ever have any problems with your trip, you can also ask locals who will gladly help you.
By understanding the importance of a motorbike or scooter rental service in Kuta, it is reasonable enough if you try to get the best motorcycle. For that reason, we are here for you. Our service is simply the best. We provide what you need and ensure the best experience and great satisfaction at the end of your trip.
Motorbike Rental Prices 2023
which is the most popular also the price list below is based on the Indonesian rupiah currency
| | | |
| --- | --- | --- |
| Recommend | 1 Day | 4 Days |
| Mio 110cc (2004) | IDR. 40K | IDR. 35K |
| New Vario 125cc (2022) | IDR. 80K | IDR. 70K |
| New Honda Beat 110cc | IDR. 75K | IDR. 70K |
| Yamaha FreeGo (2023) | IDR. 75K | IDR. 70K |
| Mio Gear 125cc (2023) | IDR. 75K | IDR. 70K |
| New Vario 150cc | IDR. 90K | IDR. 85K |
| Honda Scoopy | IDR. 70K | IDR. 65K |
| New Genio (2023) | IDR. 75K | IDR. 70K |
| Honda PCX 150cc | IDR. 125K | IDR. 120K |
| Yamaha Lexie 125cc | IDR. 90K | IDR. 85K |
| NMAX 155 cc (2023) | IDR. 130K | IDR. 125K |
| XMAX 250 cc (2023) | IDR. 250K | IDR. 225K |
| KAWASAKI W175 | IDR. 175K | IDR. 170K |
Welcome To Gotravela Bali Bike Rental
Bike rental for Kuta, Seminyak, Airport & Canggu Bali
Our Scooters and Motorbikes
We provide many different types of scooter or motorbike rental in Bali that you can use. Each of them has its benefits and advantages. Choose the one that you are comfortable with. We ensure that our entire vehicle is properly maintained, so you don't need to worry. Plus, we also deliver the scooter and motorbike to you with a full tank. So, you just need to ride it and go to the place you want to visit.
Here are some of our best choices for you:
Yamaha

This is the standard motorbike rental in bali you can rent. We have different models to match all kinds of trips you are going to do in Bali. More importantly, this brand's product has high durability and is easy to maintain. As long as you use it as it should be, you can ride it all the time during the rental period.

Sym GTS 250i

A perfect ride for a long trip, that's what we call this guy. It is big, powerful, and comfortable. It is equipped with all kinds of features you will need on your trip. Its design allows you to take your friends or loved ones to have a long trip in the most convenient way. The passenger seat design allows them to sit safely while you drive it.

Honda Vario

If you are looking for a simple motorbike to go around the area where you stay, this one is a good choice. It is slim and easy to ride. You won't need to worry about traffic anymore with it. You can slip and make a difficult maneuver to reach your destination riding this bike.

Yamaha Nmax

Among the many Yamaha scooters and motorbikes we have, we recommend this model. Its big windscreen allows you to ride it comfortably.

It is perfect for a long trip. Or, if you just want to explore Bali's downtown, this one is also a good choice for that.

Kawasaki KLX 150

Are you planning to go out of the city where you stay and explore the wilderness? We have KLX 150 for you. It is made for the off-road route. It is a good choice if you want to explore the traditional village in Bali where the road to go there is still in natural or rough condition. Or, if you just want a Bali scooter hire with high power, you can also rent this from us.
Alquiler de motos Bali, Motorradvermietung, Aluguel de motocicletas Bali, Location de motos, Pujcovna motocyklu, Motorcykeluthyrning Bali, Прокат мотоциклов, Noleggio moto Bali, Motorsykkelutleie, Najem motornih koles Bali, Inchiriere motociclete, Motosiklet Kiralama Bali.
Vespa Piaggio
| | | |
| --- | --- | --- |
| Style | 1 Day | Week |
| VESPA LXV 125CC | $. 9 | $. 57 |
| VESPA LX 125CC | $. 9 | $. 57 |
| VESPA S 125CC | $. 9 | $. 57 |
| VESPA PRIMAVERA | $. 11 | $. 68 |
| VESPA SPRINT 150CC | $. 11 | $. 68 |
| VESPA GTS 150CC | $. 12 | $. 78 |
Type
Rental Prices
Honda Beat FI

Days: $. 4,50
Weeks: $. 25
Months: $. -
Yamaha X-Ride

Days: $. 4,50
Weeks: $. 25
Months: $. 64
Yamaha Fino125

Days: $. 4,50
Weeks: $. 25
Months: $. -
HONDA NEW VARIO 150CC

Days: $. 8
Weeks: $. 47
Months: $. -
New Honda Vario 125CC

Days: $. 5,00
Weeks: $. 32
Months: $. -
HONDA GENIO 110CC

Days: $. 4,64
Weeks: $. 29
Months: $. -
Honda Scoopy FI

Days: $. 4,64
Weeks: $. 29
Months: $. -
YAMAHA NMAX 150CC

Days: $. 10,00
Weeks: $. 68
Months: $. -
HONDA ADV 150CC


Days: $. 15,00
Weeks: $. 75
Months: $. -
HONDA PCX 150CC

Days: $. 10,71
Weeks: $. 71
Months: $. -
YAMAHA LEXI 125CC

Days: $. 7,14
Weeks: $. 40
Months: $. -
YAMAHA XMAX 250CC

Days: $. 21,50
Weeks: $. -
Months: $. -
KAWASAKI W175 CC

Days: $. 17
Weeks: $. 100
Months: $. 275
YAMAHA XSR 155 CC

Days: $. 20
Weeks: $. 120
Months: $. 300
KAWASAKI W250 CC

Days: $. 30
Weeks: $. 170
Months: $. 490
KAWASAKI NINJA 250CC

Days: $. 30
Weeks: $. 170
Months: $. 490
ROYAL ENFIELD 500

Days: $. 72
Weeks: $. 450
Months: $. -
notice
1. Prices above based on US Dollar & 24-hour daily motorcycle rental method.
2. Motorbike Good Condition and Latest Output.
3. The Rental Price includes 2 International Standard Helmet, Raincoat, petrol.
4. Cancellation on the day of use and already at the location subject to full rates.
5. Delivery & pickup is arranged from the airport or at the hotel where you stay.
6. A copy of your passport & international license as a security guarantee.
7. The motorbike can be used around the island of Bali only.

We have many other products for you from many brands. We provide only the best scooter and motorbike for your trip to Bali. With unlimited mileage, you can drive our bike as much as you want. However, when you Rent A Scooter in Bali, you also need to follow our rule. For that reason, below, we have listed our Terms and Conditions you must follow to ensure we have a great experience.
Terms and Conditions of Scooter Rental Bali
Our clients must be at least 18 years old to use our service. We also limit our client's age at 71 years old at max for safety purposes.
Our client must have a valid driver's license at the place where they live. For the local client, it should be valid in the city and province where they live in Indonesia. As for foreigners, they must have at least an international driving license.
We accept all kinds of payments, either cash or with a credit card. We suggest you use a credit card for an easier process. For more information about the payment method or system, please check out our website.
We also have a special zone where we won't charge our delivery/pickup service. For more information about this free zone, please refer to the Delivery & Pickup service areas.
If the client loses the scooter and motorbike key or returns the motorbike and scooter with damage, we will charge you an additional repair fee directly from your credit card. As for the details of the damage and price you need to pay, you can see below:
1. GoPro camera: $550
2. Helmet: $35 Medical Kit: $35
3. Damaged Rain Poncho: $9,95
4. Pocket Wi-Fi: $50
5. Power Bank: $35
6. International Trip Adapter: $20
7. Side Bag: $80
8. Bag on top of the tank: $50
9. Phone holder: $10
10. Motorbike/scooter document $80
11. Key lost: $35 (we need to replace the key)
We hold no responsibility for external factors that can cause damage or loss to our vehicles while being rented by clients. Once we deliver the vehicle, the client has a responsibility to keep it from anything that can reduce its value.
Those are several things you need to know about our Bali scooter hire service. Hopefully, by understanding our terms and conditions, you can have a comfortable and safer trip. And, we can maintain a good relationship with other services in the future.
Book Cs by Whatsapp
Click or scan the QR below
+628123 995 2013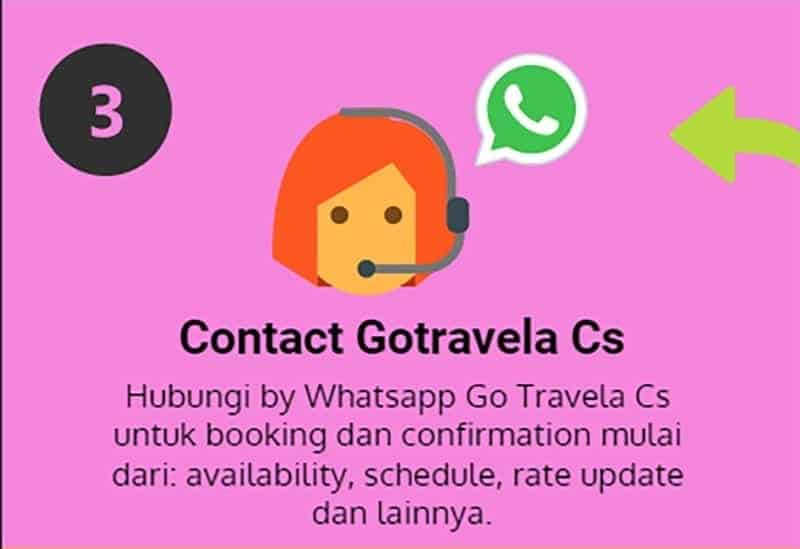 Why You Should Use Our Services?
Our Bali bike rental service offers many great benefits. Here are some of them:
Save more money and time

When you arrive at Ngurah Rai airport, you don't need to worry about transportation anymore. We deliver it to you, and you can just ride it to the hotel where you will stay. Or, if you also can follow your adventure spirit, and just start your adventure right away. It's all up to you. It saves your time, which means you don't spend more time to find a taxi or other vehicle. You can also save more money with it.

Easy and convenience

Gotravela motorcycle rental agency provides a delivery and pickup service to many areas in Bali. You can find more about it at the Delivery and Pickup service area. In short, once you book our service, you don't need to go to our place to get your bike. We will deliver it to your location. You don't need to leave your place, and you get what you want from us. It is also the same as the pickup service.

Leave the motorbike or scooter at the place where we agreed upon. Ensure you also leave the key and documents. Then, we will pick it up for you. This method is the best thing you can find from the scooter and motorbike rental service.

Here is an example. If you plan to stay in Ubud, you can book our bali scooter hire ubud service and decide on a delivery location at Ngurah Rai airport. We will deliver it to that location, so once you arrive; you can ride it to your hotel.

Then, once you have finished your trip, you can leave our motorbike or scooter at the place where we will deliver it to you. And, you just need to check out at the airport to return to your country. You get transportation to the airport for free this way.

You can read us testimonials and about us!

First Aid Kit

We also provide a first aid kit for our clients. You can find it in the helmet compartment. It's all new and high-quality ISO approved first aid kit.

We try to keep our clients safe, in case an unwanted event occurs, by providing this service.
FAQ About Renting a Scooter in Bali
Scooter is one of the transportation devices for use in Indonesia. To make your travel easier and more practical, you can rent it. So, here are some frequently asked questions about renting scooters in Indonesia.
1. What do you need to rent a scooter in Indonesia?
You need an international driving license to rent a scooter in Indonesia. Without the license, the police may arrest you. There are penalties like money fine. It is common for a group of police to co-conduct raids in some spots of the road. Even if you are a foreigner, you still cannot avoid the penalties anyway.
2. How much does it cost to rent a scooter in Bali?
The cost to pay to rent a scooter in Bali / Bali bike rental is around IDR 35,000 to 70,000 per day. There is a charge counted per hour or it depends on the rules given by the renter. If you need a scooter for more than a day, it is better to rent it per day, the price is relatively cheaper than paying additional charges.
3. Is it safe to rent a scooter in Bali?
Uncover Bali's Hidden Gems with Motorbike Rentals. it is safe. Mostly, the scooters to rent are in good conditions with a 125 cc engine. However, it still depends on your ability to ride the scooter. Make sure you have some experiences before as well as getting the driving license. Be careful also with some areas in Bali that still have bad terrain.
4. Do you need a license to drive a scooter in Bali?
Yes, you need a driving license to drive a scooter in Bali. So, make sure to bring it with you when going to the island. In the past, there is an alternative if you don't have a driving license. It is by making a local license in the police station in Denpasar. However, this way is no longer permitted.
Scooter Hire in Nusa Penida
You can watch below or link to Nusa Penida Scooter Hire USD only. 3,50 per 24 Hours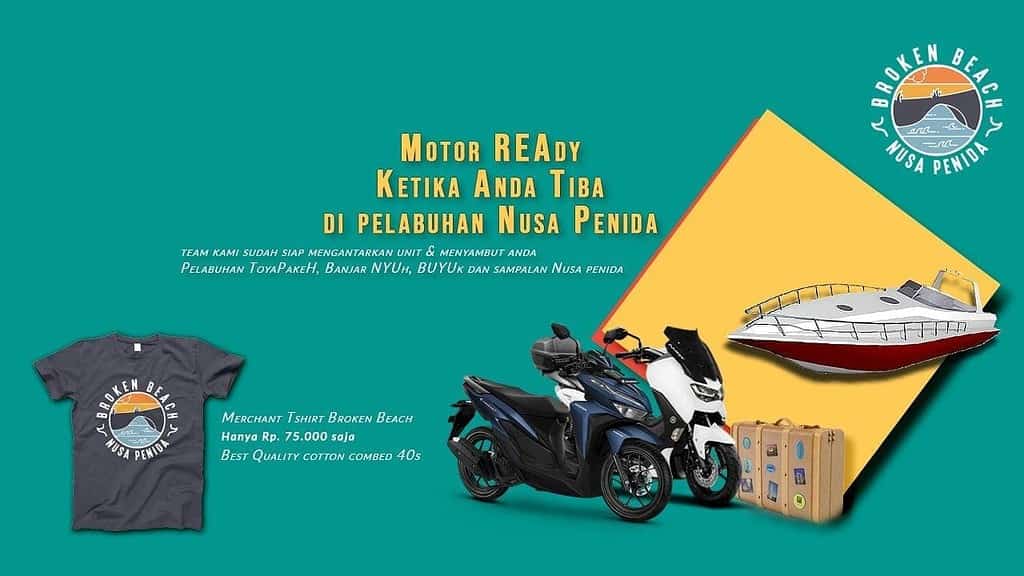 Tags: scooter rental in Bali 2023, bali bike rental, scooter hire price, motorcycle rental agency in kuta, bike rental big motorbike, Rent motorbike near Airport Bali, rent motorbike nusa penida, is it safe to rent a motorbike in pink beach komodo, discover your ride, The ultimate motorbike rental guide, how much does it cost to rent a motorbike in bali, Motorbike Rental Agency Experiences in Bali.
Conclusion
Our Bali Scooter Rental is the best choice you can use whenever you visit this beautiful island. We also provide our service, if you plan to visit Nusa penida islands. You can use our bike to explore this small paradise, if you are exploring Bali Island and want some new scenery. So, whenever you have time to visit Bali, make sure you contact us for the best motorbike and scooter rental service in Bali. Have a nice trip!
Bali Scooter Hire | Motorcycle rental agencies Canggu, Seminyak & Kuta.
Please leave your reviews on google »