Are you looking for the best phinisi boat in Komodo Island and Komodo liveaboard experience? Well, if you are, then you have come to the right place. Indonesia is one of the most beautiful countries in the world.
This country offers a lot of gorgeous places that you can visit, especially places that are still untouched by the world.
There are so many wonderful tourist destinations that you can visit in Indonesia. Among one of them is East Nusa Tenggara, which has a lot of majestic little islands with the most gorgeous views that you could ever imagine. That is why East Nusa Tenggara becomes one of the most popular tourist attractions in Indonesia.
Sail Aboard on Komodo Island
One of the best islands that you have to visit if you ever find yourself in East Nusa Tenggara is Komodo Island. There, you will be able to see a majestic endangered species called the Komodo dragon. This is because Komodo Island is the natural habitat for these animals.
If you are thinking about visiting Komodo Island, then you might want to think about going on a sailing Komodo trip. And luckily for you, you will be able to find a lot of sailing trips in Indonesia. You will also be able to visit other islands on those trips.
Komodo Liveaboard
So, you are probably wondering about the sailing trips that are available on Komodo Island. Well, we are going to tell you about the best phinisi boats in Komodo Island that you can easily find. Here are some boats that you need to check out.
1. Neomi Cruise
The Neomi Cruise can cater to up to 22 guests in its 10 cabins. Don't worry, the cabins come in various budgets so you can choose the one that suits your budget.
You will be able to explore many places such as Ambon, Alor, Raja Ampat, and Komodo Island. This boat also has wide deck space with two jacuzzis where you can just relax and unwind.
Read More neomi cruise
2. Phinisi Samara
Another yacht that you can board is the Phinisi Samara Komodo liveaboard. This special boat can carry 10 guests in its luxurious cabins. You will feel at home aboard this yacht since you will have just enough personal space on it.
You can even choose from many packages such as the honeymoon package or the diving package.
Read More Samara Liveaboard I & II
3. Vinca Voyages
Vinca Voyages can cater to up to 12 guests on it's lovely-designed yacht. Every cabin on this boat is pretty spacious with a bathroom for each cabin. You can also choose to stay in the family cabin, which fits a total of three people.
That is why this might be the best phinisi boat in Komodo Island.
Read More Vinca Voyage Phinisi
4. Fenides ship
The Fenides ship is a luxurious Komodo liveaboard that you can also consider. Its design is very modern and comfortable. You will also find spacious cabins and delicious cuisine aboard this yacht. You will feel like you are staying at a 5-star hotel on Kapal Fenides. This ship can fit up to 11 guests.
5. Phinisi Lamborajo
Another great phinisi boat in Komodo Island is Phinisi Lamborajo. This luxurious liveaboard will help you cruise through Komodo Island without any problems at all. Phinisi Lamborajo can cater to up to 10 guests. You will be able to see many gorgeous views while staying comfortable on this yacht.
Read More Lamborajo I & II
6. Phinisi Maipa Deapati
Phinisi Maipadeapati will help you sail through Komodo Island, Alor, Maumere, Raja Ampat, and so many other beautiful places. This luxurious ship will help you experience the best sailing Komodo trip.
Phinisi Maipadeapati can fit up to 16 guests, which means you can sail with all of your friends.
Read KLM Phinisi Maipa Deapati
7. La Nissa Phinisi
La Nissa Phinisi is another phinisi boat in Komodo Island that you can consider. This incredible boat can cater for up to 12 guests, which means you can take your whole family on a trip. This boat has a private cabin that is equipped with a balcony as well as other private cabins that you can enjoy. You will also be able to enjoy various activities such as sunbathing on the deck, karaoke, and having a barbecue.
8. Ayana Lako Di'a
Next, we have the Ayana Lako Di'a that can fit up to 18 guests. This spacious boat has 9 luxurious cabins that are super comfortable. On this phinisi boat in Komodo Island, you will have the best sailing Komodo trip experience. Why? Well, simply because you will get to enjoy the beautiful view and delicious cuisine.
9. MV Cajoma
Cajoma is a majestic Komodo liveaboard that can cater to up to 20 guests. You can explore Raja Ampat, Alor, and Komodo Island with this yacht. You will also be able to experience the most luxurious sailing trip in your life. Please read also prices for MV Cajoma III phinisi charter here.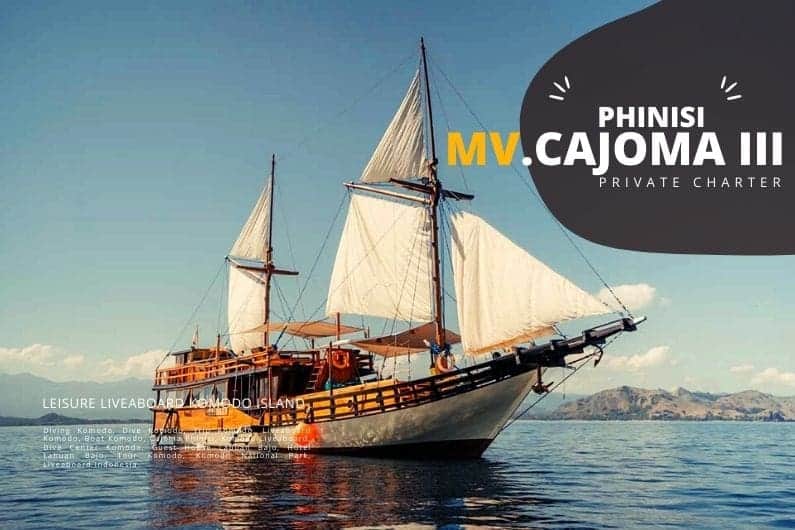 you can read also:
10. Zada ​​Phinisi
Lastly, we have Zada ​​Phinisi. This huge yacht can cater to up to 30 guests, which means that you can bring as many as your family and friends as you want. You will also be able to enjoy many facilities such as luxurious bedrooms, bar and dining area, sundeck, and so many more on this phinisi boat in Komodo Island.
A Phinisi Boat In Komodo Island & Superyacht Liveaboard Komodo Sailing