Padar Island Labuan Bajo
Padar Island Labuan Bajo is indeed one of the best islands in Indonesia with its stunning natural scenery.
Talk about beauty Flores Island it's endless. This island is one of the best tourist destinations when sailing Komodo tours with its stunning natural scenery.
One of the beauties of Flores Komodo is Padar Island, Labuan Bajo.
This island is one of the best islands in the Komodo National Park area which is getting more and more popular day by day.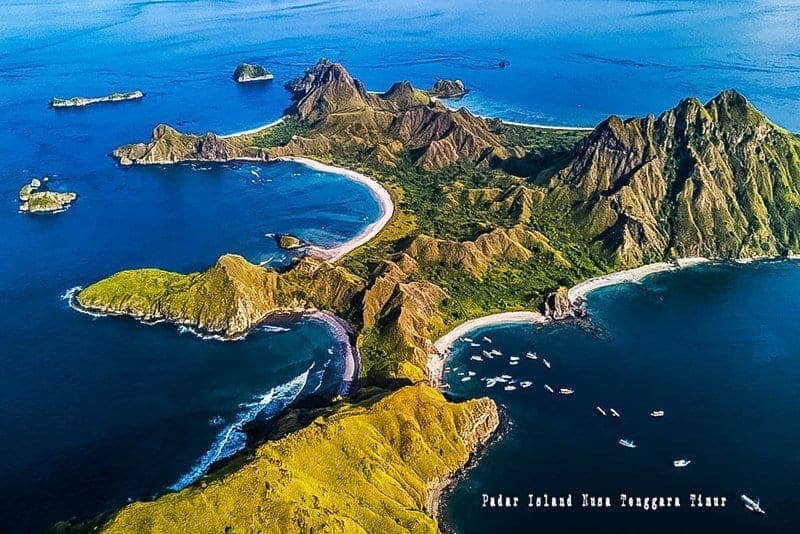 [spacerheight="20px"]
Padar Island Location
Padar Island is the third largest island in the Komodo National Park area. Compared to Rinca Island, Padar Island is known to the public more late. However, this island is still a very exotic island in Indonesia.
Padar Island google map
Topography of Padar Island
Location coordinates at Cor 8.654°S 119.574°E This island is managed under West Manggarai Regency, East Nusa Tenggara, Indonesia.
The island's topography is steep with steep deep-sea volcanic mountains and hills facing deep sea bays.
Padar has an arid climate with grassland bushes and trees covering the island, creating beautiful savanna hill conditions.
Padar Island Labuan bajo has four deep bays and sand beaches in various colors, mostly white sand beaches.
In addition, there is also a beach sand that has gray and pink sand. The sea around the island has several popular spots for scuba diving and snorkeling so don't miss it when you are on the island.
The popularity of Padar Island itself occurs thanks to the sophistication of communication.
Many people have tagged Padar Island so that this island is widely seen by the public, and of course it makes many people interested in visiting this island.
This island with amazing views is located not far from Rinca Island. Padar Island and Rinca Island are only separated by Leech Strait.
The Leech Strait itself has very strong currents. Therefore, travela must go using rent ship or speedboat to reach Padar Island from Labuan Bajo.
Read more
also our offer:
The location of Padar Island can also be traveled from Labuan Bajo. You will take approximately 3 hours from Labuan Bajo to this place.
However, the most frequent trip is by boat because it is faster and more comfortable.
[spacerheight="30px"]
Heading to Padar Island
Spending time on Padar Island will not be satisfying if only for a short time. Travela must prepare 3 to 4 days to be satisfied traveling on Padar Island.
To make a tourist visit to this island, you have to prepare extra energy and physical preparation.
Very lucky because even though it is located in Komodo Island National Park, but this island is not inhabited by Komodo.
So, travela can travel without worry. The attraction that you can see on this island is the stunning green hills landscape.
Once again, these tips and trips to the beautiful Padar Island do not only require a strong physique, but you also have to prepare your mental as well as possible.
Why is that? You will have to go to the top of Padar Island with a long journey. Trekking which is uphill with a 45 degree slope will be passed.
There are no stairs with safety ropes that can be used to get to the top of the Gili Padar hill on Padar Island, Labuan Bajo.
That is why travelers must be very careful when trekking on this path. Moreover, the road is quite slippery, rocky and even dusty.
If you choose the wrong shoes, the chances of slipping will be even greater.
Padar and KNP Entrance Tickets
Padar island entrance ticket is one with TNK entrance ticket (Komodo National Park) such as Komodo Island and Rinca Island as well as snorkeling activities (long beach/pink beach/takamakasar) in the KNP area.
The ticket is except for the entrance ticket to Kanawa Island or moringa island and others not mentioned above.
Domestic or local ticket prices include:
Entrance ticket for TNK motorized vessels.
Entrance ticket for KNP visitors.
Entrance ticket for nature activities & wildlife observation of KNP.
Tickets for snorkeling activities in KNP – Rp. 15.000/Person
Tickets for nature tourism activities, forest exploration, mountain climbing KNP.
As for entering rinca island on the same day there will be additions retribution and rinca island guide services again from the regional tourism department regulation.
Nail Tips
Here are tips that you can run when traveling to Padar Island.
1. Don't wear high heels
Wear non-slip shoes because the road to the top of the island of Padar Labuan Bajo is very slippery with a very extreme incline.
2. Leave in the morning
The best time for a trip to the hills of Padar Island is in the morning, afternoon, and evening before sunset.
If you go in the morning, you will get a photo with a blue sea background. If you come in the afternoon, you can take pictures with the sunset background on Padar Island which is amazing.
3. Bring a hiking stick
This will really help your stability on the way to the hills Padar Island Labuan Bajo.
4. Bring an umbrella or hat
The sun will be very hot. So, don't forget to bring an umbrella and hat. Sunblock is also a must-carry unless you want your skin to burn in the sun.
5. Just join the open trip
Visiting Padar Island is expensive because there is no public boat. Therefore, it is recommended for travelers to join tour packages or open trips with the aim of Padar Island.
Although there are many struggles that must be done to get to Padar Island, Labuan Bajo, in fact, tourists do not feel the least bit tired or don't want to go there anymore. Many precise hits that can be visited on the island today.
For example, an orange and beautiful sunset that can't be found on other islands, you can all visit to see Komodo, a rare ancient animal, and see the exotic scenery of the beautiful Flores sea.
[spacerheight="30px"]
FAQ
Frequently Asked Questions About Padar Island
1. Total Cost To Padar Island
How Much Does It Cost To Have A Vacation On Padar Island?
Many people think that a vacation on the island of Padar Labuan Bajo is expensive. However, all of that is only relative to the high and low cost. Regarding flight transportation costs, you can look for airlines or other airlines that are cheaper to Labuan Bajo.
Jakarta to Labuan bajo (West Manggarai Regency) You can use Garuda Indonesia flights, Batik Airlines, Nam Air to Citilink.
However, if you want to fly directly to Labuan Bajo, you can start your journey from Denpasar using Nam Air, Garuda Indonesia, and Wings Air.
Ticket prices start from 1,4 million to promo IDR. 400.000 one way from Bali to Labuan Bajo. The travel time is also fast, only 2 hours from Jakarta and 1 hour from Bali Island.
For lodging costs, the price varies from 200 thousand per night to 4 million you can find around Labuan Bajo.
To save costs, you can choose the cost of lodging which is quite cheap. To go to Padar island alone you only need an open deck trip boat or sailing trip ship komodo eyes to cross.
2. How to get to Padar Island from Labuan Bajo
What boats can be used to get to Padar Island?
There are boats to Padar island that can be done through several alternative routes. For alternative sea transportation you can use:
Open deck Komodo trip only IDR. 600.000 per person, the length of the day tour includes spots on Padar, Rinca and Komodo Island.
Rent a speed boat This method is quite recommended for private groups or family groups, only a little expensive for a speed boat rental in Bajo.
Sailing tours with phinisi or medium ship. Well at this point you will stay on the ship or commonly called LiveOnBoard with a duration of 2 nights or 3 nights. So you no longer need to look for lodging in Labuan Bajo.
3. Number of stairs on Padar Island
How many steps are there on Padar Island?
To enjoy the beauty of Padar Island, you are obliged to do trekking. Well, not everyone is ready to do trekking because the stairs that must be passed are quite a lot.
It is not known exactly how many, what is clear is that the number of stairs to the top of the island is more than 300 steps.
Wow, that sounds like a lot. But all of that will pay off when you see the truly amazing view of the island of Padar Labuan Bajo from the top.
4. What things need to be considered when vacationing on Padar Island?
The air on Padar Island is known to be hot. So, you should not neglect some of the necessities that you really need to take with you while trekking.
a. Make sure to bring enough drinking water. You will not find people selling drinking water on this island. If you don't bring enough water, you might become dehydrated before reaching the peak
b. Bring a mask and headgear. Masks can protect your face from the hot sun. Likewise, headgear, you will feel dizzy if you don't use a headgear at all
c. Wear comfortable footwear such as sports shoes or mountain sandals (because you are trekking). Don't get the wrong costume when you're trekking, wear a T-shirt that easily absorbs sweat. The wrong costume will only make you feel uncomfortable. If you use a long shirt and a veil, choose a material that is cool to use.
d. Bring a camera to capture the moment. It's a shame if you've struggled to the top, but you can't capture the beauty of the moment. Make sure the camera battery is sufficient so you don't get disappointed.
5. Padar island photo
How to get beautiful photos on Padar Island?
To get beautiful photos, you can take pictures from Puncak Padar in the afternoon. The view of the sunset at the top of Padar Island is one of the most amazing things. This will be an unforgettable moment in your life.
The wide expanse of hills and the cool green scenery will make you feel more at home.
The shimmering silhouette of the sunset makes the beauty of the island of Padar even more meaningful.
If you manage to reach The peak of Padar Island before sunset, you will really get the best golden photo.
Conclusion
There are many things you can do to make your vacation more enjoyable.
One of them is by visiting Padar Island in Flores, East Nusa Tenggara. The road to Padar Island Peak itself is quite difficult but no one complains at all.
You will be presented with an extraordinary view on this Padar Island. Take an open trip with the aim of Padar Island so you can get a cheaper price.
Prepare physically and mentally and don't forget to capture your every moment there. For sure, travela will be addicted and want again and again to visit this very cool island.
Happy holidays on Padar Island. Hope you have a memorable holiday. Don't forget to capture your every moment when you walk this island.
Greetings Tourism – Gotravela
Padar Island Labuan Bajo| Exotic Paradise in Komodo National Park