Pura Luhur Uluwatu is located in Bali Island, Pecatu Village, Kuta District, Badung Regency or about 22 km to the south from Ngurah Rai Airport.
Polenta Uluwatu is also one of the Sad Kahyangan Temples of the six Kahyangan Temples which are considered the spiritual pillars of Hindu Dharma in Bali.
Buddy travela feels incomplete if you come to Bali without visiting the tourist spots and the beauty of this Uluwatu temple.
Uluwatu Temple
It is undeniable that Bali has a variety of very beautiful tourist destinations, such as Uluwatu, the ocean and its hills.
This southern peninsula of Bali has one of the temples that stands tall and is the most iconic Bali Island.
Along the beautiful coastline there are also waves where world-class surfers surf that you can watch as an interesting spectacle.
Uluwatu History Flashback
Along with the history of its existence there are 2 opinions about the history of the founding of Pura Luwur Uluwatu.
First, there are those who think that this temple was founded by Master Kuturan. He was one of the Panca Pandita who arrived in Bali in the year 923 caka during the reign of Marakata.
Another opinion is that the construction of the Uluwatu temple was during the reign of Dalem Waturenggong by Dang Hyang Nirartha.
Dang Hyang Nirartha is a pedanda/priest from the Daha Kingdom (Kediri) in East Java. Came to Bali in 1546 AD.
Dang Hyang Nirartha after going on a spiritual journey around the island of Bali.
Ended just south of Pecatu hill and then built what we know as the Uluwatu Sublime Temple today. It is at this location that he moksha (rising with his body and soul) leaving the 'marcapada' (world) to 'swargaloka' (heaven).
Attractions in the Uluwatu Area
If you are interested in cultural performances, head to the open-air theater right next to Uluwatu Temple. To see the Kecak dance with a beautiful sunset background.
You can also go to the Garuda Wisnu Kencana Cultural Park in Jimbaran.
Interested in Uluwatu and the Hills? Here are some tourist attractions of Pura and Pecatu Hill that should not be missed to visit.
1. Uluwatu Temple
Uluwatu, also known as Pura Luhur Uluwatu, is one of the must-visit temples in Bali after Tanah Lot.
This temple is located on the southwest edge of a limestone cliff as high as 70 meters above sea level.
It is surrounded by forest and home to hordes of gray long-tailed macaques.
Dusk before nightfall at sunset you can watch a performance of epics or legendary hero stories from the book of the Ramayana.
With a good dish and a beautiful sunset background.
The Kecak dance performance is held in a Flavian Amphitheater or the Coliseum of the open theater south of the temple complex.
You can check the price of the entrance ticket to the Uluwatu Sublime Temple Entrance tickets to attractions in Badung and Denpasar.
Things to remember: When visiting the Uluwatu temple to be wary of monkeys / monkeys. Because they are thieves or natural rob of your belongings such as glasses, wallets, earrings or necklaces.

2. Kecak Dance
As one of the most captivating dance performances. Kecak dance also has another name, namely 'Fire Dance' which is also one of the most famous performances on the island of Bali.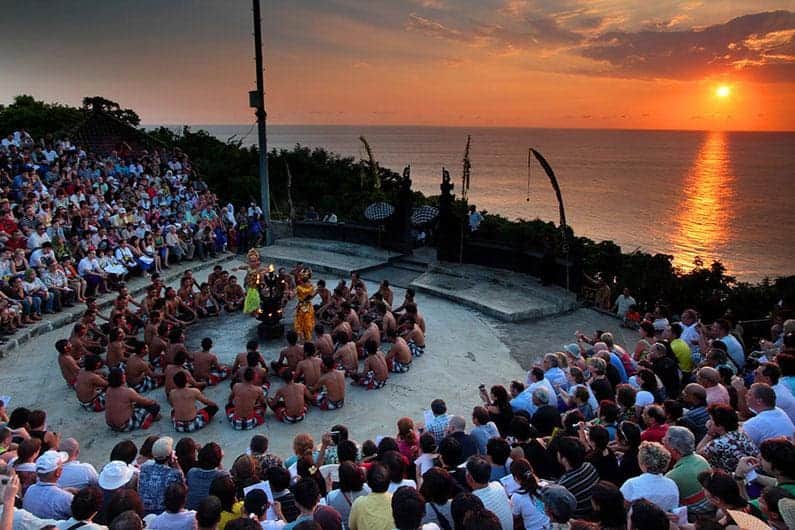 This dance features artistic stories from episodes of the epic Ramayana story. Which involves Hanoman and the main characters, namely Rama, Sita and Ravana.
For more details, travela friends can check Uluwatu Kecak Dance History Schedule of Performances and Tickets to Watch Uluwatu Kecak.
What makes the Kecak dance unique is that the only musical accompaniment to the Ramayana story is the male dancer's singing which sounds like 'keh-chak'.
The best place to watch this dance is the open-air theater next to Pura Luhur Uluwatu. The show starts at 18:00 to 19:30.
3. Garuda Wisnu Kencana Cultural Park (GWK)
Garuda Wisnu Kencana Cultural Park or GWK is a giant sculpture project located in the hills of Jimbaran. This statue is a statue of the god Vishnu riding Garuda.
GWK has a 250ha yard which is a multipurpose place. This page can be a pleasant stopover for you and your family.
GWK is a 121 meter tall statue beating America's Statue of Liberty and will be included in the list of the world's tallest landmarks.
This area also has restaurants and shopping centers (one stop shopping) that you can stop by while exploring the cultural park.
GWK is located right on Jalan Raya Uluwatu, Jimbaran and is open from 08:00 to 22:00 from Monday to Sunday.
For more details, my travel friend, check Garuda Wisnu Kencana GWK Entrance Tickets and Schedules.
4. Padang Padang Beach
As one of the tourist spots around Pura Luhur Uluwatu and a professional surfing spot that is a favorite of foreign tourists.
Padang Padang Beach is also a beach tourism destination. The locals call this beach as Labuan Sait Beach.
It has become popular in recent years because of its good waves for surfing as well as its beautiful scenery.
This beach is minutes away from the luxury Anantara Bali Uluwatu resort. It takes 45 minutes drive from Kuta.
If you want to go to this beach, you have to pass through stairs and hollow rock crevices, which lead to a beautiful stretch of sand.
The waves on this beach are perfect for swimming and professional surfers.
If the waves are big enough we do not recommend swimming for children or family tours.
But you can enjoy the beauty of this beach in a relaxed manner. Because around the beach there are local stalls that are open and serve snacks, cold drinks and also surfboard rentals.
Padang-padang beach is located: Jl. Labuan Sait, Pecatu Village.
Get offers tourist transportation we :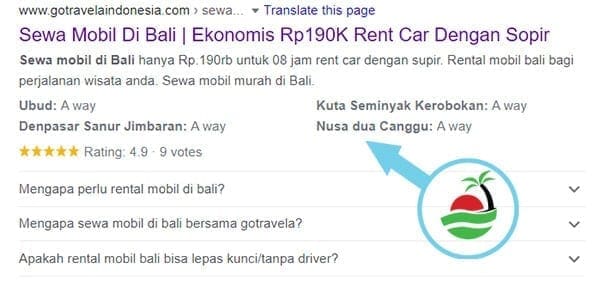 5. Suluban Beach
Suluban is the closest surfing spot north of Uluwatu. The beach is relatively narrow, and you have to descend steep stairs and through rocky crevices to get there.
The name Suluban means 'squat down' in the local language.
Inspired by how visitors pass through the gap to get to the beach sand.
Not a few people also dub this beach with the name "Blue Point Beach".
Surfers from all over come to try out the long and big waves, and also always provide Barrels to surf.
The top of the cliff overlooking the waves, making it one of the best places to watch the surfers in action.
A number of stalls in the area serve as a great place to relax and enjoy a snack or a cool beer.
While enjoying the view of the sunset around the Uluwatu Sublime Temple.
Suluban Beach is located: Suluban Street, Pecatu, Jimbaran.
6. Balangan Beach
Balangan is a well-known place on the bucket list of 'hidden beaches' and surfing spots.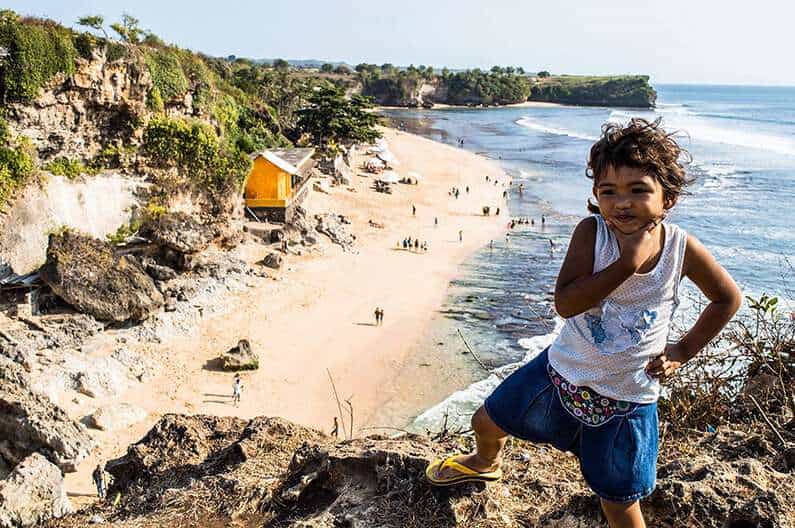 This beach is very beautiful and has its own characteristics and is still new to the traveler mania.
From the top of the hill, you can see a stretch of golden sand meeting the vast blue sea, which is a beautiful sight while watching the surfers from afar.
Those of you who like photography will like to linger photographing the sunset from the top of the hill. This beach is also one of the spots for prewedding photos.
This beach is suitable for swimming but this place is dominated by surfers and is not safe because there is no lifeguard on duty.
There are several warungs and cafes on the east side of the coastline. Balangan Beach is located on Balangan Beach Street, Pecatu, Jimbaran.
7. Bingin Beach
Bingin Beach is one of many world-class surf spots and is only a few kilometers from Padang Padang and Uluwatu.
It has a coastline bordered by limestone cliffs.
Having waves and breakwater reefs, this beach is definitely for advanced surfers.
At low tide, you can snorkel and swim.
For non-surfers, you can enjoy the beach from the hill overlooking the beach.
The beach is an hour from Kuta, and only a few minutes north from Uluwatu.
The waves are not as big as Uluwatu, the Barrel is consistent but shorter.
A number of cliff stalls serve snacks and drinks. This beach is located on Jalan Pantai Bingin, Pecatu, Uluwatu.
8. New Kuta Golf
New Kuta Golf is one of the main golf courses that serves international championship standard courses.
This 72 par golf course offers variety to provide a satisfying experience for all levels of golfers.
There are 18 holes, with hole 15 at the top of the cliff overlooking beautiful Balangan.
The entire field has an area of ​​​​about 85 hectares with grass consisting of paspalum beach grass.
The golf course is right next to the water park of the same name and only 20 minutes from Ngurah Rai International Airport.
Complete facilities for this place, including Link Restaurant which serves Indonesian and Western favorites. There is also a pro shop and spa as well as a number of meeting facilities.
This golf course is open from 06:00 to 17:00 and is located at Pecatu Indah Resort, Jalan Raya Uluwatu, Jimbaran.
Conclusion
That's the attraction of the Uluwatu Temple area and Pecatu Hill that you can enjoy during your vacation.
If you are a surfer, this area is definitely a great destination.
If you liked this article, then please subscribe to us YouTube Channel for support us in presenting tourist video forward. You can also find us on Instagram or direct to Whats-app me to consult your travel plans.
keep reading: What do you want to know more about Indonesia? »
Gotraveladmin | Uluwatu Temple