Hello travel. In this article, we will provide you with recommendations for Manado tourist attractions that can be your vacation destination.
When planning a vacation to Manado, what are the names of tourist attractions that immediately enter your list?
It is very likely that Bunaken must be at the top of your list.
Actually, there are still various Manado tourist attractions that are equally beautiful and stunning, you know! Anything, huh? Let's find out below.
Manado Tourist Attractions
We certainly know and are proud of the beauty and natural wealth of the sea in one of the provinces in the northern part of this republic. Manado is the capital city of North Sulawesi Province. Manado City has 11 sub-districts as well as 87 sub-districts and villages. Located in Manado Bay, the city is surrounded by mountainous areas.
Manado is the second busiest city on Sulawesi Island after Makassar City. This city offers a variety of tourist attractions. Starting from natural tourism, culture, culinary, to history that you shouldn't miss.
Attractions Other Than Bunaken
If you hear Manado, maybe what comes to your mind is Bunaken. Yes, Manado is indeed very famous for its very charming marine tourism. Especially this Bunaken. This marine park which is a UNESCO world heritage does have a very stunning underwater beauty.
In addition, what makes Bunaken Marine Park so famous because it has the highest biodiversity in the world. This time, we will introduce you to 5 recommended Manado tourist attractions besides Bunaken that you should also visit. So when you go to Manado, don't just go to Bunaken. Here he is :
Siladen Island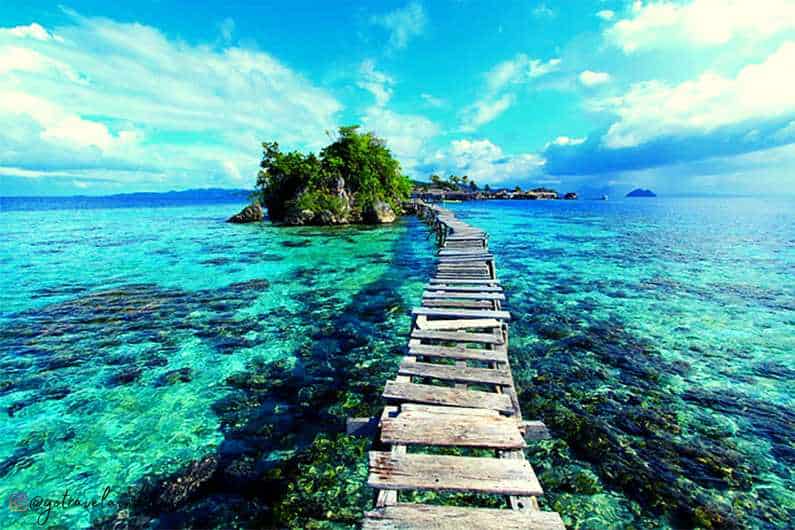 Bunaken Island is no longer in doubt for its beauty, both above and below sea level. Even so, it doesn't mean that other islands around Manado don't need to be visited, you know! You see, there are still many islands around Manado which are equally beautiful, such as Siladen Island which has this white sandy beach.
Moreover, you can also enjoy the charm of coral reefs below the surface of the clear sea water here. So, if you intend to spend time snorkeling or diving in Manado, Siladen Island is definitely a Manado tourist spot that you must visit!
Benchmark Beach
Have a dream of a vacation at Navagio Beach located in Pulay Zakynthos, Greece, but the costs are still not collected? You don't have to wait until you're old to be able to enjoy the beauty of Navagio Beach for yourself, because you can visit "his brother" in Manado, precisely at Patokan Beach.
Surrounded by two cliffs, you can find a colorful lagoon turquoise combined with a white sand beach that is definitely Instagram-able! Even though your struggle to reach Patokan Beach in Tanjung Silar, Bolaang Mongondow Regency is quite difficult because of the terrain. But all these difficulties must be paid off, really!
Lihaga Island
Want to experience for yourself what it's like to have a private island? If so, Lihaga Island should definitely be included in the list of Manado tourist attractions that you must visit! Lihaga Island is not inhabited by humans, so the area is guaranteed to be natural and clean.
This small island is the perfect location for those of you who want to spend a moment relaxing on the white sandy beach while enjoying the sound of the waves crashing from the brilliant turquoise sea.
Plus, you can also find several spots for diving and snorkeling because the natural marine environment is still very well preserved.
Mount Tumpa
Tired of playing on the beach and sea? Take it easy, because natural tourism in Manado is actually not only about beaches and the sea, really! Well, the next recommendation for Manado tourist attractions is Mount Tumpa which stands proudly.
And at its peak, you can see the view of Manado City which stretches as if without limits, plus Bunaken Island and Manado Tua Island, you know! Not only that, you can also enjoy Manado from a height in a different and much more exciting way, namely by paragliding. Interested in trying it?
Tumbak Island Marine Park
Besides Bunaken, did you know that Manado also has other marine parks that are no less amazing? Its name is Tumbak Marine Park, which combines the beauty of a small island with white sandy beaches, clear and sparkling blue sea water, and biodiversity that is very well preserved under the sea surface.
Here, you can find at least 20 diving and snorkelling spots, plus the opportunity to witness the beautiful sea fan coral for yourself.
That's a list of Manado tourist attractions besides Bunaken that deserve to be included in your list of visits when you get there. From the list above, which one catches your eye the most?