Using a tour bus rental in Bali with us. Bali car rental and bus rental services in Bali for your group and company gathering needs.

Tour buses from 25 seater to 45 seater are available in Gotravela, the convenience of luxury bus rental in Denpasar and friendly, professional drivers and decades of experience in the tourism sector.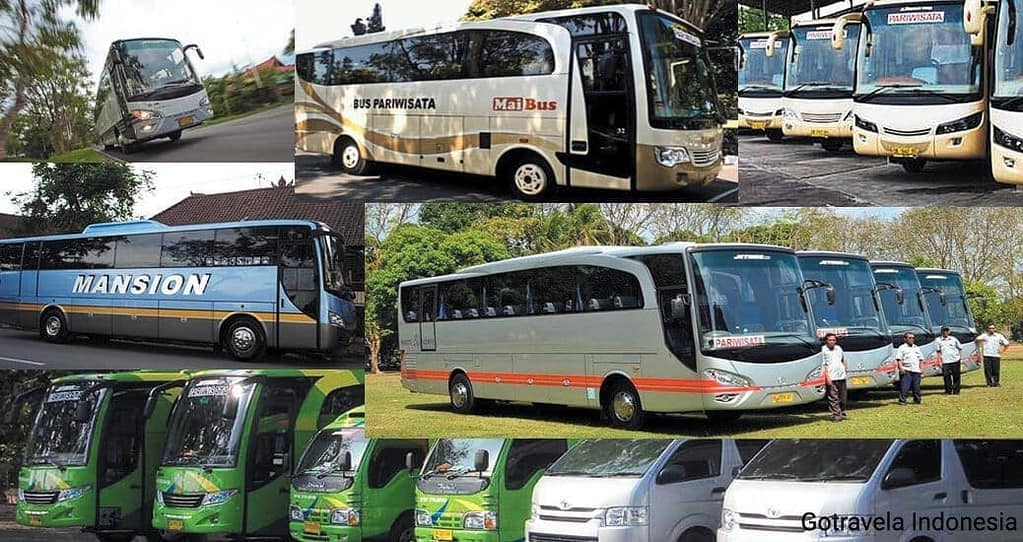 Customer Service hassle-free booking with-
the most complete choice of tour buses.
Book by WA: 081999565666
Rent a Tourist Bus in Bali
Travel in Bali Island is the dream of many people, until berFIT tourists and group size flocks come to this island from using small cars to using rent a tour bus in bali.
We can find group size tours starting from company/travel agent/event organizer/government office will definitely choose a vehicle with a large capacity tourist bus as mobility tourist transportation they were on the island of Bali.
Almost every district in Bali has interesting destinations that are worth visiting.
With that transportation infrastructure that is capable of accommodating a large number of people (groups) is needed. One of them is with Rent a tour bus in Bali – Gotravela Indonesia.
Gotravela's flagship product Bali automatic car rental – Car rental and Indonesian Tours can complete your needs for cheap bus rental access requests in Bali 2022 while on vacation on the island of Bali.
Starting from usability Tourism buses for work or official visits, events for wedding groups, buses for group holidays - GIT, for Tirta-yatra visits, bus rentals in Bali for company outings.
We also provide bus rental units in Bali for service Airport Transfers service, Hotel Transfers Service, Bus Charter/Rental, Half-day tour charter bus rental, bus rental package prices for tours, Bali – Java – lombok overland bus rental with the best bus facilities AC/TV/LCD/wifi, Reclining Seat, Mic, the condition is good and clean and an experienced driver will go to tourism objects on the islands of Bali, Lombok, Java and throughout Indonesia.
Bus Rental Prices in 2022
Description
35 seats
Hard
Per hour
Transfer In/Out
apt-kuta-sanur
IDR. 650K
The Way
Apt-nusa dua
IDR. 750K
The Way
Apt-ubud/land lot
IDR. 950K
The Way
Sewa
Full day charters
IDR. 1.350K
12 hours
half day
IDR. 950K
5 hours
Transfer
Dinner
Hotels at Sanur-kuta
IDR. 950K
3 hours
Hotels at Nusa Dua
IDR. 1.150K
3 hours
Description
28 seats
Hard
Per hour
Transfers
Airport
apt-kuta-sanur
550K
The Way
Apt-nusa dua
650K
The Way
Apt-ubud/land lot
750K
The Way
Sewa
Full day charters
1.150K
12 hours
half day
850K
5 hours
Transfer
Dinner
Hotels at Sanur-kuta
850K
3 hours
Hotels at Nusa Dua
980K
3 hours
Terms & Conditions
1. Prices in rupiah are net | (K : kilo/thousand = 000)
2. Price includes driver and diesel
3. Cancellations on the day of use and already at the location are subject to full rates
4. Overland prices do not include toll tickets, parking, object entrance tickets
5. Prices do not apply if there is an increase in fuel
1. Buses 28 – 30 Seater
Airport Transfer : Rp. 550.000/One way
Full day : Rp. 1.150.000/12 Hours
Half day : Rp. 850.000/5 Hours
2. 35 Seater Medium Buses
Airport Transfer : Rp. 650.000/One way
Full day : Rp. 1.350.000/12 Hours
Half day : Rp. 950.000/5 Hours
3. 40 Seater OH/Big Bus
Airport Transfer : Rp. 850.000/One way
Full day : Rp. 1.900.000/12 Hours
Half day : Rp. 1.250.000/5 Hours
Bus Package Prices
| | | |
| --- | --- | --- |
| Bus Packages | | |
| | 28 seats | 35 seats |
| In FD Out | 1.750K | 1.975K |
| HD FD ​​Out | 1.900K | 2.250K |
| FD FD Out | 2.200K | 2.475K |
| In 2xFD Out | 2.600K | 2.950K |
| HD 2xFD Out | 2.750K | 3.125K |
Special Price for Bus Rental 40 and 45 Seats
Bus 40 Seats Bali
Services
OH 40 Seats
Hard
Transfer In/Out
Kuta
Sanur
Nusa Dua
Jimbaran
IDR. 850K
01 Way
Tanah Lot
Ubud
IDR. 1.100K
01 Way
Singaraja
Lovina
Karangasem
IDR. 1.800K
01 Way
TOURS:
Full day
IDR. 1.900K
12 Hrs
half day
IDR. 1.250K
06 Hrs
Dinner
IDR. 1.250K
06 Hrs
Round trip
/Day
Extra Charge
Overtime
10%
A Hour
HDD Bus 45 Seats Bali
Services
HDD 45 Seats
Hard
Transfer In/Out
Kuta
Sanur
Nusa Dua
Jimbaran
IDR. 1.100K
01 Way
Tanah Lot
Ubud
IDR. 1.250K
01 Way
Singaraja
Lovina
Karangasem
IDR. 2.100K
01 Way
TOURS:
Full day
IDR. 2.100K
12 Hrs
half day
IDR. 1.450K
06 Hrs
Dinner
IDR. 1.450K
06 Hrs
Round trip
/Day
Extra Charge
Overtime
10%
A Hour
Bus Condition:
The bus is equipped with AC, Reclining Seat, TV, Audio System (Karaoke), Mike, Cooler, Safety Belt, First Aid Box, Fire Extinguisher, Glass Breaker Hammer, Emergency Door, socket to charge HP battery.
All passengers get Accident Insurance Protection (Jasa Raharja).
Conditions as follows:
Prices in Rupiah are NETT.
Includes fuel and driver fees.
Departure / Start starts from the city of Denpasar and surrounding areas.
Not included: Toll Gate, Parking, Tourism Object Entrance Ticket and Tips for Crew Bus.
Only for the furthest route to the Bedugul/Kintamani area, beyond that it will be adjusted.
Rates can change at any time if there is a change in national economic policies (such as fuel, etc.).
The price above does not apply to Tirta Yatra / Prayers / Wedding Shuttle.
Bus 45 cannot enter the Kuta area and Kartika Plaza area, unless there is a special permit (Satlantas Police) with an additional fee
How to order a bus rental above:
Please send a message via SMS, WhatsApp or email to check availability and wait for further confirmation, with the format:
Name : …………..
Bus seater : …………..
Package : …………..
Tour Start Date : …………..
Tour End Date : …………..
Reservations :
Whatsapp/SMS/Telephone : +62 (361) 445 77 39 / +6281999565666 (click on the number next to)
Email : gotravela.id@gmail.com
Busy Bali Bus Season
So far we have served your needs Rental Transportation in Indonesia for foreign or domestic tourists.
The demand for tourist bus rentals in Bali will certainly be difficult due to the limited units during high seasons such as July, August, November, December to Lebaran or Chinese New Year.
Demand for bus rentals will also be difficult during the MICE season or world international events when they are held on the island of Bali.
So here are our tips:
If a fellow traveler immediately book a bus in advance when your tour plan to Bali is ripe or final, especially during the high season.
Gotravel tips
Bus Driver & Co-Driver
The need for tourist bus in bali To make your tourism and event programs a success, of course you need it good coordination between us the transport as mobility and the tenants or event organizers.
Our drivers, co-drivers and assist drivers have a good attitude, experience and are supported by the work ethic of our professional and unquestionable bus transportation team.
Guest comments or feedback from the tenants are very much needed by us to evaluate the service and performance of our bus transport team. Because the quality of service will certainly affect your satisfaction as a loyal customer and our prospective customer.
We are committed to always providing and serve our customers and prospective customers with the best effort during a vacation to the island of the gods. Rent a tourism bus in Bali is one of the mainstay products, which we offer to you and your friends travel agent, eo and corporate which are for Indonesia and abroad.
Gotravela Cooperation and Tourism Bus PO
The fleet we use comes from our partners where we have cooperation (contracts) with the best and binding prices, of course with unquestionable standards, such as:
White Horse Bus Bali
Trans Mansion
Mai Bus Transport
Sanjaya Kusuma Transport
Adhi Jaya Bali Trans
WW Bali Trans
Kul Kul Bali Transport
A tourist bus that already has a standard engine EURO2 and EURO3 (European emission standards).
It has a bus interior with a luxurious design, cleanliness in the bus that is always maintained, the condition of the tourism bus engine regularly gets maintenance, as well as the latest bus output 2017 and above.
The types of tourism bus rental vehicles that we provide are standard executive and luxury class buses with seating capacities:
Tourism Bus 20 passenger seats
28 passenger seats
30 – 35 passenger seats
40 – 45 passenger seats
Equipped with facilities
Full Air Conditioning (AC)
Reclining seat
DVD player and LCD screen
Karaoke facilities
Sound System
cool box
WiFi
GPS
Travel insurance
Provisions
Provisions
The price above for renting a Bali tourism bus includes diesel and a driver.
Tour bus rental does not include inter-island crossing fees, ferry boats, parking tickets, toll fees, guides, driver lodging and meals, driver tips and kenek.
Payment Terms
The payment process can be done with confirmation from us.
Min. Deposit 30% of the bus rental price, and if there is a cancellation from the consumer before 14 days of bus use, we will refund 10% of the deposit for a refund.
Booking at least 5 days before (D day) using the bus.
Payment of rental payments in advance, at least 2 days before the date of use of the bus.
If there is a cancellation on the day of use from the consumer, the payment or deposit will not be returned (forgotten).
Payment can be made by bank transfer.
Rental Period Extension
Excess time to use the tour bus rental, please confirm with us again (Overtime charge applies if it exceeds the usage time in a day.)
We also provide minibus rental services in Bali, semi micro & vehicles such as;
And also for areas outside Bali:
Bali and Tourism
General information about the island of the gods, geographical location between two islands; West Java and East Lombok, of course, Bali is the belle of the island with a beautiful tropical climate. Neatly packaged, this island offers thousands of destinations which of course will never run out to be explored since hundreds of years of the first tourist trips undertaken by Maha Rishi Markandeya from the land of Java 13 centuries ago.
The development of tourism in Bali from year to year has made it more mature and professional, organizing from small to international events makes this island an ideal place for leisure tourism, MICE and high-class exhibition trade fairs.
Hopefully in the future tourism in Bali will remain a benchmark and barometer of tourism for new destinations in Indonesia. Below you can find other travel tour offers, such as;
Such is the offer for renting a tourism bus in Bali that is informed on this page. If you have any questions or suggestions, don't hesitate to write in the comments column below or contact us.
Source Fleet starting from:
#MaibusBali
#GedebaliTrans
#MansionTrans
#AdijayaBusTrans
#KulKul Trans
Thank you, if you are a travela friend, you can leave a review below.
Regards – Grace gotravela +628214444 8095 Tourist Bus Rental in Bali.