Innova Bali Car Rental | Innova rental 24 hours off the key. The nature and culture of the island of the gods of Bali is always tempting and invites admiration for anyone who visits.
Especially if this beauty is enjoyed with family while you are on vacation.
Source: rent innova bali off key, rent innova reborn bali, rent innova reborn bali off key, innova monthly car rental price, innova reborn rental.
Innova Bali Car Rental
We are Go Travela, a service provider car rental in bali and Indonesian tourism provides services Innova Bali Car Rental.
The Kijang Innova car that we provide starts from the 2018 unit to the latest release of the New Toyota Innova Reborn in 2020.
Planning a visit today or tomorrow to travel to Bali's favorite tourist destinations is certainly very exciting.
Explore tourist spots such as;
Of course, this requires a rental transportation vehicle that is comfortable for you and your family to reach Bali's tourist attractions.
The Toyota Innova that we rent is the answer.
All units are in prime condition because we always carry out routine maintenance. Includes replacement of spare parts and service on a regular basis.
To ensure the comfort and satisfaction of all customers who use the innova rental services in Bali that we provide.
Innova Bali Rental Price
Innova Rental + Driver Service: Rp. 400.000,-/10 Hours
Innova Rental + Driver Service + Fuel: Rp. 500.000,-/10 Hours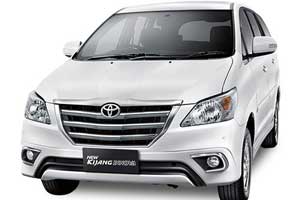 Rent Innova Manual off key: Rp. 335.000,-/24 Hours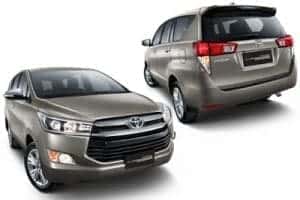 Rent Innova Reborn (AT): Rp. 500.000,-/24 Hours
Car + Driver Service: Rp. 450.000,-/10 Hours
Car + Driver Service + Fuel: Rp. 550.000,-/10 Hours
How to Book Innova Bali Rentals
Please contact WhatsApp to check availability and wait for further confirmation, with the format:
Name : …………..
Number of people : …………..
Car Type : …………..
How many days of use : …………..
Tour Date : …………..
Reservations :
Whatsapp book hour 09 am to 04 pm
+ 6281999565666 (gotravel cs)
Office: +62 (361) 44577 39
email: gotravela.id@gmail.com
Also see:
Why should you use an Innova car in Bali?
Innova Bali car rental It has a maximum passenger capacity of 7 people not including the driver. With a large space so you can enjoy your vacation trip without the need to jostle in the car cabin.
Innova is supported by a spacious luggage space, it is perfect for those of you who carry large amounts of luggage.
So it can be said Toyota Kijang Innova is the most ideal family vehicle in Indonesia.
The Kijang Innova car is supported by an engine with a capacity of 2000 cc with an engine system VVTs it is able to produce maximum engine performance, with minimum fuel consumption.
The Toyota Kijang Innova is an ideal MPV category car for families, receiving positive responses from our customers for its convenience.
Because of the quality and comfort provided by the Toyota Kijang Innova, it is in accordance with the needs and demands of consumers for long-distance vehicles for families.
Another advantage of the Toyota Kijang Innova is its soft suspension which will give you comfort when traveling so you will not feel tired when driving for a long time.
Equipped with the latest technology such as Air Bags and also side impact beams so that your family will be protected while traveling.
Regarding terms and conditions Bali innova car rental can be seen on the link Terms and Conditions.
If you rent a Toyota Kijang car Innova more than 3 days We will be happy to provide discounted rental rates for you.
Important: sometimes missed, Tips if you want to ask the price of an Innova car rental in Bali at other rental services, ask the year of manufacture of the Toyota Innova that will be rented out. Because the year of manufacture of the vehicle, it has a very significant effect on the price of Innova car rental in Bali.
SERVICE WITH US
We try to provide the best service to our prospective and customers, Although we do not escape the name of complaints from guests, but we are trying to improve ourselves by always evaluating the performance of our team and drivers.
We need your feedback or input about the services provided by our drivers! Not infrequently we contact guests and ask how the performance of our drivers while serving guests in Bali.
From suggestions, complaints, inputs and compliments given by guests, this is our evaluation material to continuously improve Innova car rental services in Bali with us.
We provide Bali tour packages with the types of cars we use:
Bali Long & Short Elf Rentals
Toyota Alphard Bali
Bali Tourism Bus Rental
CAR RENTAL TIPS IN BALI!
Make sure the car you are renting is a type of car that is at least 2014 and above. This is important as a benchmark for the condition of the car that remains prime.
Choose a car rental service that provides reasonable and reasonable prices (google recommendation).
Make sure the car you rent is clean and well-maintained – make it a habit to check before you use it.
If you rent a car without lock, don't hesitate to ask, is the car insured?
If you rent / rent a car off key, then look for a rental service that provides car shuttle to the airport or hotel at no additional cost.
Make sure the driver is good at driving the car and also understands the location of the intended area and of course convinces the rental service that the driver is friendly and friendly.
Indonesian travel recommendations in 2021
If a traveler is on vacation to Bali in a group and trying to calculate a better budget. Travelers can read recommendations Rent a Tourist Bus in Bali.
Or if it's a small group to feel the comfort of a high-end class luxury commuter, you can too Toyota Hiace Rentals in Bali. Or you can also find Rent a car in Labuan Bajo with us.
As you know, the island of Bali provides a variety of attractions and attractions that you can find here. Starting from tourist attractions and our attractive offers such as:
You are on the right website at Innova Bali Car Rental I hope this page is useful for travelers and happy holidays and joy, your satisfaction is our happiness.
Innova Bali Car Rental