Rinca Flores Island
Rinca Flores Island / Rinca Island
The existence of social media does have a good impact on the development of tourism in Indonesia. One of the famous tourist attractions thanks to social media and included in one of the UNESCO World Heritage Sites is Rinca Island.
This island, which is located in the Komodo Island National Park Area, is one of the most popular and instagrammable places at the moment.
Lots of people talked about saving Komodo some time ago and the construction of accommodation in the Komodo Island National Park area is still being carried out.
Until the news was updated on the plan to close the Komodo National Park by the Governor of NTT Viktor Laiskodat for one year.
Rinca Flores Island and Komodo Island are places where the ancient Komodo dragon habitat is protected by the world. The difference between the two islands of Komodo habitat lies in the geographical contours of the island.
Where Komodo Island has more forest, while on Rinca Island it has more savanna.
Rinca Island Location
Rinca Island is one of the islands in western Flores which is the original habitat of the ancient Komodo dragon.
You can visit Rinca Island in 2 hours from Labuan Bajo. The trip, of course, has to be done by boat or by boat daily boat rental in Labuan Bajo.
Rinca Island is one of the destination spots when you take the Komodo sailing tour package.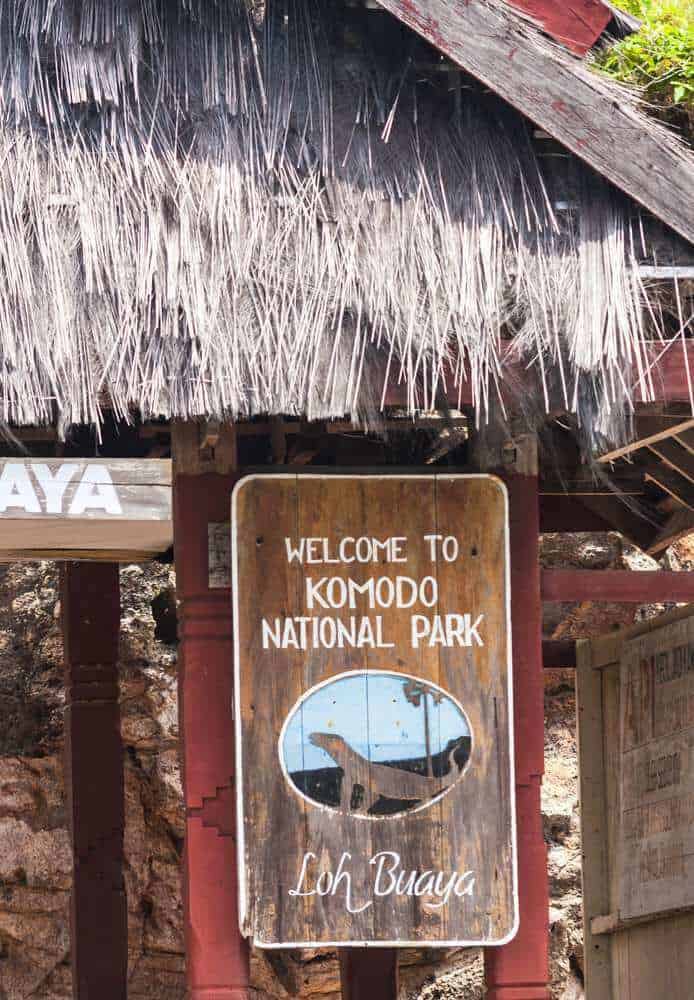 As the original habitat of the Komodo dragon and the core of the Komodo Island National Park, Rinca Island is closely guarded by the government. This island has an area of ​​190 km. Even though these ancient dragon beasts live on Rinca Island, it doesn't scare the locals.
At least, there are 2 villages with a population of approximately 1000 people on this island.
[spacerheight="20px"]
Google Map Rinca Island
The two villages were named Rinca Village and Karora Village. The largest population is in Kampung Rinca. Residents in Rinca Village themselves have a livelihood as a fisherman.
If you want to visit Rinca Flores Komodo Island, you can also visit Rinca Village and Karora Village to socialize with the local community.
In addition to relying on the fishermen's results, the people on Rinca Island earn income from selling food, becoming tour guides, and renting out their houses to become homestays for tourists who come.
The friendly residents of Rinca also make tourists who come to Komodo Island National Park feel at home.
The distance between Rinca Island and Komodo Island is not far apart. However, the size of the Komodo dragon on Komodo Island is larger than the size of the Komodo dragon on Rinca Island.
Meet too Rent Luxury Phinisi Neomi Cruise in Labuan Bajo
Komodo which is located on Rinca Island also has a more ferocious nature because the weather is hot and dominated by Padang Savana. That is why there are frequent cases of Ranger being attacked by Komodo on this island.
The location of Rinca Island is very convenient as a trekking place that will not be forgotten.
You will be cradled and immersed in the stunning natural panorama and see Komodo dragons up close. Rinca Island is really like a wild island with amazing beauty.
Infographic 6 Important Things When Visiting KNP
Rinca Island Entrance Ticket & Levies
Rinca island retribution tickets will be cheaper if taken together on the same day as the entrance ticket to Padar Island.
So our best advice is if you want to visit Rinca Island, you should all visit Padar Island and Komodo Island on the same day (because if on a different day you will pay 2x – love, right?).
Entrance ticket for TNK motorized boats.
Entrance ticket for KNP visitors.
Entrance ticket for nature activities & wildlife observation of KNP.
Tickets for snorkeling activities in KNP – Rp. 15.000/Person
Tickets for nature tourism activities, forest exploration, mountain climbing KNP.
What's in Rinca Island
To get a safe, comfortable trip, without breaking the bank, you should consider tips and trips to Rinca Flores Island. This island in East Nusa Tenggara does make many people feel curious because of the ancient Komodo dragon that is in it.
Prepare the following things as the best plan for a vacation on Rinca Island.
1. Transportation
The journey to Rinca Island is quite long because you have to go to Komodo Airport which is located in Labuan Bajo.
You can use the services of a gotravela travel agent to Rinca Island or an open trip. Usually, there are many open trips and other local tour operators in Labuan Bajo to get around the Rinca Island and Komodo Island areas.
2. Accommodation
Visitors usually come to Rinca Flores Island using a Live On Board ship that has a bed in it. The cost depends on the size of the boat and the duration of your stay. However, the cost of renting a food and beverage boat is usually borne by the open trip.
3. Activities to do
On Rinca Island, you can enjoy the beauty of the beach with its pink sand. You can see Komodo dragon up close on this island.
4. Take pictures with Komodo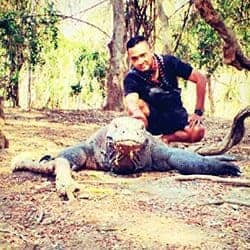 After you buy an entry ticket on Rinca Island, you will get a briefing to see the display of the skulls that are victims of the Komodo dragon hunt.
The Komodo ranger or handler will give you direction not to go far from him because Komodo is a dangerous animal. You will be invited through the forest and you can see Komodo dragons roaming around.
After you are satisfied touring the Rinca Flores Island World Heritage Site UNESCOYou can also take a break in the canteen that has been provided there.
Rinca Island, which is part of the core part of the Komodo Island National Park, has a very extraordinary attraction.
Although the location is quite difficult to reach, but everything will pay off when you see the extraordinary beauty inside. See Komodo up close, enjoy the hills, and enjoy the beauty of the sea from Rinca Island.
FAQ
Frequently Asked Questions About Rinca Island
How much does it cost to go to Rinca Island?
If you calculate the cost of visiting Rinca Island, it is not too expensive. For backpackers, it is enough to provide funds of approximately 3 million to enjoy the beauty of the Komodo Islands and Rinca Island. Try hunting for promo tickets for Jakarta – Labuan Bajo.
How much is the Komodo National Park entrance ticket?
Travela must know the entrance ticket rinca island and Padar Island That's 1 ticket price. Usually the visit begins on Padar Island in the morning and then to Rinca Island by showing the Padar entrance ticket to the Komodo National Park officer.

So the additional cost is usually only for the rental of a Guide Ranger with 1 Ranger accompanying the max. 5 people. The total cost of admission for domestic on the 2 islands is approximately IDR. 120.000 per person including rangers.
Is Rinca Island the Komodo's original habitat?
Yes, Rinca Island is the original habitat of the ancient Komodo dragon besides the Komodo island itself.
For more details, let's read Komodo History and Legend.

This island is even the core of the Komodo Island National Park with an area of ​​​​about 190 square kilometers.
What flights can be used to Rinca Island?
To go to Rinca island, you can take a plane from Jakarta to Denpasar. Then, you can continue your journey to Labuan Bajo, West Manggarai Regency.

Labuan Bajo Airport is the main gateway to Komodo Island National Park.
The range of ticket prices that you have to spend is approximately 2 million rupiah for the return fare if from Denpasar Bali.
Local residents
Rinca Flores Island which is the original habitat of the Ancient Dragon Komodo has an area of ​​198 square kilometers.
This island can be reached by renting a boat or small boat from Labuhan Bajo Flores. This place is known as a very good place because there are no people disturbing the Komodo dragon's habitat.
With an area of ​​198 square kilometers, the island consists of several hamlets namely Komodo hamlet, Bajo hamlet, Banyan Baru hamlet, Kukusan hamlet, Beringin Jaya hamlet, and Kerora hamlet. Of course, you can enjoy all the beauty of Rinca Island in just one day.
But if you want to enjoy a longer time on Rinca Island, residents rent out houses or homestays for tourists who come. The rental price is quite affordable.
Nail Tips
Saving tips for backpackers?
If you want to visit Rinca island, a frugal tip to do is to go in a group to save more money. Here are the tips.
Go three or more
You can go three with friends and colleagues so that you can share the cost of the trip. You can share the cost of the boat, the cost of staying, and even share the cost of eating during your visit to Rinca Island.

You can rent only one hotel room for three in Labuan Bajo.
Choose a week off after Christmas and New Year
Early January is the time when the long holiday ends. Many people don't think about taking a vacation.

This is the time to take a vacation on Rinca Island. Many airlines are slashing prices at this time.
Choose flights from Jakarta – Bali or Lombok
Flights from Jakarta to Lombok are cheaper than routes from Jakarta, Denpasar, Manggarai Regency. Jakarta Lombok tickets are only around IDR. 500.000.

But also now Bali Labuan Bajo is even cheaper with Air Asia if you are lucky you can get IDR ticket prices. 400.000
Rent a boat with gottravela online agent
A visit to Rinca Island will not be complete if you don't go around the Komodo Islands.
You can use a boat rental service directly to get a cheaper price only at gotravela super promo!!
Prepare for your and your family's vacation to Rinca Flores Island which is the only place where Komodo dragons live in Indonesia. Visiting Rinca Island will be cheaper if you use the services of a travel agent or open trip.
Look for a professional open trip to this place and get an amazing experience to get closer to the Komodo dragons with us.
If you liked this article, then please subscribe to us YouTube Channel for support us in presenting tourist video forward. You can also find us on Instagram or direct to Whats-app me to consult your travel plans.
"Rinca Flores Island" – Rinca Island UNESCO World Heritage Site