Animals Participate in the 77th Indonesian Independence Day Ceremony in Bali
Indonesian people use various unique ways to celebrate Independence Day. There are those who hold competitions with funny themes and there are those who hold a ceremony commemorating Indonesia's independence in an unusual way.
Yes, like animals taking part in the 77th Indonesian Independence Day ceremony in Bali. Hold the ceremony eccentric This is done by wildlife sanctuaries and animal conservation centers Bali Safari and Marine Park, Ginyar, Bali.
Reasons why animals take part in the Indonesian Independence Day ceremony
Quoted from travelsecond (18/8/2022), a number of animals took part in the 77th Indonesian Independence Day ceremony in Bali, ranging from Sumatran elephants to pangolins. The involvement of protected animals in the ceremony has a deep message.
Not only as a ceremonial commemoration of Indonesian independence, but also as an effort by Bali Safari & Marine Park to convey the message of conservation and protection of animals. "We always prioritize (conservation campaigns, ed.) animals in commemorating the independence ceremony of the Republic of Indonesia," said Inneke Ficianirum, Head of Marketing Bali Safari & Marine Park, as reported Between (17 / 8 / 2022).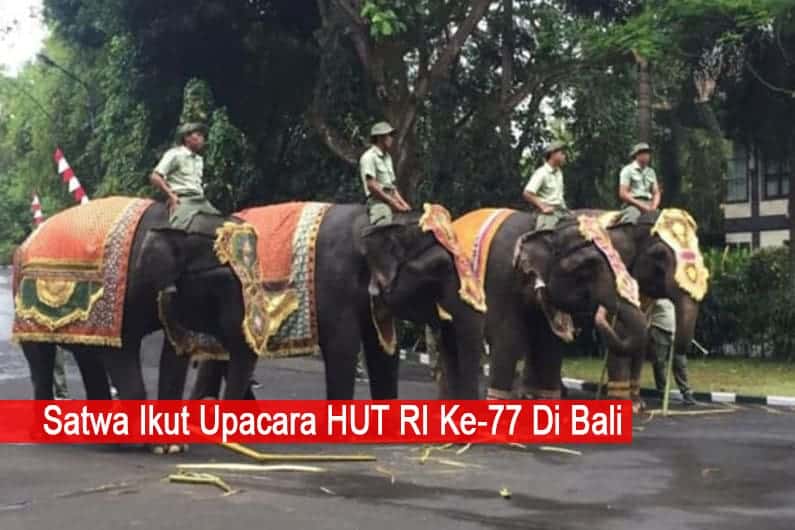 Furthermore, he said that apart from being an educational event for the conservation of protected animals, the animals taking part in the 77th Indonesian Independence Day ceremony could attract tourists to visit the Bali Safari & Marine Park.
Inneke highlighted that the number of tourist visits to Bali Safari & Marine Park per day reached 1.000 people as of June 2022. This number has experienced a significant increase compared to during the Covid-19 pandemic, which had declined.
Yes, like Travela buddy You know and have experienced, the Covid-19 pandemic has indeed shaken the world economy, including Indonesia.
Almost all business sectors are affected, including the tourism business. Bali, which is a world-class tourist destination, has also been forced to swallow the bitter pill of the sluggish tourism world due to the global pandemic.
Elephants and pythons join the ceremony
The animals that took part in the Republic of Indonesia's Independence Day ceremony included four Sumatran elephants, a parrot and a parrot, a python and a pangolin. The four elephants who took part in the ceremony were each escorted by a handler wearing a distinctive cloth decoration Archipelago yellow and red.
Also get our offers:
See also:
Meanwhile, an elephant is seen wearing a poleng cloth, which is a typical cloth from the Island of the Gods with a black and white checkered pattern. By the Balinese people, poleng cloth is believed to be a form of appreciation for 'Rwa Bhineda', namely the concept of balance in living life.
As an 'additional participant', the elephant managed to take part in the series of ceremonies commemorating the 77th Independence Day of the Republic of Indonesia in an orderly manner and without getting "angry". Then, after the ceremony was held, the protected animals were led to 'turn right' to their respective drums, guided by officers from Bali Safari.
How Travel buddy, so much fun! If in place Travela buddy what's the fun? nih in commemoration of the 77th independence of the Republic of Indonesia? (Y)