When it comes to picturesque Indonesian destinations, Senggigi Port serves as an enchanting gateway to the stunning island of Lombok. With its captivating landscapes and rich cultural tapestry, Senggigi Port is more than just a point of arrival – it's an experience that immerses you in the heart of Indonesia's natural and cultural wonders.
Port Ward is indeed the busiest port in Lombok, both to Bali and the Gili Islands from Lombok. However, there is Senggigi Port, which can be an alternative to reaching these two beautiful islands.
Discover Senggigi Port
Senggigi Port stands as a welcoming portal to the tropical paradise of Lombok. Nestled on the western coastline, this port not only caters to the practicalities of travel but also introduces travelers to Lombok's incredible beauty from the moment they step ashore.
Location
Senggigi Port is a place for fast boats from Bali to dock. In addition, there are also many fishing boats around here. It is located in Batu Layar District, West Lombok Regency, West Nusa Tenggara province.
From downtown Lombok—let's say from Mataram, which is the provincial capital of West Nusa Tenggara, it can be reached in just 15-20 minutes.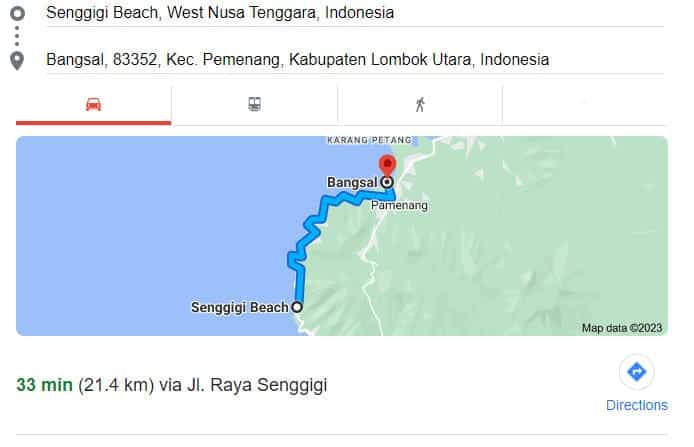 Distance from Senggigi Port to Bangsal Port
Meanwhile, geographically, it is located on the west side of Senggigi Beach. Well, it's the beach that made Senggigi so famous—and not the harbor.
Gateway to Gili Islands
For those seeking adventure beyond the shores of Lombok, Senggigi Port acts as a convenient launchpad to the renowned Gili Islands. These three captivating islands – Gili Trawangan, Gili Meno, and Gili Air – boast unparalleled marine life, making them a haven for snorkeling and diving enthusiasts. The port's proximity to these islands makes it a strategic starting point for exploring their underwater wonders.
Beautiful view
Yes, Senggigi Beach is one of many charming beaches in Lombok. The attraction of this place lies in the fine sand beaches and pure white, continuous with the panoramic view of the blue sea that soothes the eyes.
If the weather is clear, you can see the silhouette of Mount Agung in Bali here. It is located not far from Senggigi Port. Practically, when you are going to cross from Lombok to the Gili Islands or to Bali, you will be able to see the beauty of the beach at the same time.
If you have enough time, of course, you can come earlier than the fast boat transfers departure schedule. Thus, you can more freely enjoy Senggigi Beach.
Breathtaking Coastal Beauty
Lombok is renowned for its pristine beaches, and Senggigi Beach, located near the port, is a testament to that reputation. The soft, golden sands against the backdrop of crystal-clear turquoise waters create an inviting setting for visitors. Whether you're a sunseeker looking to unwind or an avid water enthusiast eager for a swim, Senggigi Beach has something for everyone.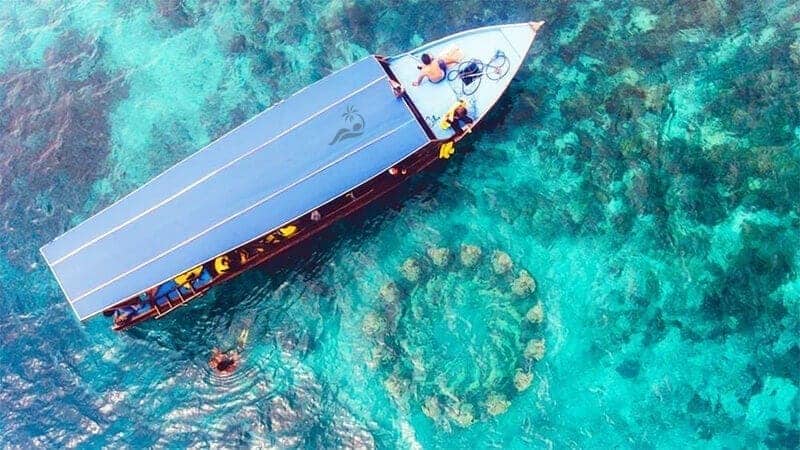 Immersive Cultural Experiences
Beyond its natural splendors, Senggigi Port offers opportunities to engage with the local Sasak culture. The nearby traditional villages provide a glimpse into the island's heritage, allowing you to witness traditional weaving, intricate woodwork and vibrant festivals that showcase the essence of the Sasak people.
The Golden Age of Senggigi
However, did you know that Senggigi is not a place that just became famous? However, it has reached its heyday or as a golden era in the late 1990s.
At that time many tourists entered Lombok, including from abroad. I am related to the massive advertising of Lombok as 'The Next Bali'.
However, the 2002 Bali bombings, the 2018 earthquake, and the 2020 Covid -19 pandemic made tourism in this area slump.
Now, after the pandemic, Senggigi is back on the bench. Senggigi Port itself is an important link in transporting tourists both from Bali to Lombok / Gili Islands, and vice versa.
How to get to Senggigi Port
So, for those of you planning to cross from Lombok to the Gili Islands or Bali from Senggigi Port, there are many ways you can do it.
Besides you can rent a car, you can also use a motorcycle taxi (called an ojek) or a taxi. The travel time by motorized vehicle from the Senggigi area to the port is only 10 minutes. If you are from Mataram City, it will take around 20-30 minutes.
Then, if you are from Kuta Lombok, it will take about 2 hours.
Read also
Facilities Around the Port
Oh yes, you don't need to worry if you want to cross from Senggigi Port. The reason is, even though this port is not as busy as Bangsal Port, its facilities are still adequate. Around the Port, you can easily find hotels, homestays and restaurants.
Interestingly, you can also find accessories sellers in the port area. That way, if you forget to buy souvenirs before hand, you can get them here before the scheduled departure. So nice isn't it?!
Conclusion
In conclusion, Senggigi Port isn't just a place of transit – it's a destination in itself. From its breathtaking coastal beauty and cultural richness to its role as a gateway to the captivating Gili Islands, the port encapsulates the essence of Lombok's allure. Whether you're arriving by sea or looking to embark on island-hopping adventures, Senggigi Port is ready to welcome you with open arms, offering an unforgettable introduction to the wonders of Lombok.