Rent an Elf in Jogjakarta
Cheap and Quality Elf Rental Services in Jogjakarta
Elf is a type of car that is suitable for tourist or business transportation in the form of a group or group. The space volume is loose and large so it can fit quite a lot of passengers.
The shape is almost the same as a bus but is small, making this car often called a minibus.
We are Go Travela Indonesia company transportation rental in Indonesia presents the offer for renting elves in Jogja on this page for you.
If you intend to go on a group tour in Jogjakarta, you can use the cheap elf rental services in Jogjakarta at our place.
We are one of the services Car Rental in Yogyakarta with the flagship product of Indonesian Rental Transportation.
Infographic for Rent Elf in Jogja
Offering tourist transportation with Isuzu Elf is the best choice for doing small group tours to several tourist areas in Jogjakarta. We provide two types of Elf variants, namely Isuzu Elf short and Isuzu Elf long.
All of our fleets are well maintained, clean, and have soft suspensions so that all passengers will feel safe and comfortable when driving in them.
Elf rental services in Jogjakarta we have a driver who has extensive experience and is well acquainted with the tourist areas around Jogja, Bantul, Gunung Kidul, Kulon Progo to the city of Yogyakarta.
Vacations in Jogjakarta City will be even more special if you do it by using the Jogja Malang Elf rental services that we provide. You can invite family or friends to enjoy the beauty of Jogjakarta using our best Minibus.
Jogja Elf Rental Promo
Elf Short and Elf Long Rental Prices
Elf Isuzu Max. 11 seaters
Elf Short Rental + Driver Service:
Rp. 600.000,-/10 Hours
Elf Short Rental + Driver Service + BBM:
Rp. 700.000,-/12 Hours
Elf Isuzu Max. 17 seaters
Elf Long Rental + Driver Service:
Rp. 825.000,-/10 Hours
Elf Long Rental + Driver Service + Fuel:
Rp. 1.000.000,-/12 Hours
Elf Long Fullday Rental + Driver Service + BBM:
Rp. 1,200.000,-/Fullday
Elf Rental Booking in Jogja:
Please send a message via WhatsApp to check the availability of elf rental in Yogyakarta and wait for further confirmation.
Format :

Name : …………..
Number of people : …………..
Type Elf : …………..
How many days of use : …………..
Tour Date : …………..
Reservations :
Whatsapp: +6281999565666
Email: gotravela.id@gmail.com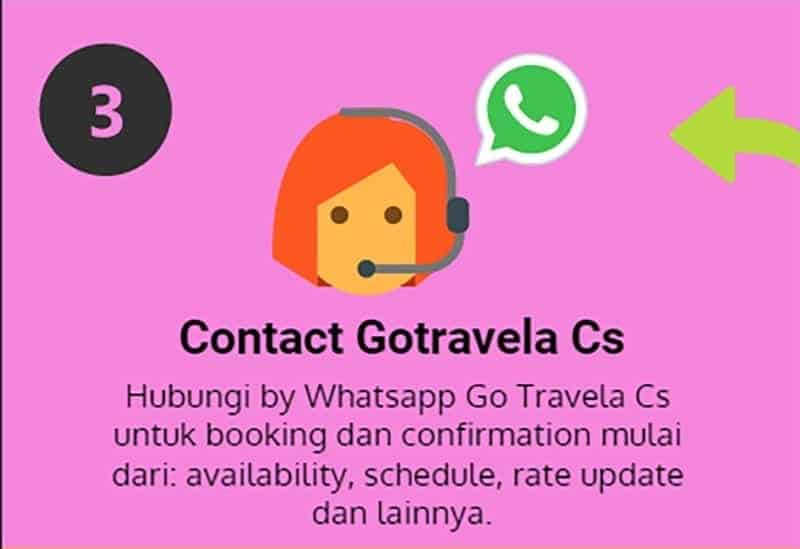 Read also :
Getting to know the Isuzu Elf Car and its advantages
Before choosing a professional elf rental in Jogjakarta, it's a good idea for you to know more about this Elf car.
The elf car is a car that has great comfort. This car has a well-designed and comfortable cabin and seats that will allow you to lean back more calmly.
The large body will make the Isuzu elf car able to make a lot of passengers.
More than that, another advantage of this car is fuel economy. So, your trip will be more economical.
The passenger capacity that can be loaded by this car is 15 people without jostling.
The cabin of the Elf type car is quite spacious and will certainly allow you to enjoy the trip by having fun chatting while looking at the scenery outside the window.
Elf cars are also equipped with engines that have super powers. This Elf car is equipped with air conditioning which will make you feel more comfortable when you are in it.
Interestingly, the Elf car that we have is equipped with an LED TV so that every passenger in it will not feel bored and bored while waiting for the destination to arrive.
To make you even happier, we provide karaoke facilities as well as DVDs equipped with electrical terminals and Wi-Fi. How, it's really fun isn't it?
After seeing some of the advantages of Elf cars above, you can get to know the two types of Elf cars that we have. Here are two types of Elf cars that we rent at our place.
1. Elf Short Design
The first type of Elf we have is the Short Elf. This type of elf can carry 10 to 11 passengers without having to jostle.
This type of Microbus is equipped with a double blower cabin air conditioning, softer suspension, and shorter chassis.
This microbus is indeed designed for passenger transportation in Indonesia. Elf short car is very fuel efficient and reliable for tourism transportation and business transportation.
2. Elf Long
The second type of elf car we have is Elf Long. Elf long that we have is able to accommodate 12 to 16 passengers without having to jostle.
The design of this Isuzu elf has a wider size than the Elf Short. This car is equipped with an engine capacity of 2800 cc/ps. There is AC ducting in this type of Elf.
Anyway, this type of car is perfect for use in your tourist and business transportation.
We are an Elf Rental Service in Jogja with cheap rental prices and the best service.
So, which type of elf do you want to use? You can use elf rental services in Yogyakarta we have many advantages.
Reasons to Use Elf Rental Services in Jogjakarta
Why should you use elf rental services in Jogjakarta at our place? Here are some reasons why you should use the services of an elf rental in Jogjakarta at our place.
1. Satisfaction guarantee
One of the things that every customer hopes for when renting a vehicle is satisfaction. Our elf rental services in Jogjakarta provide a 100% service satisfaction guarantee for you.
2. New fleet
We have a new fleet of Elf that will surely provide comfort for all of you. Our new fleet has a 3-year engine warranty. All of our fleets are designed as well as possible so that they are safe to use for all of our customers.
Our fleet is also very well maintained, fragrant, and so comfortable.
3. Professional driver
We provide elf rental services in Yogyakarta plus a driver and fuel who are ready to take you to your destination with super comfort. Our driver already has complete documents and is experienced and memorized for visits to Yogyakarta and surrounding areas.
Our driver is also friendly, polite, and informative and you can communicate well with us. Our driver also has extensive knowledge about tourist attractions in Jogjakarta, culinary places in Jogjakarta, and tourist attractions. Anyway, your trip in this Special City will be even more special.
4. Unlimited service
Unlike other elf rental services, elf rental in Jogjakarta provides no overtime facilities. That is, we are committed to making customers feel satisfied and comfortable when using our services. Our service is free from overtime fee guarantee. You can also pass the holiday more pleasantly without being set on time
5. Cheap
Elf rental services in Jogjakarta are cheap and quality services. We provide lower prices when compared to other Elf rental services. In fact, we also don't hesitate to give you a discount. The fuel efficient Elf car will make our rental prices cheap.
6. Don't have to tip
We do not require you to tip our driver. This is because our driver has been given sufficient salary and wages from our elf rental services in Jogjakarta.
7. The rental price includes fuel
We provide fixed car rental prices which we have combined with fuel costs. So, there is no additional cost to pay for fuel back. After you pay the car rental price and fuel, you can use your other funds for your travel needs.
8. Clear price
We provide price clarity from the start. So, you can negotiate the price from the beginning of the order.
Those are some of the advantages that you can get when you use elf rental services in Jogjakarta.
Choose a quality car rental service to get satisfaction while traveling. Do not choose a fake car rental service, especially without a clear agreement.
Contact us immediately to consult and order an Elf car.
"Rent Elf in Jogjakarta & Rent Elf Long in Jogja"