One of the tourist attractions on offer Lombok Lombok Sky Park or also known as Bengkaung Hill.
Lombok is one area that is getting a lot of attention and has a growing tourist area.
This includes Bengkaung Hill which is relatively new. Let's discuss more fully about this Bengkaung Hill.
About Lombok Sky Park
As previously mentioned, Taman Langit Lombok is one of the most interesting tourist attractions in Mataram. This place is one of the interesting tourist spots in the form of interesting photo spots.
However, here you don't need to worry because you can not only take pictures with interesting spots in Taman Langit but also enjoy warm coffee with an interesting view.
The scenery on Bengkaung Hill is very interesting, especially at night. At night you can enjoy coffee with the area twinkling with lights and also the sky is full of stars. This is what makes the coffee atmosphere at Taman Langit Lombok even more interesting.
Besides being interesting at night, this Sky Garden is also very interesting when visited during the day. When visiting here during the day, you can see the natural beauty from above because the location of this tourist park is quite high.
During the day the Lombok Sky Park not only provides natural beauty but if you are lucky you can also find clouds that gather and give the impression that you are in a land above the clouds. Very interesting isn't it?
Meet offers lombok mandalika car rental with us too.

Bengkaung Hill Tourism Object in the Pandemic Era
Taman Langit Lombok is one of the places where tourism is also affected during the Covid-19 outbreak. During the Covid-19 pandemic, this tourist attraction was closed for several months. However, this tourist attraction then reopened considering the Covid-19 condition had started to improve.
Bengkaung Hill itself will reopen on July 8, 2020. Because it is a fairly new tourist spot, this tourist spot still has an attractive appearance.
Even so, when the Lombok Sky Park was closed, the management used it to carry out renovation. With the renovations carried out the condition of Bengkaung Hill is getting better.
Photo Fascination From BBengkuang hill
In Bengkaung Hill there are lots of photo spots that you can find. This tourist attraction has several interesting photo spots such as photos with twinkling lights as the background, bird wings and also the sky door.
With the attraction of Bengkaung Hill, you can not only enjoy hot coffee and also interesting photos. You can get an interesting view of Lombok Sky Park because the location of this hill is 550 m above sea level.
This photo spot at Bengkaung Hill not only has interesting objects but is also decorated with twinkling lights, making your photos more interesting. This makes Bengkaung Hill a tourist spot, one of the best tourist spots to visit in NTB.
Also check later, guys: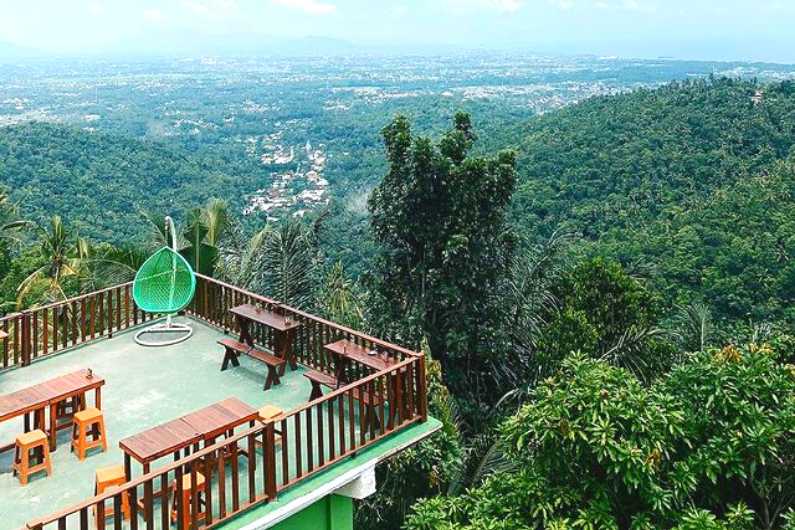 Other Attractions Attractions
Besides drinking coffee, taking pictures and seeing the beauty of nature, when you travel to Taman Langit Lombok you can also try other interesting things such as learning to harvest honey.
In Bengkaung Hill you can also enjoy trigona honey. You can learn to harvest and taste this trigona honey. You can enjoy other processed honey products, one of which is bee pollen.
Furthermore, another thing that is no less interesting than Bengkaung Hill is its very beautiful green scenery.
The winding road and verdant scenery make the trip to Taman Langit Lombok like riding a natural Roller Coaster. So from the trip to the end you will get a complete vacation.
How to Visit Bengkaung Hill?
For those of you who are interested in this tourist attraction, you can directly visit Lembah Sari, Batu Layar, West Lombok, West Nusa Tenggara. For those of you who want to enter Bengkaung Hill, you only need to pay Rp. 5.000.
However, this ticket price is the price of the entrance ticket only. This means you have to pay more to buy coffee. However, you don't need to worry because to buy coffee at Taman Langit Lombok, the price is not so expensive.
See also:
Well, that's the review of Bengkaung Hill. This is just one of the recommendations of tourist attractions that you can find in Lombok. There are many other tourist attractions that are no less interesting, so don't ever hesitate to come to this tourist destination for a vacation, OK!