You will find tickets for the Uluwatu Kecak dance, staging and history, on this page.
You can easily get schedules and online bookings for Uluwatu Kecak Tickets at Gotravela Indonesia.
The place to watch the Kecak dance in Bali at sunset and the experience of watching the Kecak dance in Uluwatu.
2022 uluwatu kecak dance ticket price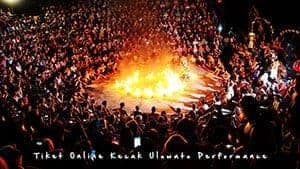 Performance schedule:
Regular Everyday 
Online ticket price: IDR 65.000/Chld
Book by WA: 081999565666 
Tari Kecak Uluwatu
What makes the Uluwatu Kecak dance look special when you watch the show?
The Uluwatu Kecak Dance, Ubud Kecak Dance or any Kecak Dance are basically the same form of performance.
Legend Story Ramayana (Rama-Sita's life and love story) composed by Valmiki (Valmiki). An epic story that is beautifully appointed in every Kecak performance.
Fire Dance
Uluwatu Kecak Dance or Fire Dance have a unique music or tone. This dance is accompanied by human voices and rattling sounds combined with the voices of fifty or more people constantly.
Kecak dance or dance "Cak" or fire dance This actually departs from the Sang Hyang ritual, which is a traditional ceremonial tradition in which the dancer will be in an unconscious state when communicating with the gods or the spirits of the ancestors.
Bali It does store thousands of arts and cultures that are always unique and captivating, let's watch Vlog Go travela below-.
This dance is one of the sacred dances for the local community because in this dance there will usually be a kerauhan or trans-possession.
Trans-possession is an effort to communicate with the hyang or sang one through the spirits of the ancestors and then convey their hopes to the local community or give good news or warnings to the community.
ULUWATU KECAK PERFORMANCE SCHEDULE
Entrance ticket
Performance Schedule: Every Day Regular Monday – Sunday
Performance Hours : 18:00 to 19:00 WITA (When the sun goes down) Counter Open : 17:00 WITA
Duration : 60 Minutes
Venue : Open Air Stage Uluwatu Temple, Bali
Adult Online Purchase Price Rp. 135.000 per person.
Child Ticket Prices (under 2 yo) Rp. 65.000 per child.
Tickets are limited and the prices above are valid for online bookings at least 1 day before the D day.
Travela can also combine tours with Uluwatu and Pandawa Beach Tour Packages we.
Tickets are valid for all markets | The kecak ticket above is valid for overseas & domestic.
Melasti Beach Kecak Tickets
Performance Schedule: Every Day Regular
Performance Hours: 18:00 to 19:00 WITA – Counter Open: 17:00 WITA
Duration : 60 minutes
Place : Melasti Beach Amphitheater Open Air Stage
Adult Online purchase price Rp. 115.000 per person.
Ticket prices for children (under 2 yo): FREE / Free!
How to book
Travel friends, the ticket to watch the Kecak dance is of course different from the entrance ticket uluwatu temple.
For the entrance ticket to the Uluwatu Sublime Temple, you can also read it in uluwatu temple entrance ticket information.
Just for your info Promo price is valid only for online bookings.
If you just want to buy kecak ticket itself without taking our other tours.
The price of watching Kecak also applies if you buy an Uluwatu tour package or take a promo Bali car rental + our 8 hour driver.
Please send a message form via WhatsApp to check availability and wait for further confirmation, with the format:
Name : …………..
Phone number : ………….
Pick up date/hour : …………..
Pick-up Address : …………..
Relevant package : …………..
Number of people : …………..
FB & IG Name : ………….
Reservations :
Whatsapp/SMS/Call: +6281999565666
Email: gotravela.id@gmail.com
Watching Tips
Try to come early no later than 17.00
Don't forget to bring a DSLR, Mirrorless or cellphone camera.
Look for the top spot or the third row from the bottom because you can freely see the show from a height.
It also makes it easier for you to see the sunset view.
If there is a third row on the stage koloseum you will be surprised by the hanoman who comes & is for fun hehehe .. Exciting !!
Prepare an umbrella for emergencies. Better prepare a folding umbrella! this is anticipating if it suddenly rains in the middle of the event or it can also be to drive away the naughty uluwatu monkeys.
Also explore:
Dance Ritual
In this case, the Kecak dance uses ritual until we can see the condition of the dancer in the subconscious.
You will see the dancer will be immune from being burned by fire or pierced by a dagger in the Shang Yang and Kecak dance fragments.
However, you will not get this in commercial Kecak dance performances such as the Uluwatu Kecak or other commercial performances.
Walter Spies & Shang Hyang
The song or tone in the Kecak dance was also adopted from the Shanghyang ritual.
1930 Wayan Limbak and German painter Walter Spies (15 Sept 1895 – 19 Jan 1942) created this Kecak dance based on the sacred shangyang dance ritual.
The Shangyang ritual is not just an arbitrary performance, because it is only special in big ceremonies keReligion and magical times.
This dance is performed by more than 50 male dancers, sitting in a concentric circular position, moving in dynamic rhythm, standing up, raising both arms and sometimes lying down.
Not using any kind of musical instrument but just a chorus of constant voices or screams "cak cak to cak cak to' throughout the show.
The dancers wear the typical plaid cloth (the local name for poleng cloth).
Follow the theme background kisah epos Ramayana fights Ravana (a giant) who kidnaps Dewi Shinta, who is finally saved.
The Uluwatu Kecak dance is an art that we can watch at any time and become commercial entertainment.
The Kecak dance is a legend from a fragment of the Ramayana story with an epic wrapped in local culture and a guideline for the expression of the social life of the Balinese Hindu community in particular.
The Meaning of Kecak Dance
Kecak dance using the theory of understanding semantically shows five meanings of the message of the dance, namely:
Avoiding karma
Trust
Sacred
Art and culture
Economic income
A legend that is still relevant
For Balinese arts community In general, the expression of the Ramayana story is not contained in the arts of dance and wayang, but also in painting and sculpture.
Ramayana is a story of Sri Rama's journey, which is one of the epics from mainland India.
And embedded in Hindu teachings with the teachings of virtue contained in the story.
The philosophy contained in the story to this day is still relevant to the context of today's life.
There are still many old Balinese people telling the story of this Ramayana to their grandchildren and younger generations.
Ramayana Fragment
Rama is the heir to the throne of the Ayodya kingdom with a wife Sita / Sita, the story begins with his exile by the decree of Ayanda Paduka Raja Dasarata as a result of a trick by Rama's stepmother.
The exile of Rama and Sita and his brother Laksmana in the Dandaka forest started the lives of these three people in the Dandaka forest going peacefully.
But unbeknownst to them, the forces of evil are watching closely. The evil one Ravana The king of Lanka, full of lust and ambition, wants Sita's enchanting beauty.
Ravana seduces Sita
Ravana also sends his prime minister named Marica to try and bring Sita to him.
With her magical powers Marica's turns into a golden deer and she enters the forest to attract Sita's attention to the beauty of the golden deer.
When Sita saw the golden Deer Kencana, Sita was fascinated and asked Rama to catch it for her. Rama also chased the golden deer and left Sita and his brother Laksmana with the message "Laksmana, protect my wife Sita and don't even leave this house when I chase the Golden Deer".
Sita Hears Rama's Voice
While waiting, Sita heard the illusory sound of a cry for help from Rama. He forced Laksamana to follow Rama, but remembering his promise Laksmana refused and a heated argument ensued between Sita and Lakshmana accusing him of cowardice.
In the end, Laksmana helped Rama on the condition that Sita should not come out even under any circumstances from the circle he formed on the ground.
Uluwatu Kecak Dance
Sita was left alone in the forest. Of course it would be an easy opportunity to fall into Ravana's trickery.
Ravana also disguised himself as an old ascetic who was in pain and hunger asking for alms. Sita falls in pity.
Sita stepped outside the circle in good faith to provide the old ascetic with food and drink.
It was the opportunity that Ravana grabbed and kidnapped Sita and took her to his palace in Alengka.
Ravana tried his best to seduce Sita but it was in vain.
Battle of Megananda and Lakshmana
When in the palace of Alengka, Sita poured her heart about her fate in deep sorrow. At that time Hanoman appeared and said that his arrival was on the messenger of Rama by proving a ring of Sang Rama.
Then Sita gave her hairpin to Hanuman as a sign to show that Sita was still alive and wanted to return to Rama's arms.
Meanwhile Rama and Laksamana are on an odyssey looking for Sita along with Tualen.
They met Meganada, Ravana's son and a great battle broke out between them.
Meganada uses the power of his knowledge and shoots arrows that can turn into a dragon. Meganda's supernatural powers almost beat Rama.
However, through this exciting battle, Meganda finally died in the hands of the Admiral.
Garuda the King of all birds
The eagle, the king of all birds, who is a good friend of the king of Dasarata, came to join the rescue mission to free Sita and Rama.
They along with Hanuman and the monkey army continued their journey in the mass to save Sita.
The fragment ended with a battle between Sugriwa and Hanuman and the monkey army against Meganada.
Interesting tour packages
Bali is still the number one and favorite tourist destination for Indonesia.
Bali is still the main destination for honeymooners, study tours, meeting incentive conferences and exhibitions.
Before exploring Bali further, let's read first the best tips and guides before traveling.
Gotravel in the mainstay product for car rental and tours, Indonesia packs the best tour packages for all travel buddies at competitive prices, such as:
That's the page Uluwatu Kecak Dance | Staging and History We present this hopefully useful for all travelers - Greetings Tourism.
Appreciate us if you leave travela Imprint in the comments
keep reading: Where are the most interesting places in Bali? »
Uluwatu Kecak Entrance Ticket Staging Schedule & History