Traveling to Jogja, Hanging Out While Touring Culinary Urbanites in this cool place to hang out in Jogja.
Yogyakarta City indeed the warehouse is an exciting, cool and unique tourist spot that should not be missed to visit.
Not only cultural tourism, nature tourism, historical tourism, Jogja also has various culinary attractions that are no less exciting.
Cool Hangout Jogja
Moreover, these tourist spots are fun and cool as well as a place to hang out with friends, family or even a partner.
Well, you want to know what are the culinary attractions that can be a cool hangout place in Jogja? You can find out from this article. Listen!
Have Fun Hanging Out in Jogja While Enjoying Delicious Culinary Tours in These Places
Jogja Hangouts
Want to go to this viral and unique place to hang out in Jogja? Friends, you don't have to worry because we also provide rent a car in jogja promo with a rental duration of 8 hours.
as well as with Rent Avanza Yogyakarta.
1. The Captain Urban Lounge
Want to hang out while eating and listening to live music on the plane. If you go to Jogja, you can come to The Captain Urban Lounge.
When you visit this place to eat, from the front of the building that resembles the shape of an airplane hangar, you will see the muzzle of the plane.
Then enter again, you will see an area that is part of the fuselage of the Fokker 28.
In this restaurant, you can eat delicious food accompanied by live music which certainly makes the atmosphere of eating and hanging out more exciting.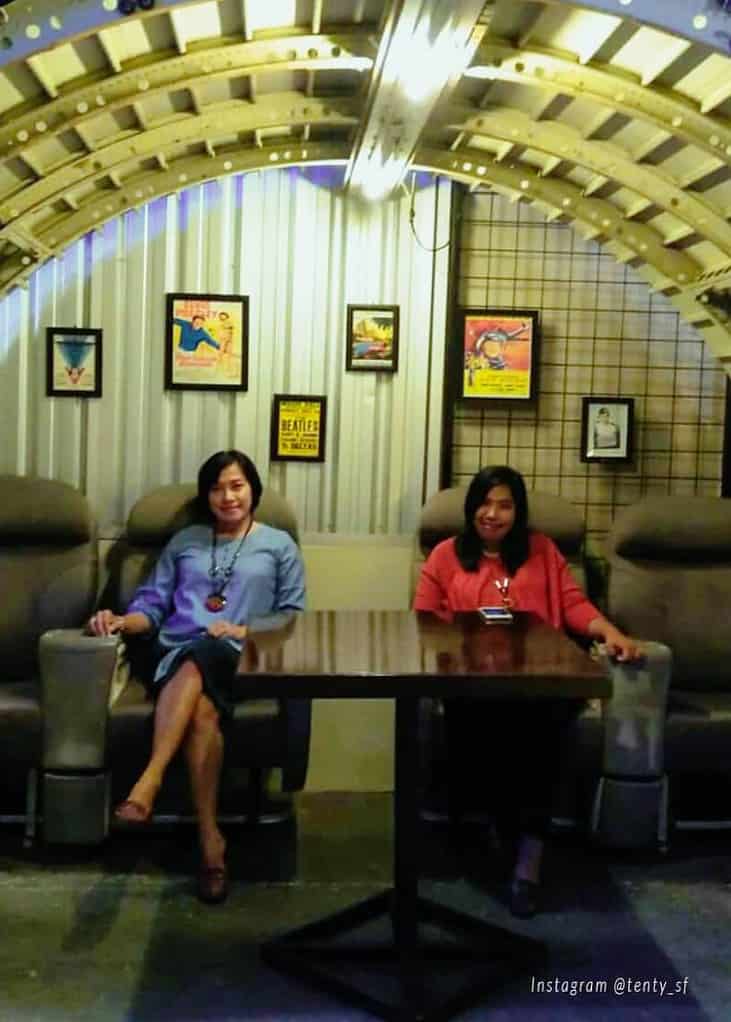 But, if you come here don't forget to taste nachos and tacos which are a mainstay.
Once you try to eat at this restaurant, you are guaranteed to want to come back again and taste the food as well as a cool place to hang out with friends in Jogja.
Location: Peace Street No. 41, Sari Harjo, Ngaglik, Wonorejo, Sariharjo, Kec. Sleman, Sleman Regency – Special Region of Yogyakarta
2. Bong Kopitown
Have you ever eaten at a restaurant or a cool jogja hangout with a prison-like atmosphere? If not, you must go to Bong Kopitown in Jogja, precisely in the Sagan area.
The concept of this place to eat is almost the same as a real prison. Not only the interior design, but the menu book in this restaurant is also unique.
Inside this restaurant, you will be surrounded by bars like in a real prison, but don't worry you don't actually go to prison or become a prisoner. The mainstay menus that you must try here are Penang Fried Noodle, then Chicken/Beef Rice Claypot.
But, if you want to try other menus, you can, one of the recommendations is Singapore Laksa Noodle. If you drink it, you can try the local one, namely Teh Tarik.
Location: Jl. Sagan Kidul No.4, Terban, Kec. Gondokusuman, Yogyakarta City, Special Region of Yogyakarta
See also:
3. Beukenhof Restaurant
Do you want to try eating with an atmosphere like in the colonial era? You can eat at the Beukenhof Restaurant which is one of Jogja's cool hangout spots.
This restaurant is located at the Ullen Sentalu Museum, Kaliurang. The interior of this restaurant seems to describe how the rest of the glorious era in the colonial era of Jogja was.
Not to mention, the knick-knacks that add to the colonial impression are getting thicker in this restaurant. Not only that, here the way the food is presented is also special and quite unique, so it adds a cool impression.
You can try the Cream Soup menu for you to enjoy in the midst of quite a cold atmosphere in Kaliurang.
You can also enjoy other menus offered here. For the price, you don't have to worry about being expensive because here the price of food starts from 10.000 only.
Location: Ullen Sentalu Museum Area, Jl. Boyong Km. 25, West Kaliurang, Kaliurang, Hargobinangun, Kec. Pakem, Sleman Regency, Special Region of Yogyakarta
Closing Event
Well, cool and very exciting, not culinary tourism places as well as cool hangout places in Jogja.
Besides being able to have fun with friends, relatives or partners, your stomach will also be full and your tongue will be satisfied with the delicious flavors of food dishes from various places.
So, when do you want to plan a vacation to Jogja? Make an exciting and fun plan, then don't forget to visit the hangout spots above.
Happy holidays!