The Angkal Fast Boat Penida is one of the best boats that take tourists to Bali's golden egg island "Nusa Penida".
The angkal fast boat Nusa Penida is a subsidiary of The Angkal Group which operates from Accommodation, Activities (beach club watersport) to cross-strait sea transportation.
Book & Confirm : +6281999565666
The Angkal Boat Nusa Penida
Matthew Karsten says Investment in travel is an investment in yourself and when you read the quote, you definitely want to pack and go on vacation.
Going on vacation is the best investment because it will add knowledge and experience that cannot be exchanged for money.
How about you go visit Nusa Penida in Bali together Go Travela Indonesia?
You can enjoy the sea air on a fast boat Sanur to Nusa Penida refreshing. If you are interested, let's check out the following reviews to inspire your vacation with The Angkal Fast Boat.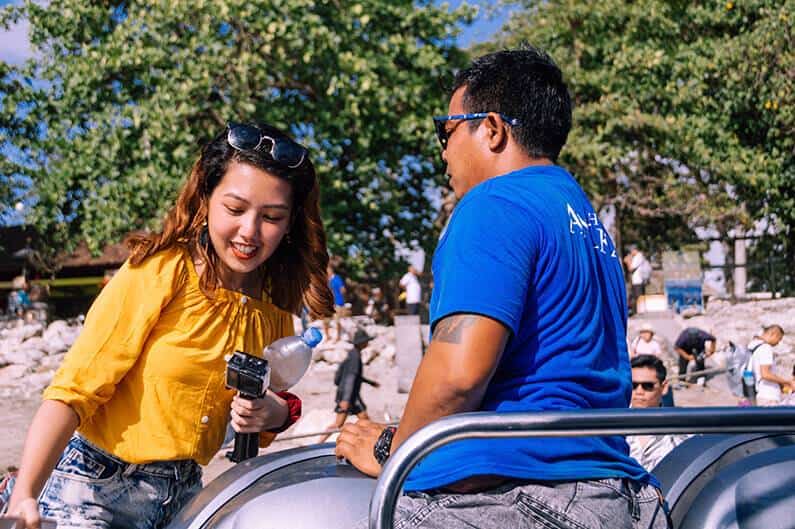 Angkal Boat Ticket Prices
Rate below based on Rupiah (Indonesian Currency) for all markets.
The Angkal Boat Sanur to Nusa Penida
Domestic/Local
| | |
| --- | --- |
| 08.15 AM | IDR. 80.000 |
| 15.00 PM | IDR. 75.000 |
Overseas : USA, Europe, China & Japan
| | |
| --- | --- |
| 08.15 AM | IDR. 100.000 |
| 15.00 PM | IDR. 95.000 |
Take the boat from Nusa Penida to Sanur
Domestic/Local
| | |
| --- | --- |
| 14.00 PM | IDR. 80.000 |
| 16.00 PM | IDR. 75.000 |
Overseas : USA, Europe, China & Japan
| | |
| --- | --- |
| 14.00 PM | IDR. 100.000 |
| 16.00 PM | IDR. 95.000 |
Terms & Conditions
Prices above apply to Overseas & Domestic.
The price above is one way and applies also to the reverse route.
denies mengFill in the booking form and send via Whatsapp listed below.
Order max. H – 1 for FIT (1-9 People) and H-5 for GIT/Group (10 – Up).
The Angkal Boat rate above not including shuttle transfers from Hotel to Sanur.
Additional shuttle transfers can be re-coordinated.
Book with Go Travela Indonesia
Fill out the booking form with the format below. But before that, confirm availability first by Whatsapp chat to gottravela cs.
Whatsapp book hour 09.00 am to 08.00 pm
*Names :
*Mobile:
*Email:
*Departure date/time:
*Name of Boat:
*Number of people :
*Number of children :
*Return/One way or Open/Fix* :
*Pricing Confirmed:
* FB & IG name:

By filling in these details
We have read the terms & conditions and Inclusive & exclude correctly
----------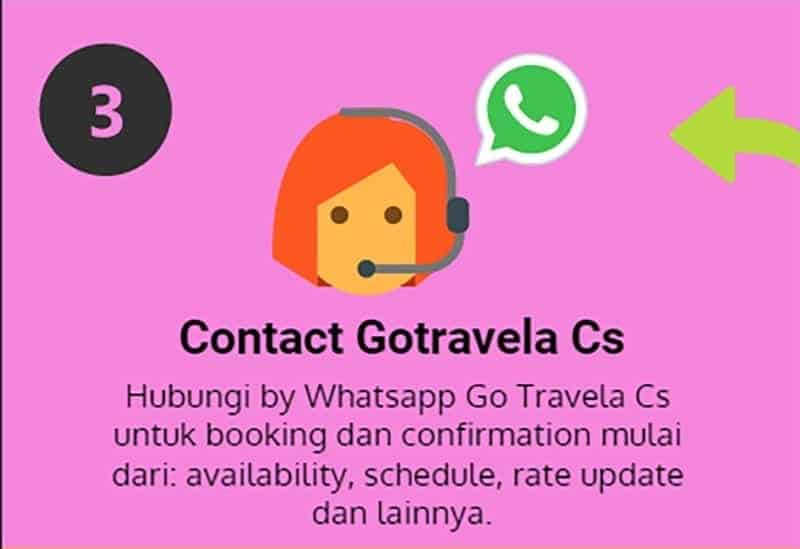 The Angkal Beach Club
Let's read too The Angkal Watersport marine tourism in penida for families!
Infographic
Your mainstay of transportation on vacation to Nusa Penida
Although you can go on vacation at any time, it's not worth it if you don't gather a lot of information beforehand.
Whether it's solo traveling or vacationing with loved ones, it definitely requires planning.
Especially now that you can get all the information quickly and easily. Do not deny that Bali is a tourist destination that offers endless natural beauty.
Nusa Penida offers underwater beauty and natural tourism which is very effective in relieving fatigue. To get to the island 3 homelands This reliable fast boat transportation tool is something you have to try.
The Angkal Fast Boat, is one of the fast boats that will be ready to take you across the vast ocean.
This fast boat provides crossings from Sanur to Nusa Penida and vice versa.
Its credibility is guaranteed because it has been widely used by local tourists and foreign tourists visiting Nusa Penida.
This fast ship started sailing since 2018 and continues to grow over time.
The Angkal Fast Boat has two departure schedules in the morning and afternoon that you can adjust to your needs.
Your trip will also feel faster with a time of approximately 30 to 35 minutes because, the ship is equipped with a 1250 hp engine Honda marine.
That way you can immediately go to Nusa Penida and enjoy its beauty faster. Immediately arrange your plans and make sure this fast boat is the fleet that will take you on a real vacation.
Facilities
Who craves an exciting vacation at a low price? The answer is everyone. By choosing adequate transportation but at a low price, it can certainly be a solution.
Although the speedboat The Angkal boat is priced at low prices and premium quality, the facilities and safety are not in doubt. You can enjoy a trip across the ocean in peace.
How not this fast boat has a comprehensive security system such as a GPS system, VHF radio, and a distress beacon. Not only that, every passenger is also equipped with a safety jacket.
Adequate safety features will of course ensure safety while you are traveling with The Angkal Fast Boat. Moreover, the crew and crew are experienced which makes your trip even more comfortable.
Not only security facilities, this fast boat facility also deserves thumbs up. The ship's spacious room makes you feel relieved, moreover it is equipped with soft seats and reclining places.
Your trip will definitely feel shorter, especially since this ship is a clean new fleet. You can even enjoy the view of the open sea from the deck of this fast boat.
Also find offers D Prabu Fast Boat Gili Trawangan for promo price!
Departure schedule
When you will visit Nusa Penida using the fast boat The Angkal Fast Boat, you can choose several departure times.
The best tips on how to get to Nusa Penida correctly!
If you depart from Sanur to Nusa Penida you can go at 08.15 and also 13.30.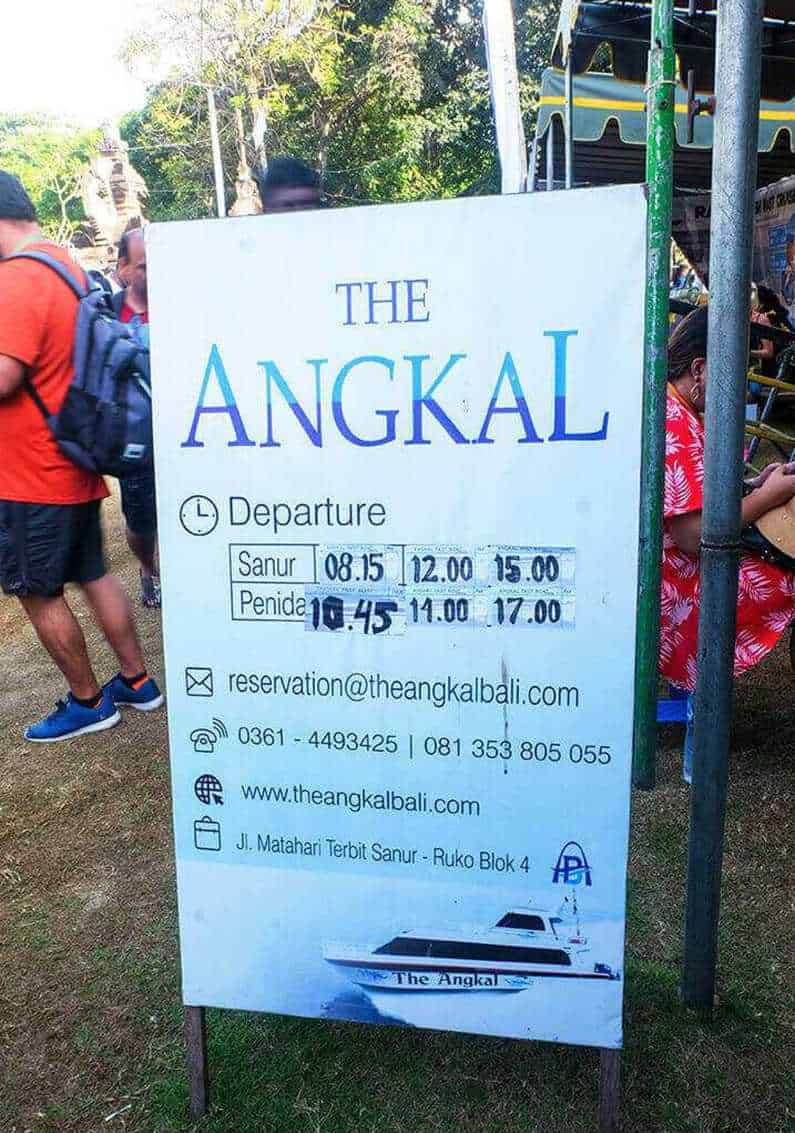 Tips for 1 Day Nusa Penida Tour
If a traveler wants to visit Nusa Penida in just 1 day, our advice, it's better to take the morning departure schedule at 08.15.
With the intention, the traveler will have a lot of time to explore Nusa Penida in 1 day.
Counter Location
The counter for the Aangkal fast boat Nusa Penida in Sanur is on Matahari Terbit Beach. The location with ample parking and the fast and friendly service of the reservation team.
How to get to sunrise port
Want to know an easy way to get to the sunrise beach location? You can also use motorbike rental in bali or cheap car rental in bali, for details, you can check the link.
From Nusa Penida
Meanwhile, if you are traveling back from Nusa Penida to Sanur you can use the schedule at 15.30 and also 16.30. You better remember it so you don't miss the ship.
Before exploring Nusa Penida, it's a good idea to have a travel buddy to consider the means of transportation to the destination spots there! Also check our link at Nusa Penida motorbike rental and Car Rental in Penida.
You can also take advantage of The Angkal boat pick-up activity at several points such as Kuta, Nusa Dua, Seminyak and Sanur.
There are two pick-up times in the morning and afternoon. For the Kuta area pick up is at 06.30 and noon at 12.15 while from Sanur at 07.00 and 14.15 in the afternoon. The farther the point, the earlier the pick-up.
General Price / Publish Rate
The advantage of this fast boat is that it is easy to make a booking with gottravel at the right price promo gotravela on.
You can also place an order through the official website theangkalbali(dot)com or you can also make a reservation on the email or contact listed.
For general rates or published rates which are priced on the official website of The Angkal for local and foreign tourists starting from Rp. 200 thousand to Rp. 250.000 for one way from Sanur to Nusa Penida.
You can also rent this fast boat for a group or company gathering to the destination that you have wanted and set at Penida.
GIT & The Angkal Fast Boat also provides a variety of holiday packages that you can try while in Nusa Penida.
Nusa Penida featured packages with us such as:
You can create exciting moments by trying various water sports as well as diving and snorkeling activities.
The Angkal Fast Boat also provides lodging and resort services. One place for all exciting vacation solutions in Nusa Penida.
keep reading: Want to know more about Nusa Penida? »