The charm of Bugel Camara Beach is able to hypnotize every visitor who comes. Bugel Camara Beach tourism is increasing rapidly. This beach has stunning natural beauty.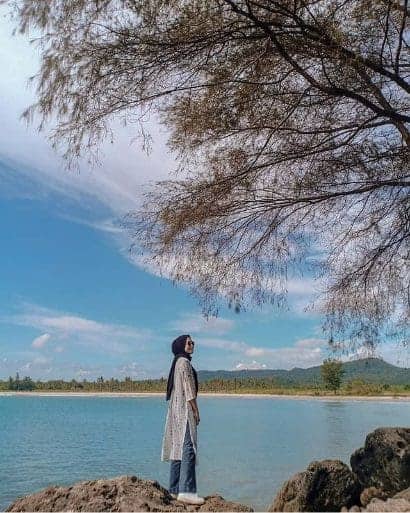 Banten has an interesting tourist spot. This province on the island of Java has a spot with beautiful natural conditions.
In Pandeglang there are also interesting tourist attractions that are always hunted by many people. The name of this tourist spot is Bugel Camara Beach.
Bugel Camara Beach is a new tourist spot in Pandeglang Regency, Banten. Even though it has just been released, this tourist attraction is viral on social media.
Bugel Camara Beach Tour
Many say that Bugel Camara Beach tourism is a hidden paradise. That's because many do not know the existence of this tourist spot.
The stunning natural beauty is the main attraction of this tourist spot. Anyone who comes here must be anesthetized by the natural beauty of the beach.
The location of Bugel Camara Beach is in Banyuasih, Cigeulis, Pandeglang, Banten.
Pandeglang gets the nickname Sunset of Java. That's because here you can see a very beautiful sunset.
One of the places to watch the sunset is Bugel Camara Beach. Because of this, many people choose to come to this tourist spot in the late afternoon.
Beach Attraction
Besides the beauty of the sunset, there is another attraction of this beach. Bugel Camara Beach has a unique coastline charm.
Along the coastline, you will see a stretch of white sand with a mix of rocks.
In addition, not far from Bugel Camara Beach there is also an open area. This area is covered with green grass.
The presence of many typical coastal pine trees makes the beach area cool. Very comfortable to relax.
You can relax enjoying the cool beach atmosphere with beautiful views.
Incredible views of the mix of green grass with white sand that stretches widely.
Another interesting activity that you can do at Bugel Camara Beach is camping.
For camping lovers, of course this area is a favorite spot.
Near the beach there is a camping ground that can be used to build tent.
It was very pleasant, camping on the grass accompanied by the sound of the waves.
Because of this unique sensation, many people deliberately come to camp. They usually invite family or friends.
Road Access
If you want to come to Bugel Camara Beach, the road access is quite easy. You can take a car or motorbike.
The price of admission to the beach will be calculated per vehicle. For those who enter the ride using a motorcycle worth Rp. 20.000.
But for visitors who enter by car, the ticket price is Rp. 50.000 per vehicle.
For visitors who want to camp, there is no additional fee. Every visitor can set up a tent for free.
Let's read too
Bugel Camara Beach operating hours are 24 hours. You can come here any time you want.
Although here there is a camping ground area, but the manager has not provided camping equipment rental. So if you plan to camp, prepare everything completely.
That's the discussion about Bugel Camara Beach tourism in Banten. May be useful.