Gotravela Indonesia hadir bersama produk andalan baru Jenis permainan aquatics Tanjung Benoa Bali. It's not complete if you go to Bali without going to Tanjung Benoa, Nusa Dua.
It's also not very complete when doing watersports activities in Tanjung Benoa but you don't really understand each type of activity in detail.
We are the official vehicle agent water sports in bali Tanjung Benoa presents Tanjung Benoa water sports game vouchers on this page.
Come on.. stay tune buddy and if you visit Tanjung Benoa beach, don't forget to try cheap watersports in Bali with Go Travela Indonesia.
Water Sports Tanjung Benoa
This page is specifically for travel friends, water sports activists or lovers of water sports activities. Information at a glance about the location of Tanjung Benoa which is located in the southern part of the island of Bali.
If you've ever seen a map of the island of Bali (which looks like a chick) it's certainly easy to recognize this part of southern Bali, which is the leg of the chick.
Who doesn't know this beautiful island called Bali? The island is popular among world travelers who crave serenity or commonly called the island of a thousand temples.
Bali is also the right destination for those of you who really like photo hunting for selfies or vlogs. Of course Bali has many cool sights that are ready to make you not want to stop taking pictures.
Besides that, the most cool thing is that Bali has water sports or water sports that are no less complete, new and exciting!
Bali – Indonesia Tanjung Benoa, apart from having five-star resort hotels and well-known villas, is also a center for marine rides. One of the largest centers of marine tourism and water sports on the island of Bali.
Therefore, it's not complete if you come to the island of Bali but haven't had time to visit this area yet
In this location there are also dozens of company vendors that provide watersport activity services in Bali. Of course with promising services and activity variants.
Watersport is a type of water sport or marine activity from start to finish Bali watersport game types extreme to watersport activities suitable for families.
Watersport activities that are suitable for families and children, such as visiting a turtle conservation island or turtle island to playing banana boats or snorkeling.
Tanjung Benoa Watersport Price in 2024
How to Book Bali Watersport above:
Please send a message via whatsapp to check availability with the format below:
Name : ………… ..
No. Mobile phone : ………… ..
Number of people : ………… ..
Game type :
1. ............ ..
2. ............ ..
3. ............ ..
Date/Time of activity : ………… ..
Reservation :
Whatsapp/SMS/Telephone : +6281999 565 666
Email: gotravela.id@gmail.com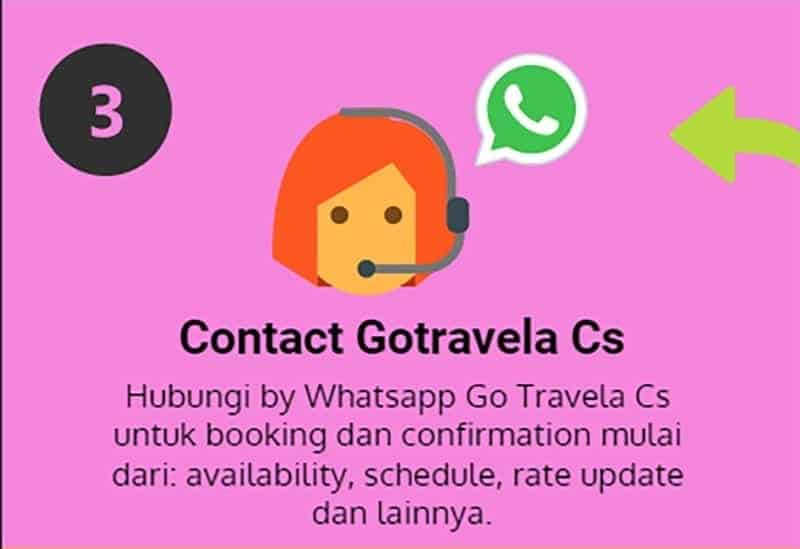 Check 10% more savings with watersport package prices!
We guarantee that you will be very satisfied when you try one of the Tanjung Benoa watersport activities with us.
Below there are 12 types of exciting game choices Bali Watersports and of course the cheapest in Bali. Hopefully the information below can add insight and understanding for travel buddies when they want to try one of the types of Tanjung Benoa watersport options.
[spacerheight="20px"]
The 12 Best Types of Watersport Activities
To give 12 types of watersport activities in tanjung benoa provided by gottravel among others:
1. Banana Boat
Banana boat is one of the water sport activities in Tanjung Benoa. This water sport is the most preferred by our customers when choosing a watersport activity.
This banana-shaped rubber boat can accommodate four to six passengers. Of course accompanied by one guide.
Like riding a horse, the passenger sits on a large tube and bends the legs on the left and right sides of the rubber tube.
This banana boat will then be pulled by a speed boat and circled in the middle of the sea. Duration for one round banana boat game This lasts about 15-20 minutes.
This game is very safe because it is equipped with a life jacket and also a professional guide who accompanies you.
For this type of banana boat Bali watersport game, you can also play with your family and children who are at least 6 years old and over, but still under the supervision of adults/parents.
[spacerheight="20px"]
2.Parasailing
In Tanjung Benoa watersports, parasailing is one of the water sports that is very challenging and of course fun.. This game uses a parachute umbrella and then pulled by a speed boat around the beach of Tanjung Benoa. So, it's just like a real skydiving and you can see the beauty of the southern coast of the island of Bali from a height.
It is recommended for children aged 6 years and over. In addition, it must also be supervised by adults / parents for tandem parasailing (one of the parasailing instructors).
[spacerheight="20px"]
3. Rolling Donuts
So, above we discussed about the banana boat, right? The banana-shaped rubber boat is the same here. So, rolling donuts watersport is a game that uses a donut-shaped rubber boat in the middle of which there is a deep concave hole for the players to sit in this game.
This game has a capacity of 2 or 4 players and is not much different from the banana boat above which we discussed where both are pulled by a speed boat.
Rolling donuts are very suitable for families or lovers, children are also suitable but still must be under the supervision of parents / adults.
[spacerheight="20px"]
4. Snorkelling
The view of the seabed is very beautiful with coral reefs and colorful fish of course you can see from the surface of the water without having to dive into the sea.
You only need to swim or dive by wearing equipment in the form of a diving mask called a snorkel.diving equipment in the form of a "J" shaped hose with a mouth guard at the bottom end).
In addition, snorkelers must also wear other mobility aids in the form of frog legs (diving fins) to increase propulsion on the legs.
This Nusa Dua snorkeling watersport activity can of course be done by all age groups, including children aged over 4 years or even those of you who cannot swim.
For beginners who cannot swim, can use a life jacket or life jacket and can learn it in a short time from our guide or instructor.
So for those of you who want to see the underwater beauty in Tanjung Benoa, watersport games in Bali directly, please try this snorkeling water sport, it is guaranteed to be fun.
[spacerheight="20px"]
5. Flying Fish
Flying fish or in Indonesian "flying fish" is one of the selected types of games for watersports in Bali, Tanjung Benoa.
Played by 2 or 3 people only, 1 person on the left and one person on the right side. One instructor in the middle to balance the rubber flying position.
Your position when playing this game can be sleeping on your back and it can also be like riding a motorcycle.
This flying fish will fly over the water about 2 meters to 4 meters or more depending on the wind speed, just like a kite.
If you like this challenging flying fish water sport game, of course you must try it.
[spacerheight="20px"]
6. Sea Walkers
Sea Walker Bali is an activity of choice for watersports walking on the seabed using a waterproof helmet.
This activity is intended for those of you who want to see the beauty of underwater life and breathe easily and your face will not get wet.
This helmet is the result of the latest technology from Japan with a fresh air filter compressor.
The exciting underwater experience of wearing this unique helmet will surely allow you to breathe normally and for longer underwater.
Free walking among the tropical coral reefs that live on the island of Bali and playing with the diverse marine life will certainly be an unforgettable experience for you.
You will definitely feel a sensation that you have never felt before when playing with Indonesian tropical marine fish that live together ecosystem his.
Actively forming calcium carbonate sediments due to biogenic events that take place below the sea surface, in other words coral reefs.
This Sea Walker is certainly suitable for you and for the children. It is recommended for children aged 12 years and over but of course stay under the supervision of professional instructors and parents when trying this activity.
[spacerheight="20px"]
7. Jet Ski Water-sport
Jet ski is a watersport activity in Tanjung Benoa, this extreme water sport is like riding a motorbike but is done on water.
The duration of playing this jet ski is about 20 minutes circling on the beach of Tanjung Benoa. The tourists who play jet ski are not allowed to ride a jet ski alone. There is always a guide who accompanies you during jet ski game this.
This is because there has been an incident of a collision between a jet ski and a fishing boat. Since then Jet ski it is advisable to use a tandem (professional guide).
Also explore: Watersports in Nusa Lembongan
8. Gloss Bottom & Turtle Island
Turtle Island is a green turtle breeding place which is located on Tanjung Benoa, when you travel to Turtle Island you can see green turtles, pythons and many other animals there.
Departing from tanjung benoa you will then go to turtle island using a wooden boat that contains a maximum of 10 people.
The boat that you will be on has clear glass under the bottom of the boat so you can see a variety of life and colorful fish without having to dive.
For price and promo information Tanjung Benoa Turtle Island Bali you can read here.
[spacerheight="20px"]
9. Flying Boards
Flyboard is a kind of water rocket game connected to a device shaped like a jet ski. The strong thrust of water will make the flyboard rise into the air like flying above the sea surface.
Flyboards in Bali This is the newest game in Tanjung Benoa but has become very popular among foreign and local tourists.
Come on, what are you waiting for? If you want to feel fly on water Of course you should try this Nusa Dua Watersport activity with us.
[spacerheight="20px"]
10. Water Skiing
Water skiing is similar to surfing or skiing except that your ski board is pulled by a speed boat.
This ski is certainly very suitable to be played by adventurous teenagers which lasts about 15 minutes. Water skiing is usually done from 8 am to 12 noon.
Because if you pass this hour, the water ski game can no longer be done because the sea water recedes so the speed boat cannot be used to pull the surfboard.
[spacerheight="20px"]
11. Scuba Diving
Scuba diving is a diving activity using complete diving equipment.
Read the full details on the page Diving in Bali Tanjung Benoa.
The goal is to see firsthand the life and underwater beauty of Tanjung Benoa such as ornamental fish, unspoiled coral reefs. You can enjoy a variety of underwater life that is very beautiful and the beauty that you can enjoy for more than 30 minutes in the sea.
Not all diving or diving locations on the island of Bali are suitable for beginners. Before that, you must first determine which Bali sea location is suitable for beginner diving.
The Bali sea has quite a lot of dive spots and almost most of the dive sites on this island of the gods require a certification of diving skills.
But only at the Tanjung Benoa location of course you can try this type of water sport that offers diving on the Nusa Dua peninsula specifically for novice participants who do not have diving certification.
So travel friends who can't swim or dive don't need to worry. Of course, you will be accompanied by a professional diving instructor to navigate the 6 meters of calm underwater beauty of Nusa Dua.
[spacerheight="20px"]
12. Wake Boarding
Wake boarding is a type of Nusa Dua Bali Watersport game that is pulled by a speed boat.
This activity is the most challenging and also includes activities that are difficult to do for those of you who are not experienced.
This activity requires balance and stamina from the players. This game is very fun almost similar to water skiing but here we are on a fairly wide board and being pulled at a speed of about 25km.
The speed at which it is pulled depends on the size of the wakeboard, the weight of the player and the movement of the player.
The wakeboard speed is also influenced by the type of speed boat used.
[spacerheight="20px"]
Travel Info
Thus the Tanjung Benoa Watersport Activity Type Page that we informed above. Hopefully the website page above is useful for you when you start watersport activities in Bali.
Travelers can read our other articles such as:
Travelers can also find our offers on Cheap Rafting in Bali and Bounty Cruises Bali Voucher.
If you want to go to the Tanjung Benoa watersport location but are confused about what to ride?? Travela of course can also do Motorcycle Rental in Bali or Cheap Car Rental in Bali with us.
[spacerheight="40px"]
Appreciate us if you leave and trace it below
Cheers – Grace gotravela +6282144448095 – Tanjung Benoa Watersports.