Planning a vacation in Flores Island? Ngada Bajawa Flores Tour can be your option.
You've never heard of Ngada Bajawa? Take it easy, because this article will discuss further.
curious as to what right? Let's find out immediately by continuing to scroll down.
tour operator & content specialist. Before joining gotravela, he spent years honing his skills at 'Tourism Industries Bali.
---
Location of Ngada Bajawa Flores Tourism
Bajawa City, which is located in Ngada Regency, is indeed a newcomer to the world of natural tourism in the country and in NTT itself. Even so, that does not mean this location is not worthy of your consideration, you know!
Located in a highland area, Ngada Regency offers natural charm with clean and fresh air, far from typical urban pollution.
Not only that, Ngada Bajawa tourism also promises a unique and exotic natural charm that will definitely not be forgotten around it. Curious about what tourist destinations you can enjoy in Ngada? Come on, see the list below!
Riung 17 Island Marine Park
Area riung marine park This is located on the northern coast of Flores, where you can find a treasure trove of stunning white sand beaches, along with beautiful coral reefs that live quietly below sea level.
Get our offer rent a boat in Labuan Bajo for your sailing adventure!
And while you are in Ngada Bajawa, make sure you take the time to stop by Pulau Tiga and visit the peak of the evidence, where you can witness for yourself the charm of the Flores sea with an astonishing variety of color gradations.
Ogi Falls
This waterfall tourist location has a height of 30 meters. It's not the highest waterfall in Indonesia, but the natural harmony that surrounds Ogi Waterfall will certainly amaze you.
The rumbling sound of a waterfall pouring from a cliff carved by nature combined with the sounds of the various fauna that live in this area produces a musical harmony that you will definitely not be able to enjoy easily once you return to the city later.
Lake Wawomudha
You can visit this lake after climbing the hill for about 30 minutes, and was formed as a result of the eruption of Mount Wawomudha.
The result is a lake with 3 crater kecil yang memiliki warna yang cukup menarik. Anda bahkan bisa membandingkannya dengan Kelimutu Lake. Tapi Danau Wawomudha ini seperti versi mininya.
Belaraghi Traditional Village Ngad Bajawa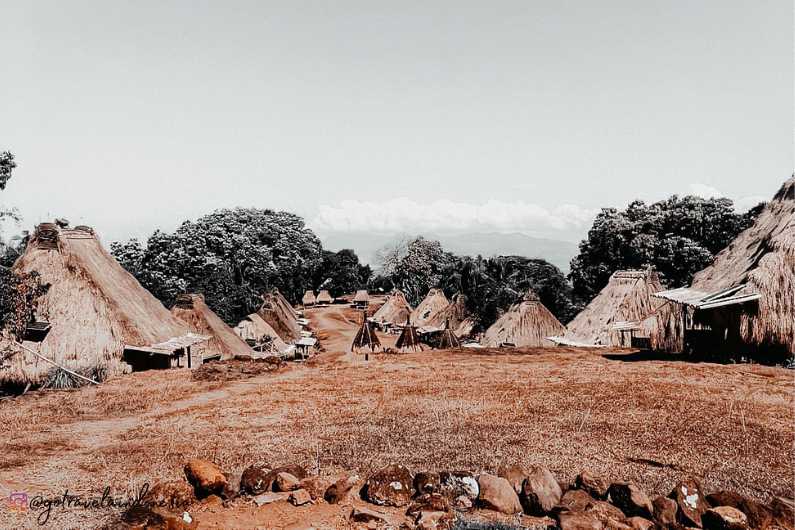 Located in Aimere District, Ngada, Belaraghi Traditional Village is a tourist village that continues to maintain the traditions of its ancestors. One of the proofs is the authentic and traditional houses of residents.
Not only that, you can also spend time here while feeling the warmth of the friendly residents. The guests who attend will be greeted by residents with a banquet in the form of traditional dishes, such as bananas, sweet potatoes, or taro, along with coffee or wine.
Bena Traditional Village Ngad Bajawa
Another traditional village tour that is no less interesting is the Bena Traditional Village, which is also famous for its unique traditional house buildings. In the Bena Traditional Village area, you can also find about 45 houses that are neatly arranged in the shape of the letter U.
Located in Tiworiwu Village, Jerebu'u District, Ngada, you will also be greeted very friendly by the native people. This of course provides a sense of comfort and makes you want to stay here for a long time.
Mount Inerie
The uniqueness of this mountain and perhaps difficult to find anywhere else in the world. Because, the shape is almost like a pyramid, and has a pointed shoot. In addition, Mount Inerie itself is an active volcano.
Even so, the last eruption occurred 50 years ago, in 1970. To clearly see its unique shape, you can visit Aimere or Manulalu Inn. Or, you can also directly climb the 2.245 meters above sea level mountain, which only takes about 3-5 hours.
See also:
Well, interesting tourist attractions found in Ngada Bajawa. How, are you ready to vacation here?