Playing to Bali, don't forget to enjoy Jimbaran Beach Bali Tour whose beauty can't be beat.
The beach is one of the highlights on the Island of the Gods. Almost every area is surrounded by stunning coastal views.
The water is calm and the waves are not so heavy make Jimbaran Beach Bali favored by families.
---
Spvr Tour Operator at Go travela. She loves to travel and write topics on potential destinations in the archipelago.
---
Badung Regency is one of the regencies in Bali that has quite a lot of beach tourism.
For example, Padang-Padang Beach, Saseh Beach, Berawa Beach, Batu Bolong Beach Canggu, Canggu Beach, Kedonganan Beach, Kuta Beach, Nyang-Nyang Beach, Suluban Beach, and others.
Beach tourism in this district has a unique and different appeal. One of the beaches that is no less interesting to visit is Jimbaran Beach.
Where is Jimbaran Beach
Jimbaran Beach Bali Tourism is located in Jimbaran Village, South Kuta District, Regency of Bali Badung, Bali. Jimbaran is a tourist area in southwest Bali. This location connects between Bali Island middle part with peninsula hills in southern Bali.
In addition, the Jimbaran tourist area is quite strategic because it is close to I Gusti Ngurah Rai International Airport. For those of you who only have a little free time for a vacation, Jimbaran Beach is the most suitable tourist spot to visit.
Jimbaran Beach History
Before becoming a tourist spot, Jimbaran Village was a village on the coast where the majority of the population worked as fishermen. For generations, people in Jimbaran Village look for fish in the Bali sea and this beach is known as a producer of fresh sea fish for consumption by Balinese people.
Along with the development of the times, the beach with white sand is constantly changing. Likewise, the lifestyle of the people around the coast has also changed.
The very rapid development of tourism in Bali is forcing other areas in Bali to participate in improving as a tourist attraction. Finally, there were many investors who came to the area so that Jimbaran began to be addressed and developed as a modern tourism area.
Beach Attractions
Jimbaran Beach Bali is famous for having soft yellowish white sand. In addition, this beach is also famous for its very beautiful sunset. The cleanliness of this beach is also always maintained because there are many cleaners who are always on standby to clean the beach area.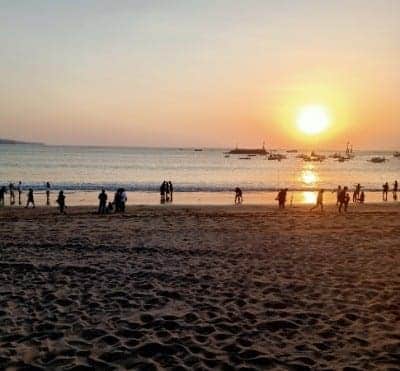 In addition, this beach is often a place to enjoy a charming sunset. And what is no less interesting than Jimbaran Beach Bali is that there are many cafes that provide a variety of very delicious Jimbaran seafood cuisine.
Route to the Beach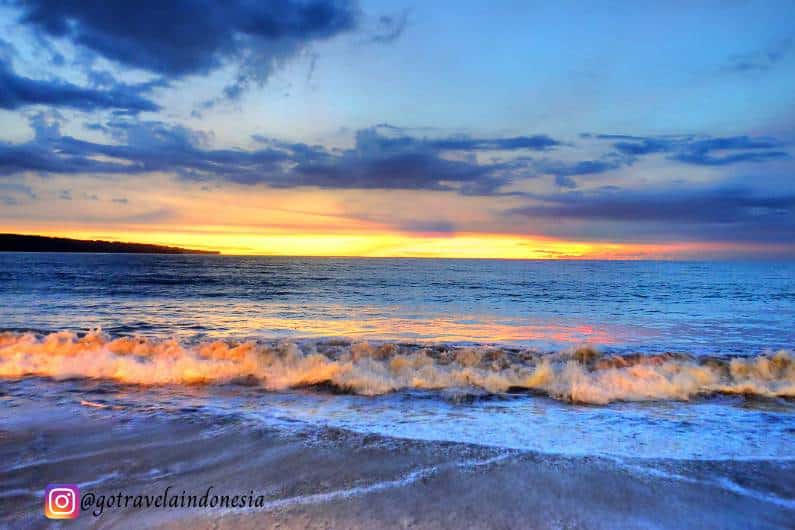 There are several routes that you can use to get to Jimbaran Beach so you can choose the route closest to you according to where you live or during your vacation in Bali.
The first route, if you want to go directly from the airport, the distance to this beach is only 7 km and takes 18 minutes to drive.
Then from the airport road, go straight to the By Pass Ngurah Rai road then take the Ulun Siwi road, South Kuta. After that go to Pemelisan Agung road and you will arrive at the location.
The next route is from Nusa Dua if you are from Nusa Dua or the area around it.
The distance you will travel to get to this beach is 8 km and the time it takes is only 19 minutes.
Then, from Nusa Dua, direct your vehicle to the southwest and then to Jalan KW Nusa Dua Resort. Then take the Pratama Raya road then take the By Pass Ngurah Rai road. If you have reached this road, just continue to Ulun Siwi street and then to Pamelisan Agung road.
The last route is from Seminyak. If from Seminyak, the distance to Jimbaran Beach is 12 km and it takes about 27 minutes to drive.
Then from Seminyak just follow Sunset Road to By Pass Ngurah Rai road. Next, head to Ulun Siwi Street, South Kuta, continue to Pemelisan Agung Street and you will arrive at the Jimbaran Beach location.
That's a little review about Jimbaran Beach Bali with its exotic beauty. Then it's your turn to visit this beach. Hopefully useful and can invite you to come on a tour of this beach.