Pemuteran Beach Tourism is one of the recommendations for extraordinary tourist destinations. At Pemuteran Beach Bali, you will see exotic blackish sand.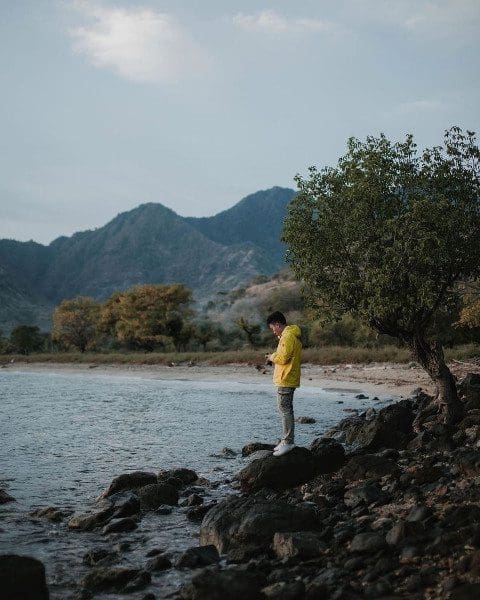 Bali has many stunning tourist attractions. The most famous is the beach tourism. There are a number of interesting exotic beaches in Bali. One of them is Pemuteran Beach.
This Pemuteran beach tour is located in Buleleng, Bali. If you come here, you will feel a peaceful and calm atmosphere. Very suitable for refreshing.
To come to this beach, you can use the services Bali car rental. You are more flexible to move from one place to another.
There is something unique here. There is a temple at the bottom of the sea. Of course this amazes every tourist who visits. Captivating man-made works of art combined with natural beauty.
In the 2010s, this tourist spot had shocked many people. In the past, the discovery of this temple was spread by British photographer Paul M Turley. Another unique temple than usual is at the bottom of the sea. The image captured is of the ruins of a temple.
Pemuteran Beach Tourist Attractions
1. Beautiful Coral Reef
The charm of Pemuteran Beach tourism is indeed very charming with the presence of coral reefs. Here the types of coral reefs are complete. There are at least 80% types of coral reefs can be found on this beach.
The condition of the sea water is very clear so that coral reefs can be seen clearly. The preservation of this coral reef is also really well maintained.
In 2003, the beautiful coral reef was awarded by the SKAL organization. The management and the community together keep the environment clean.
In the 2000s, the management carried out conservation Coral reefs. They planted new coral reefs.
2. Exotic Sights
Pemuteran Beach Tourism has an exotic view. The color of the sand is different. Unlike most beaches that have white sand. Here, the sand is a little shiny black. If you look closely, it's really beautiful.
In addition to these views, the beach location also has clean, fresh air, and free from pollution. Vacationing at this beach can certainly make the brain fresh. You can stay here for a long time.
If you want to stay there are several lodging places to choose from. You can be satisfied with your vacation on this beach.
3. Beautiful Sunset and Sunrise
Beaches in Bali are famous for having beautiful sunset and sunrise views. No exception Pemuteran Beach Bali tourism This. You can come here at hours approaching sunset or sunrise.
Many local and foreign tourists who deliberately want to enjoy the sunset in the afternoon. Chatting with friends or lovers in a very serene atmosphere of twilight.
Of course this is a lot of fun. You can also capture the moment with the sunset background here.
Address and Route
Located in Buleleng Regency, precisely in Pemuteran Village, Gerokgak District, Bali. The distance from Denpasar City is quite far, which is about 200 km. It will take you about 4 hours to get to the location.
The route that is passed from Denpasar is to Gilimanuk then Singaraja. However, if you depart from Java, you can go directly to Gilimanuk Harbor. The distance is quite close to Pemuteran Beach tourism, which is about 1 hour drive.
Let's read too
It's also fun to get show uluwatu kecak ticket while the sunset over the cliff and the expanse of the Indonesian ocean.
Price of admission
No entry fee is charged. Every tourist is free to enter the beach location for free. But still prepare cash, yes. Here, you can enjoy a spa massage.
If you are hungry, there are food stalls that serve a variety of culinary menus. Then, if you want to spend the night, there is a hotel that is ready to pamper you through the night on this beautiful beach.
Accommodation prices vary. Starting from IDR 500.000 to IDR 800.000 per night.
Pemuteran Beach Tourism is so exotic. You have to come here. Guaranteed to be no less beautiful than other more famous beaches in Bali.