Popular Tourism In Singaraja
7 Popular Tourist Spots in Singaraja, North Bali.
Is travela planning to vacation in Bali? Yes, you should first determine the tour that you will visit. Bali Island yang terkenal dengan sebutan pulau Dewata ini memiliki banyak sekali spot wisata yang keindahan alamnya sangat sayang untuk dilewatkan.
Amount popular tourist attractions in Bali, until Bali has a beauty that is incomparable. Even tourists from abroad many who spend their long vacation for weeks on this island.
Tourist spots that are most frequently visited by tourists, including Kuta Beach, Pure Tanah Lot, Lake Beratan Bedugul. But did you know that there are still many extraordinary Bali destinations that are rarely known? Some of the tourism is located in northern Bali.
Geographically, regencies/cities included in the North Bali region include Buleleng Regency, Singaraja City. Because the distance is quite far from Denpasar, the number of tourists visiting North Bali is quite small.
Nevertheless, the beauty of tourism in this area of ​​Singaraja is truly extraordinary and some have been categorized as popular.
Not only by local tourists, tourism in North Bali is also visited by tourists from various countries. Travela is curious what are the popular tourist spots in North Bali that are recommended for you to visit? Check out the next review.
List of Recommended Tourist Hits in North Bali
Traveling in the Denpasar and Kuta areas may have been too mainstream. Travela can try to visit popular tourist spots in North Bali to get an anti-mainstream vacation experience. The following is a list of these tours, including:
Previously we offered offers Bali car rental at the best price. If you occasionally need a mode of transportation to explore every inch of the island of the gods!
1. Gitgit Waterfall
You want to unwind by enjoying the sound of gurgling water with cool air? If so, then you must visit Gitgit Waterfall. The waterfall, which is located in Buleleng, is about 11 km from the city of Singaraja.
Before arriving at the location, you have to go down the stairs and do a little tracking in the rice fields, clove gardens, and coffee plantations. Wow, when traveling alone, Travela can already take pictures or selfie with an instagramable landscape.
Arriving at the location you will be greeted with a 35 meter high waterfall. In this famous tourist spot, you can do various activities, such as swimming for relaxation or adding to your hits photo collection.
This Gitgit waterfall is very instagramable, as evidenced by the many model and pre-wedding photo shoot sessions that were held at the highest waterfall in Bali.
2. Wanagiri Peak
Wanagiri Peak is one of the famous tourist attractions in Singaraja in Bali. This tourist spot is a selfie paradise that is an idol for many tourists, especially millennials.
Why is that? Because here you will be spoiled with super cool photo spots, such as swings, bird cages, platforms, and much more.
Not only that, you can also enjoy the natural beauty seen from the height of Wanagiri Peak. For travelers who want to visit this Popular Tourist Spot in Singaraja, please come to Sukasada Village, Buleleng.
3. Banjar Hot Springs
The next popular tourist spot in Singaraja is Banjar Hot Springs. Here you can relax in 3 hot springs containing sulfur with different depths.
The good thing is, every pool has a shower, so you can feel a hot massage.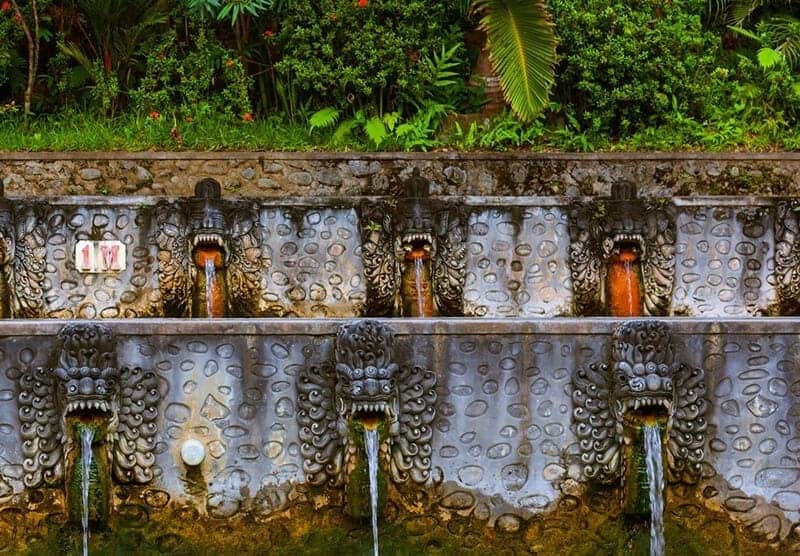 Well, in addition to making your heart and mind calm, your body can also be healthier.
Keep in mind, the sulfur content is believed to be able to cure skin diseases, bone diseases, and refresh a sluggish body.
4. Tamblingan Lake
It is undeniable, enjoying the beauty of the lake is one of the best ways to refresh the mind while being grateful for the natural beauty, especially at this Popular Tourist Spot in Singaraja.
Tamblingan Lake is a lake that is free from pollution, so you will be really comfortable here.
Travela can make this popular tourist spot a place to camp with the community.
5. Lovina Beach
For those of you who are going on vacation with your beloved children, you can visit Lovina Beach. This beach, which is 11 km from the city of Singaraja, will keep you entertained by seeing the attractions of dolphins on the high seas.
But the condition is, you have to rent a boat to sail to the middle of the sea before sunrise.
Lovina Beach is a clean and calm beach, so it is suitable for those of you who want to just swim or dive to see the beauty of marine life.
6. Yeh Sanih
After seeing the dolphin attractions at Lovina Beach, you should also visit Yeh Sanih tours. Interestingly, this tourist spot has been around since 1930.
In addition, local people believe that if a couple soaks together in the Yeh Sanih pool, then their relationship will last forever.
Why does this kind of belief arise? Because the pool water comes from a spring named Yeh Sanih which is located near the temple of Lord Vishnu.
Therefore, it is not surprising that Hindu people also often take pool water as a ceremonial tool.
Yeh Sanih provides two pools, namely for adults with a depth of 1,5 m and children. For those of you who visit this tourist spot, you have to pay a ticket of Rp. 10.000 for adults and Rp. 5000 for children.
7. Krishna Funtastic Land
After you are satisfied with enjoying nature tourism, you can continue the tour to a modern artificial tour, namely Krisna Funtastic Land which is one of the popular tours in Singaraja.
This tourist area has an area of ​​5 hectares with 16 types of rides, including flywheel, self control plane, dragon coaster, car bombs, Krisna water, and so on.
All the rides are guaranteed to be fun and will make you addicted to try again.
Frequently Asked Questions about Travel to Singaraja
What are the recommended tourist hits in Singaraja?
Gitgit Waterfall, Wanagiri Peak, Banjar Hot Springs, Tamblingan Lake, Lovina Beach, Yeh Sanih, and Krisna Fun Fantastic Land.
What is the location of Gitgit Waterfall?
Located about 11 km from the city of Singaraja. We have to go down the stairs, tracking in the rice fields, coffee plantations and clove gardens. Very fun, right? you can relax and swim in this 35 meter high waterfall.
What are the interesting things in Wanagiri Peak?
Of course there are many, because there are special spots that are usually used to take pictures, and supporting facilities are also provided such as a bird cage, funny swings, platforms, and so on to make our photos more interesting.
Is there any function of Banjar hot water for body health?
This Banjar hot spring has 3 hot pools containing sulfur, and each has its own depth. The benefits for the body are as relaxation and other skin diseases.
Is Tamblingan Lake free from pollution?
True, Timblingan Lake is a clean and pollution-free lake. So if you travel here, you can feel calm and comfortable.
How many kilometers is Lovina Beach from Singaraja city?
Located 11 kilometers from the city of Singaraja, this beach also has dolphin attractions on the high seas.
Since when did Yeh Sanih tour exist and how much is the ticket price?
Since 1930 ago. The ticket price for adults is Rp. 10.000,00, - and for children Rp. 5.000,00, -.
How do people believe about Yeh Sanih pool?
The surrounding community believes that if there is a couple who soaks together in the pool, then the relationship will last.
How many rides are there at Krisna Funtastic Land?
There are 16 types of exciting rides at Krisna Funtastic Land such as flywheels, car bombs, dragon coasters, and others.
Conclusion of Tourist Spots in Singaraja
That's a list of popular tourist spots in Singaraja in North Bali. You can try to visit all places or depending on your preferences by renting a mode of transportation in Bali with us.
Most importantly, let's love the natural charm of Indonesia. By visiting tours in Indonesia, some of which are located in North Bali, it means that you play a role in advancing Indonesian tourism.
If you liked this article, then please subscribe to us YouTube Channel for support us in presenting tourist video forward. You can also find us on Instagram or direct to Whats-app me to consult your travel plans.
Cheers – Alfonso giostanov | 7 Popular Tourist Spots in Singaraja.