Carter Innova Reborn and innova car rental in lombok. We, Goravela Indonesia, with the mainstay of Indonesian rental transportation products, want to offer the latest Innova car rental in Lombok.
To complete your transportation needs while on vacation on the island of Lombok.
Innova Lombok Car Rental
Warm greetings and howdy travelers, we hope that all readers are healthy and happy, we always hope.
Go travela with mainstay products Cheap car rental in lombok, is the best solution when looking for a cheap mode of transportation in Lombok.

The natural charm of Lombok Island has its own charm in each region, both west, east and central Lombok.
The local government here is starting to respond quickly to the tourism sector. Until the infrastructure and roads began to have improvements and development.
Innova car rental is one of the mainstays of our rental services. Let's readers review a little about this Toyota Kijang generation innova car.
The level of the Innova car in Indonesia as a middle class / middle caste car between the Avanza and Fortuner is well known as a Family MPV car (Multi-Purpose Vehicle) which received positive reactions from its customers.
Because of the quality and comfort provided by the New Kijang Innova, according to the needs and demands of consumers.
Why use Innova?
Innova car with a maximum passenger capacity of 7 people, spacious cabin space, supported by a 2000 cc engine with a VVT-i system capable of producing maximum engine performance with minimum fuel consumption.
The Toyota Kijang Innova is an MPV category car for families that has received positive responses from our customers.
Because the quality and comfort provided by the Toyota Kijang Innova car is in accordance with the needs and requests of our consumers in Lombok.
Innova car rental in Lombok is supported by our spacious Toyota Innova luggage space, which is perfect for those of you who carry large amounts of luggage.
Another advantage of the Toyota Kijang Innova is its soft suspension which will give you comfort when traveling so you will not feel tired when driving for a long time.
Equipped with the latest technology such as Air Bags and also side impact beam. It can be said that the Toyota Kijang Innova is the most ideal family vehicle in Indonesia.
Car Rental Convenience
For customers who want to rent a Grand New Innova vehicle, we only rent this Innova car in Lombok with a driver and include fuel but customers can also rent our Toyota Innova car, only with a driver without fuel.
[spacerheight="20px"]
With the innova car rental price in lombok that we offer will be one of the mainstays of your transportation on your tour, vacation with family, and want to pass every trip in the vehicle without interruption. We recommend renting an Innova with Driver and get our latest 2019 prices. With all due respect of course everything goes back to your choice of our prospective customers.
[spacerheight="20px"]
Regarding the terms and conditions of Indonesian car rental and travel info for our unit rental in Lombok, you can see "Terms and conditions". If you use our car rental services in Lombok for more than 4 days, we will be happy to provide you with a discounted rental price.
[spacerheight="20px"]
Price for Innova Update 2023
We will update a cheap key-free car rental soon!!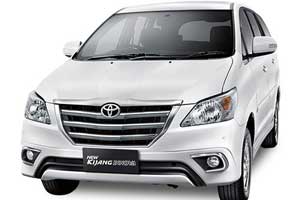 Cheap Car Rentals Take Off: - /24 hours
Cheap Car Rental + Driver Service: Rp. 450.000,-/12 Hours
Cheap Car Rental + Driver Service + Fuel: Rp. 550.000,-/12 Hours
Read please Cheap car rental terms and conditions in us
[spacerheight="20px"]
Rent a Car With Us
We are your right choice, because we are equipped with a fleet with new and very prime conditions. So it is very suitable for use on Lombok tourist routes such as mountains, hills, beaches, and even xtream roads.
OUR SERVICE
We try to provide the best service to our prospective and customers. Although we do not escape complaints from guests, we try to improve ourselves by always evaluating the performance of our team and drivers.
We need your feedback or input about the services provided by our drivers! Not infrequently we contact guests and ask how the performance of our drivers while serving you in Lombok.
From suggestions, complaints, feedback and compliments given by customers, it will be our evaluation material to continuously improve cheap car rental services with us.
We also provide Lombok tour packages with the car we use:
Toyota Avanza
Toyota HIACE
Lombok Tourism Bus for Group size
TIPS SEWA MOBIL DI LOMBOK!
Make sure the car you rent in Lombok is at least 2007 and above. This is important as a benchmark for the condition of the car that remains prime.
Are you sure about the quality of the driver's service?
Does the driver understand the best tourist locations in Lombok?
Make sure the driver or driver is not only good at driving a car but also understands and understands the destination and of course convinces the rental service that the driver is friendly and welcoming
Choose an Innova car rental service in Lombok that provides rational and reasonable prices without hidden prices.
Also make sure the car you rent looks clean and well-maintained – make it a habit to check before you use it.
Read also
Travel in Lombok with us
Lombok Island is one of the new and important tourist destinations in Indonesia, by providing a variety of interesting tourist attractions such as Mount Renjani Trekking, Cultural Tourism of Sade Hamlet Traditional House, Snorkeling 3 Gili Trawangan, Gili Air and meno, Segara Anak Lake, Sekoteng Beach, Gili Nanggu, Pink Beach Lombok, Tanjung Bloam in East Lombok and many more interesting tours that offer attractions and beautiful nature, art and beach tourism which is famous for local and foreign tourists.
You are on the right website with us, also get our best offers on Cheap Car Rentals in Bali, Motorcycle Rentals in Makassar and other Indonesian Tour Promo Prices - Gotravela.
– Happy holidays and joy, your satisfaction is our happiness.
[spacerheight="20px"]
Cheers – Grace gotravela +628214444 8095 "Car rental and Indonesian tours".