Fast Boat Tickets To Lembongan
Fast boat tickets to Lembongan can be your alternative access to the Nusa Kecil island of Lembongan in Bali.
Here, Gotravela informs the fast boat departure schedule from Sanur port, Denpasar to 3 Nusa Bali This Lembongan.
To get to Nusa Lembongan, the best way is from Sanur Harbor, the location can be checked at google map (Type in Warung Mak Beng, Sanur Harbor). It takes only 30 minutes to travel from Kuta/airport to Sanur by car or motorbike.
To go to the Sanur port location, you can use;
[spacerheight="20px"]
Buy it at gotravel indonesia Fast Boat Ticket to Lembongan only IDR. 85.000 per One-way for return book!!!.. let's traveler read more fully below the schedule, how to book and our best offers.
There are only 2 (general) piers that I know of in Nusa Lembongan, although there are several private jetty resorts or hotels there.
The docks that are commonly used to dock on Lembongan are:
Jungut Rock where this pier is the final destination of the public boat and the location is quite far.
Mushroom Bay the pier where fast boats or speed boats always dock at the Lembongan island pier.
Fast boat offer in 2023
For more details please scroll below & rate based on Indonesia currency
| | | |
| --- | --- | --- |
| Domestic | One way | Return |
| D'Camel | Rp. 110.000 | Rp. 220.000 |
| The Tanis | Rp. 90.000 | Rp. 175.000 |
| Arthamas | Rp. 95.000 | Rp. 185.000 |
| Glory | Rp. 85.000 | Rp. 165.000 |
Indonesian Domestic/Local Prices
| | | |
| --- | --- | --- |
| Overseas | One way | Return |
| D'Camel | IDR. 135.000 | IDR. 265.000 |
| The Tanis | IDR. 135.000 | IDR. 265.000 |
| Arthamas | IDR. 135.000 | IDR. 265.000 |
| Glory | IDR. 135.000 | IDR. 265.000 |
Price for Overseas
| | | |
| --- | --- | --- |
| Schedule | Sanur (WITA) | Lembongan (WITA) |
| D'Camel | 09.30, 13.30 & 17.00 | 08.30, 12.30 & 16.00 |
| The Tanis | 08.15, 12.00, 13.45 & 16.00 | 07.00, 10.30, 12.00, 14.30 & 16.00 |
| Arthamas | 09.15, 14.30 & 17.15 | 08.15, 13.00 & 16.15 |
| Glory | 08.30, 11.00 & 14.00 | 08.00, 12.15 & 15.45 |
Schedule
1. D'camel fast Ferry 3 time/day
Departure from Sanur:
09.30, 13.30 & 17.00 PM
Departure from Lembongan:
08.30, 12.30 & 16.00 PM
2. Tanis Express 5 times/day
Departure from Sanur:
08.15, 12.00, 13.45 & 16.00
Departure from Lembongan:
07.00, 10.30, 12.00, 14.30 & 16.00
3. Arthamas Express 3 times/day
Departure from Sanur:
09.15, 14.30 & 17.15
Departure from Lembongan:
08.15, 13.00 & 16.15
4. Sri Rejeki Express 2 times/day
Departure from Sanur:
09.15 & 13.00
Departure from Lembongan:
11.15 & 16.30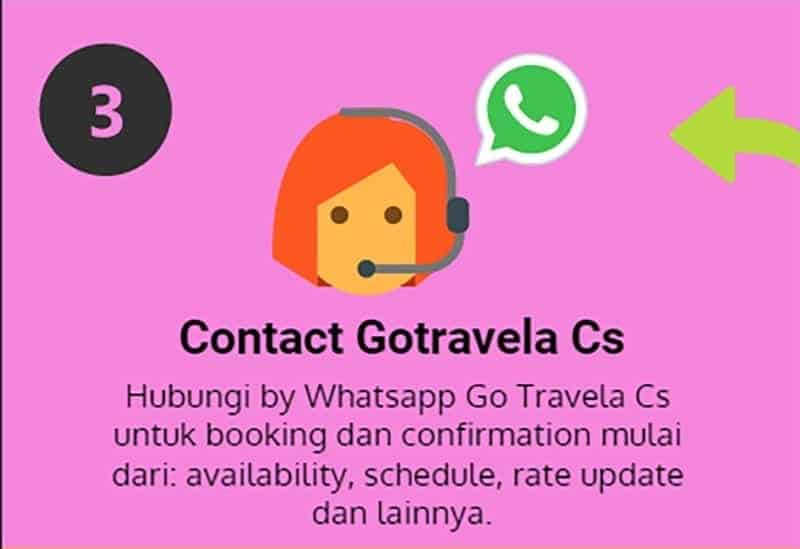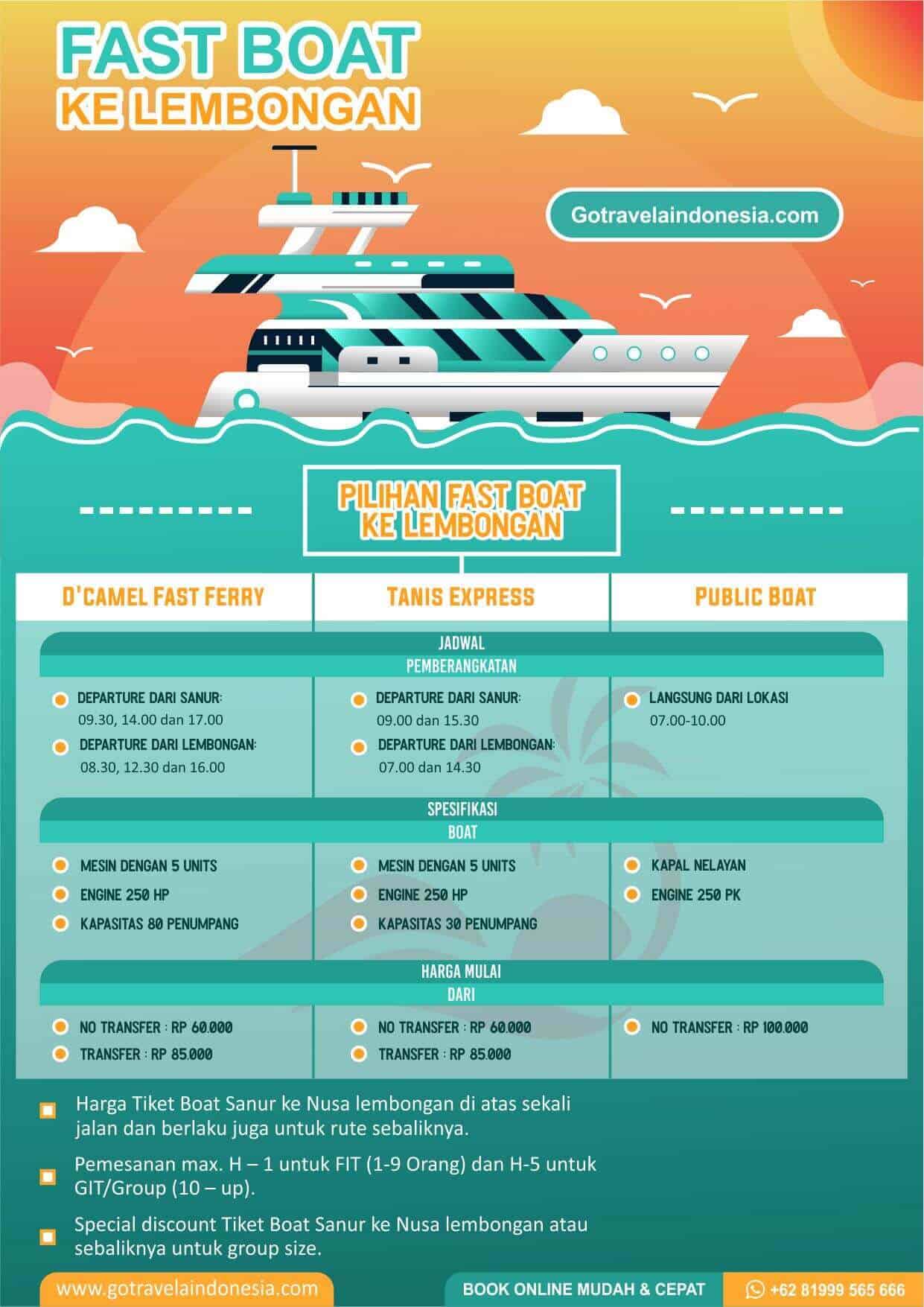 Public Boat Sanur To Nusa Lembongan
To Bali 3 Nusa (Nusa Lembongan, Nusa Penida and Nusa Ceningan) can only be traveled by sea.
Because until now there is no bridge connecting the big island of Bali with the 3 Nusa.
Maybe in my imagination in the future (perhaps) there will be a bridge like the Golden Gate Bridge, San Francisco California, built here hehehe..
As shown in the photo above, there are several types of boats that go to Nusa Lembongan, ranging from public boat speed boats and fast boats.
Besides, this is a public boat schedule that goes to Nusa Lembongan.
Fast Boat to Lembongan
Fast Boat is one of the most favorite boats and is often chosen by tourists for faster access to Nusa Lembongan.
Of course, the time needed to cross the Badung Strait is only 25 minutes from Sanur Harbor to the Mushroom Bay / Jungut Batu pier.
In this fast boat ticket to Lembongan, we offer 4 fast boat operators who work together with gotravela and are quite well known, namely;
D'Camel Fast Ferry – Jungut Batu Pier
Arthamas Express – Jungut Batu Pier
The Tanis Express – Mushroom Bay Pier
GloryFast Ferry – Jungut Bay Pier
Sri Fortune Fast Boat – Jungut Batu Pier
[spacerheight="20px"]
SPECIAL OFFER on return tickets!
Services depart from Sanur beach and include free hotel transfers to and from most areas in South Bali, including Kuta, Seminyak, Sanur, Legian, Nusa Dua and Jimbaran.
Hotel pick up times vary depending on location but can be up to 1 and a half hours before departure time. If your hotel is outside of the free transfer area and you would like Tanis/Sri Fortune & D'camel to pick you up there will be an additional charge payable on the day.
Contact details will be on your e-tickets. If you're arranging your own transport, make sure you arrive 30 minutes before time because the check-in time is 30 minutes before the departure of the boat.
All boats are fully insured and feature safety equipment such as life rafts, life jackets, ring buoys, 3 in 1 GPS system, fully accredited captains and crews, fire extinguishers, marine VHF radio and first aid kits.
We recommend that travelers who want faster access to Lembongan simply use the Tanis, Sri Rejeki and D' Camel fast boat operators.
Lembongan ship
Fast boat ticket price to lembongan This can be a traveler booking and confirm at gotravelaindonesia.com by ordering a fast boat ticket 1 day before your departure to Nusa Lembongan. Together with the well-known fast boat operators in Lembongan below, we offer it to you.
Check live seat availability for your fast boat to Nusa Lembongan, book, pay and receive e-tickets immediately. Fast operate daily with scheduled transfer services from Bali Sanur to Lembongan island. Crossing time is approx 30mins.
Terms & Conditions
The price for the Fast Boat Ticket to Lembongan is above one way and also applies to the reverse route.
denies mengFill in the booking form and send via Whatsapp listed below.
Order max. H – 1 for FIT (1-9 People) and H-5 for GIT/Group (10 – up).
Special discount for Boat Tickets from Sanur to Nusa Lembongan or vice versa for group sizes.
For booking you can via Whatsapp for faster response!
And for the payment method, you can check the link How toPayment
Format for Ordering Boat Tickets from Sanur to Nusa Lembongan
Fast Boat Ticket Order Format
Whatsapp book hours:
09Am to 08Pm
+6281999565666 (gotravel cs)
*Name :
*Phone number :
*email address :
*Departure date/time:
*Name of FAST BOAT VENDOR:
*Number of people :
*Number of children :
*Return/One way Fast Boat – Open/Fix* :
*Pricing Confirmed:
* FB & IG name:
By filling in these details
We have read the terms & conditions and Inclusive & exclude correctly
----------
Public Boat to Lembongan
Public boats or fishing boats, usually with a 250PK motorized engine, only serve crossings to Nusa Lembongan in the morning. Starting from 7-10 am scheduled departure. Operates at Sanur Harbor towards Jungut Batu Lembongan Pier.
This crossing by public boat, of course, takes longer and takes about an hour and a half slower travel time. But for backpacker travelers who want to feel the sensation of navigating the ocean with a fishing boat, this is also an alternative that is worth trying. To get this Public Boat ticket, a traveler can directly buy it at the location for a price of only Rp. 100.000 per one way
In addition to the fast boat ticket to Lembongan, which we have informed above, we also provide fast boat ticket from sanur to nusa penida and Gili Trawangan fast boat ticket promo
[spacerheight="20px"]
Nusa Lembongan Tour Packages and Nusa Penida Tour Packages
3 Nusa in Bali or I prefer to call it the "golden egg" this island of Bali saves so many tourist destinations that can't be expressed in words about the natural beauty, trekking, cliffs, instagrammable spots and diving and coral snorkeling there is no doubt again.
One of them is that you don't need to go to Raja Ampat or Komodo dragons to be able to swim together Manta Ray or also take selfies on a group of islands "The Raja Lima of Nusa Penida".
You can get all the 3 nusa travel promo offers at gottravela Indonesia
gotraveladmin
Below is an offering of 3 Nusa Tenggara tour packages that can be your reference when exploring Nusa Lembongan, Penida and Ceningan.
[spacerheight="20px"]
[spacerheight="20px"]
To explore nusa lembongan a la backpacker you can also "rent a motorbike in nusa lembongan" with us. Although rent a motorbike in lembongan This is a bit more expensive than Nusa Penida, but surely you will be satisfied with the beautiful natural beauty of 3 Nusa Bali.
To rent motorbikes and cars in Nusa Lembongan, you can also contact us.
[spacerheight="20px"]
Nusa Lembongan is more expensive than Nusa Penida?
My opinion (Alfonso gotravela): Maybe it's because Nusa Lembongan got to the top first and its tourism facilities are more complete than Penida. That's why lembongan is slightly more expensive than penida. Simple examples of this Lembongan fast boat ticket, motorbike rental in Lembongan, lodging / hotels in Lembongan and others.
But a traveler, staying in these 3 nusa promises a new and best destination for you. And what a traveler will love is the local hospitality that will welcome you in every corner in these 3 nusa.
Thus, we present the Fast Boat Tickets to Lembongan page to all of you. Hope this information can help travelers in exploring the nature of our beloved country, Indonesia.
Don't hesitate to leave a trail of comments and input, if you apologize if there are wrong words or mistakes, the lack of information that can be found on this page - please guide.
Greetings tourism – Alfonso +6285 3333 99 175 Fast Boat Ticket to Lembongan