Nusa Penida Broken Beach
The excitement of traveling to Nusa Penida Broken Beach, exploring the natural beauty of West Penida!
When you hear about Bali, the tourist that comes to mind for some people might be Kuta, Sanur, Seminyak, Sanur, or Dreamland beaches. In fact, this Island of the Gods has so many amazing destinations.
For those of you who want to vacation in Bali and want to enjoy the beauty of anti-mainstream, please come on a trip to Bali Broken Beach. What's wrong with the beach at Bali 3 Nusa this? What is its beauty and uniqueness like?
A mesmerizing beach with unique formation. This beach looks like a lake that captured many eyes of the visitors. This beach is called broken beach because it is surrounded by cliffs and there is a hole on the cliff so the water can pass through and then form a pool of water that looks like a lake. Want great pictures for your Instagram? Come here and hunt your pictures.
gottravel
Location of Broken Beach
Nusa Penida Broken Beach Tour is located in Banjar Sumpang, Bunga Mekar, Nusa Penida, Bali. You have to cross the ocean first to get to this beach. The route starts from Sanur beach and anchors at the port of Nusa Penida.
Obviously travela friends can see this vlog "how to get to nusa penida"
You can buy boat crossing ticket to penida at a price of approx IDR 75.000/person.
The departure schedule usually starts at 07.00 WITA from the People's Port of Sanur. While the time required for the trip is about 30 minutes.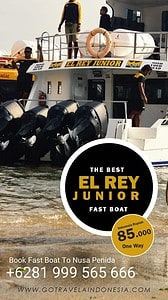 link:
Arriving at the port of Banjar Nyuh or Toya Pakeh, you can Rent a motorbike in Nusa Penida or Car rental in Penida to go to the location of Broken Beach.
During the trip you need to be careful because the road is quite rocky. Time spent about 90 minutes.
Here, you will feel the sensation like off-roading on track which is quite exciting. However, your tiredness during this trip is guaranteed to be paid off with the stunning charm of broken beach.
Broken Beach Attraction
Beautiful and unique is the most fitting title for Nusa Penida Broken Beach tourism. The reason is, this beach is in the middle of a cliff as high as 50-200 meters, where the origin of the water comes from the high seas that enters through a hole or tunnel on the cliff.
The hole was formed due to seawater abrasion for hundreds of years. This is why the local people refer to it as Sigh Uug (broken beach), while foreign tourists are more familiar with the term Broken Beach.
The sea water trapped in the middle of this cliff is so clear and blue. The waves are calm. You can clearly see the life of marine life, especially manta fish and turtles.
Looking at it from the top of the cliff is guaranteed to make you feel peaceful. It is perfect for those of you who are full of activities that drain your mind and energy every day.
The uniqueness of Pasih Uug is not only in its shape which looks like a giant pond or well, but also the surrounding atmosphere.
If on another beach the shore is sand, here you are greeted by a soothing expanse of green grass. Especially if you come in the morning when the grass is still wet with dew.
Fun Activities To Do
Everyone certainly has a different way to enjoy the beauty of Nusa Penida Broken Beach tourism. So it can be said that there are lots of exciting activities that can be done. Here are some of the activities that are most often done by beach tourists, including:
1. Selfie and landscape photos
An exciting activity in Pasih Uug that should not be missed is capturing the moment. You can take selfie or landscape photos.
The gradation of the brownish color of the cliffs with the blue of the sea water is guaranteed to produce instagrammable photos. Not only that, the hollow cliff that looks like a bridge can also be a unique photo object.
You can also take selfies against the backdrop of lush trees and the vast expanse of the open sea. Yes, all corners of this beach are so beautiful to be used as a background to capture the moment. In fact, many people do pre-wedding photos in this place.
2. See dolphins and rays
If you are lucky you can see dolphins and stingrays from the top of the cliff. Because from this height you can clearly see all the charms of the sea, including dolphins jumping. The dolphins came from Dolphin Beach which is very close to Pasih Uug.
It's not wrong to say that this beach can be the best tourist recommendation for those of you who want to teach children to know and love marine fauna.
3. Swim
Another exciting activity that you can do in Nusa Penida Broken Beach is swimming. However, you need the assistance of a tour guide to pass through the rocks and see the conditions of the tides.
4. Tracking cliffs and hidden spots
For those of you who have an adventurous spirit, you can try cliff tracking and hidden spots. You can walk around the cliffs that connect and form a circle. During tracking, make sure you always be careful, because at some point the grass is very thick and there are some sharp corals. It is safer if you have a tour guide to show you the track.
On this beach there are several hidden locations that are so beautiful. One of the hidden spots is a hollow coral that will be very beautiful to be used as a photo background. Tourists who come with a tour guide will usually be shown the location of this hidden location. However, for those of you who come independently, you can also try to find it, this can actually be a pretty exciting adventure.
5. Enjoy Sunrise and Sunset
The favorite activity of tourists when visiting Broken Beach is enjoying the sunrise and sunset. Its high geographical location allows you to clearly see the beauty of the sun. Not infrequently tourists deliberately hold camps in order to be able to see and feel the warmth of the sunrise.
Then, in the afternoon they sunbathe while waiting for the sun to set. You can imagine how romantic the atmosphere is when you do this moment with your partner.
6. Enjoy a typical beach drink
It's not legal to go on vacation to the beach if you don't enjoy the special food and drinks. Here you can order coconut ice which is sold at affordable prices. This drink is probably what you usually buy.
However, the taste and location on the edge of Nusa Penida's Broken Beach will create memories that you can't possibly forget. Especially if you do it with your family. As for the food, you can bring your own supplies, because there are very few food vendors on this beach.
Facilities at Broken Beach
Pasih Uug is a hidden paradise on earth that is starting to be exposed. It's no wonder that there are no independent supporting facilities like other beaches here. However, here are some facilities that are starting to support such as:
Toilet
Parking area
Warung with local dishes
Home stay 500 meters from tourist attraction
However, in the future, we are confident that the number of visitors will increase. Broken beach will improve for international class facilities.
Price of admission
The good news for now is that you only need to pay a parking fee of IDR 5.000/Person. While the price of admission to Broken Beach is still free.
Yes, the traveling budget that you budget for the entrance fee can be diverted to buy young coconut ice on the beach. So much fun, right?
FAQ FAQ
Where is broken beach nusa penida located?
Broken Beach Nusa Penida Beach is one of the beautiful beaches in Bali which is located in Banjar Sumpang, Bunga Mekar, Nusa Penida, Bali.

Latitude longitude coordinates (DMS): 8°43'59.2″S 115°27'03.6″E
How much is the entrance ticket for broken beach?
Tourists will not be charged an expensive entrance ticket, they are only required to pay 5 thousand rupiah per person.
What should be prepared when going to broken beach?
Your arena is on vacation to the beach, so the mandatory items that you must bring include glasses, sunblock, sunscreen and so on.
What are the interesting things there?
Broken Beach Nusa Penida is a beautiful and unique beach located at an altitude of 50-200 meters. You can enjoy the clear blue sea water that enters through the hole/tunnel caused by hundreds of years of abrasion.
You can see marine life such as turtles and manta fish.
What activities can be done?
You can swim in the Angel Bilabong pool next to the broken beach, but you must be accompanied by a tour guide. Besides that, you can also hunt for instagrammable spots, track and find instagrammable hidden spots.
When is the best time to visit?
The best time to visit Broken Beach Nusa Penida is during the dry season, which is in June-September.
How to get to broken beach
1. First you have to cross the Badung Strait first by buying a fast boat ticket for crossing from Sanur to Nusa Penida.

2. Arrive at the port of Penida Toya Pakeh/banjar nyuh you need a mode of transportation to get to broken beach. You can rent a car/motorcycle.

3. After having a mode of transportation to get to the location, the last way is to follow the road signs or follow the google map directions via the route to Banjar Sumpang, the flower village.

Those are some general questions on how to get to broken beach, there are 3 rules that must be passed. The explanation above is the right way to get to the broken beach location.
Conclusion
Broken beach is a highly recommended and potential tourist spot in the future. This spot should be included in your travel plan basket this year.
There are many things that benefit from visiting this location because you will be able to spot Angel Billabong at the same time. Two popular spots in West Nusa Penida in one broken beach area.
Our advice is to use local tour services in Bali and Penida. To support the local economy, especially Nusa Penida and Bali in general.
Well, that's complete information about Nusa Penida Broken Beach tourism. Immediately invite your family or friends to spend a vacation on this amazing beach. After going to Pasih Uug broken beach, then don't forget to stop by Crystal Bay Beach. Have a nice holiday.
If you liked this article, then please subscribe to us YouTube Channel for support us in presenting tourist video forward. You can also find us on Instagram or direct to Whats-app me to consult your travel plans.
Nusa Penida Tour Broken Beach