One of the tours that you must try in South Sulawesi is the Londa Tana Toraja Grave Tour. Of course, it is not foreign to hear the tradition of death in Tana Toraja. Because indeed Tana Toraja is identical to that. The following is a review of the Londa Tana Toraja Graveyard tour.
Londa, the Unique Grave of Tana Toraja which is enchanting
Visiting the grave is indeed synonymous with death and other scary things. However, if you visit the cemetery in Tana Toraja will be a different story. The goosebumps will be replaced with a dumbfounded expression because of his charm.
Setting foot in Tana Toraja is incomplete if you don't visit Londa. Moreover, this tourist attraction is a favorite tourist attraction for many local and foreign tourists.
Londa Tana Toraja Tourism is a unique tomb typical of Toraja which is located on a hill and is in the form of a cave. Inside the cave you can find coffins, skulls, and bones that are hundreds of years old.
When you just set foot in this place, you can see a line of wooden statues commonly called Tau Tau. The Tau statue is a statue of a corpse that has been buried in Londa.
Tau tau will be located at the mouth of the cave like a veranda that welcomes your arrival. This statue is made according to the original size and dressed like he was when he was alive.
Not everyone who dies is made Tau Tau. Only nobles and funeral processions using the highest customs may have Tau Tau.
The Toraja people believe that the higher the crate, the higher the degree and the spirit will quickly reach it nirvana. So you will find many coffins or erong when visiting this Londa Tana Toraja tour.
This Erong will be held in place with wood that makes the crate able to be on the hill wall. In a Toraja funeral, the family will also fill the coffin with valuables belonging to the deceased family. Then they would put the chests on high as a way to protect those valuables
Opportunity to Explore the Contents of Goa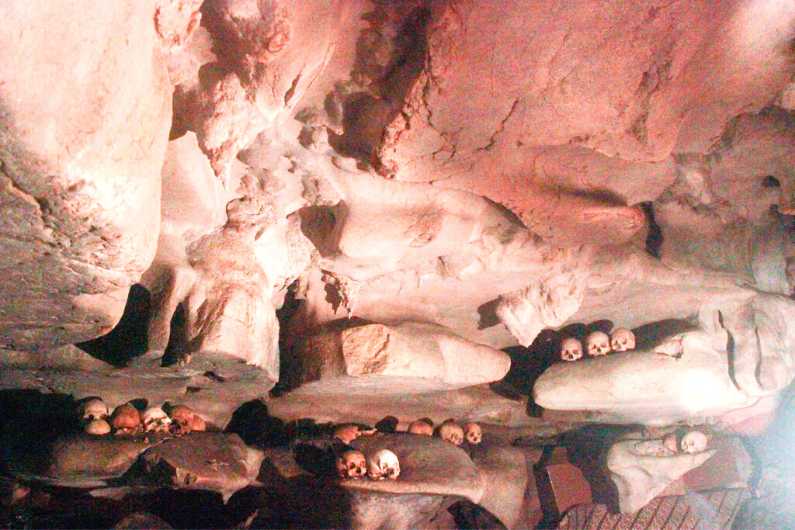 If you visit Londa, there are two caves that you can enter. From various sources, these two caves are actually interconnected. It's just that to access it takes a struggle because you have to half crawl.
Moreover, the length of this cave is about 1.000 m. Goa Londa also has a famous romantic story with Tana Toraja's version of Romeo Juliet. Now their bones are placed close together.
You will be slightly bent when entering Goa because it is a narrow road. Inside Goa is certainly very dark so you need light to explore. Because there is no electricity you have to rent a lamp to explore the cave.
This lamp rental service will also be your tour guide at the same time. You can agree on the rates for these lights with your guide. So you better be good at bargaining.
When you travel to the Londa Tana Toraja Cemetery and will enter the cave you are not allowed to touch or take any objects in the cave. Because either the bones or skulls in the cave require special rituals and customary processes to move them.
You can just take a picture and enjoy it live. You will see skulls on the walls of caves and coffins that have been eaten by age.
In addition to seeing bones or skulls, you can also learn historical values ​​to other unique things. According to information from local residents, only my Tolengke clan can be buried in Londa Cave.
Meanwhile, residents who are outside the clan line must be in another location. No wonder this Londa tour is famous as the largest family grave in North Toraja and also as a hanging grave.
Access to Londa Location
Londa is located in Sandan Uai Village, Sanggalangi, North Toraja. To get to this unique tourist location, you will travel overland about 6km from South Rantepao.
Before you enter, you also have to pay an entrance ticket starting from Rp. 5 thousand. Make sure you also prepare funds to rent a petromax as a light to explore this Londa Tana Toraja tour.
Not only enjoying the uniqueness of Londa which is full of history and thick with Toraja tradition. The surrounding scenery is also not a pity for you to miss. Londa is on a hill that has cool air and lots of trees there.
Of course you will definitely feel an amazing and unforgettable experience when visiting this one tourist attraction.
Tana Toraja seems to never run out of offering its diversity and uniqueness. Even stepping on Toraja is like a dream vacation coveted by many people. To ensure your convenience, you can directly access Go Travela Indonesia.
See also:
Not only making your vacation fun, Go Travela Indonesia will also offer various other interesting benefits.