Avanza rental in Jogja is an alternative to choosing a mode of transportation when traveling in the Special Region of Yogyakarta, Indonesia.

Even though it is known to have a relatively low rental price, that doesn't mean you don't get quality service from Gotravel Jogja to rent a Toyota Avanza car.
Rent Avanza Yogyakarta
Indonesia, has a lot of tourist attractions that you can visit at any time. One of them is the city of Jogjakarta which is famous for its special food, namely gudeg.
Of course, it doesn't just offer natural scenery with beautiful beaches and a stunning city setting.
However, with us you will be spoiled when traveling and choosing Car Rental Services in Yogyakarta with services that satisfy your holiday.
Jogjakarta
Yogyakarta as a student city located on the island of Java, it presents many tourist attractions with destinations and rides that can make tourists fall in love.
Apart from beautiful and attractive recreational parks, Jogja is also popular with culinary tours that have a high taste and suit the tongue of Indonesians or other Asian and foreign tourists.
In presenting a tourist city that aims to provide pleasure and comfort to tourists. There are shuttle services available such as Avanza car rental services in Jogja which are quite easy for you to find.
Avanza Rental Prices
You can order car rental services in Gotravela online or directly visit our rental place in the city of Jogja.
Avanza car rental in Jogja with us is divided into 2 types of rentals
1. Promo Car Rental
2. Full-day Car Rental
Promo Avanza Yogyakarta
1 Day Promo : Car Rental + Driver 1 day (Max 7 Hours/Day)
Price: IDR. 190.000 Using car+driver maximum 7 hours/day
2 Day Promo : Car Rental + Driver 2 days (Max 7 Hours/Day)
Price: IDR. 390.000 Using a car+driver maximum 2x 7 hours/day
(Time cannot be accumulated)
Full-day Tour Car Rental
Cars & Drivers + BBM:
• IDR 300.000 / 4 hours
• IDR 350.000 / 6 hours
• IDR 395.000 / 12 hours

FREE PICK & DROP AREA :
Free pick-up for the Jogjakarta area
Yogyakarta Municipality
Jogja-Solo Road – Adi Sucipto Airport
Malioboro & Tugu Street
Sosrowijayan
Giwangan Terminal
Tugu Station and Lempuyangan Station and for hotel areas outside the aforementioned areas, please confirm again.
Avanza Rentals in Jogja Promo Excludes:
BBM (Gasoline/Solar), parking tickets, entrance tickets to tourist attractions, tolls and other personal needs.
Not including the Tipping Driver (MANDATORY Tipping Driver) according to the provisions below.
ADDITIONAL COST :
IDR 35.000/hour if more than 7 hours/day
MANDATORY Tipping (directly given to the driver) IDR 50.000 for 1-Day Promo and IDR 100.000 for 2-Day Promo.
GENERAL REQUIREMENTS
Cars used by Toyota Avanza (Based on Availability)
Clean Interior and Air Conditioner
Promo Voucher valid until the date 15 December 2021
Minimum reservation 3 days prior to arrival.
1 Car maximum 6 people including driver for Avanza.
The voucher includes tax & service.
Reservation to: +6281999565666.
Office Hour = 09Am to 09Pm
email: gotravela.id@gmail.com
No pets allowed.
Not for region: Klaten, Kulon Progo, Gunung Kidul and Out of Town.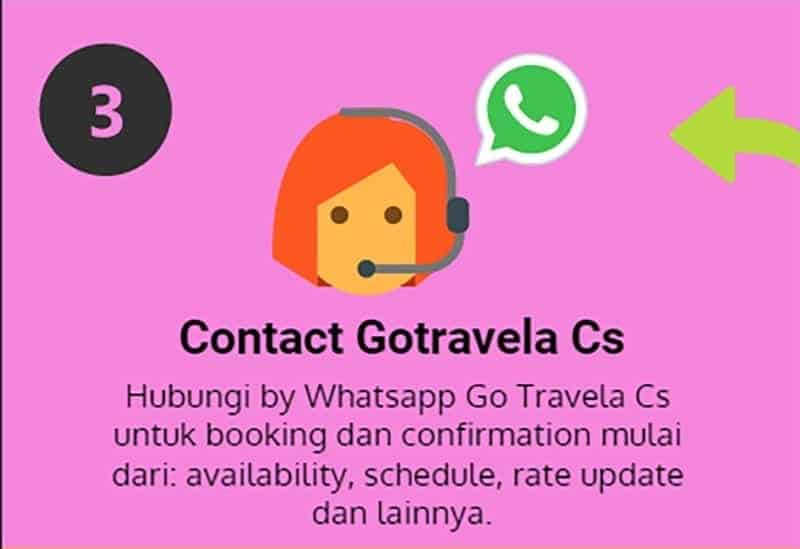 PAYMENT SYSTEM
For booking certainty, you need to transfer a minimum deposit of IDR 100.000 through our BCA bank. For more details you can read this link.
The remaining payment is made at the time of pick-up.
The most interesting thing about renting a car for sightseeing around the city of Jogja is that the Avanza car rental rates in Jogja are quite cheap and affordable.
Even though they are known to have relatively low rental prices, that doesn't mean you don't get quality service.
Because, almost all Avanza car rental services in the city of Jogja have standards and top priorities for the best service.
Avanza car rental services in Jogja are quite popular with the high quality and quality provided to tourists as customers or renters. There are so many benefits and advantages that you can get by renting a Avanza car while on vacation to the city of Jogja.
Some of them will be discussed in detail and briefly below !
Benefits of renting a Toyota Avanza Jogja
As explained, and of course you already know, that the city which is famous for its gudeg has a lot of tourist attractions to visit when the holiday season arrives. For example, Malioboro Street, Mojo Gumelem Hill, Watu Goyang Mangunan, Kalibiru, to dozens of temples with quite amazing buildings.
To be able to reach the famous tourist attractions in Jogja, of course you need a special vehicle. The vehicle must be safe, comfortable, and able to make you feel relaxed sitting in it. In this case, choosing to rent avanza in Jogja is the most appropriate and correct decision for you to do.
There are many advantages and benefits that you can get by renting avanza in Jogja. Please see the following review for more info!
1. Professional Driver
The first advantage that you can get from renting avanza in Jogja is a professional driver. The experienced driver can certainly make your trip more comfortable and safe until you reach your destination.
In the car, you can relax without having to worry about getting lost. This is due to the drivers who already know the details and intricacies of the city of Jogja. So, you can get there safely and quickly.
In addition, the driver as your traveling companion is also very friendly, polite, kind and does not hesitate to answer your questions about Jogja.
2. Good Car Condition
Rent avanza in Jogja is the most appropriate step for you to make a choice. Why? Of course, the cleanliness of the car is your main basis in choosing the type of rental car.
With a clean, neat, fragrant car, the trip will certainly not feel boring and fun. Surely the sensation of a pleasant comfortable trip is your dream, right?
3. Cars With Insurance
It is very important for you to ensure car insurance before deciding to rent or rent a four-wheeled vehicle to get around the city of Jogja.
This insurance is nothing more than aimed at avoiding unwanted events. Like an accident, you can get compensation and so on. So, it is very good for you to ensure insurance for renting an Avanza Jogja release the key.
4. Pick Up Anytime
Another advantage that you can get from using a key-free Avanza Jogja rental service is that you can pick up and drop off anytime you want. Of course with the provisions and prior confirmation between you as a tenant with the renter.
This is very necessary in order to establish good communication and make the trip more exciting and comfortable.
5. Affordable Price
In renting anything, price is of course the first issue discussed by both parties. Likewise, renting an Avanza car in the city of Jogja while on vacation.
Don't worry, because the Avanza car rental in this tourist city has Avanza car rental prices in Jogja which are quite cheap and very affordable. With this economical price, you can save more and use the remaining money for other purposes.
6. Best Quality Avanza Rental in Jogja
Don't worry and be afraid to rent a Avanza car in the city of Jogja at a low price. Because, even though it is known for its friendly prices, you can still enjoy the trip with the best quality. The rental service will always provide the best service for you as a service user.
Get also our other Jogja transportation offers at:
Toyota Hiace Commuter Rental in Yogyakarta
Rent a Tourist Bus in Jogja
Tips for Choosing Avanza Car Rental Services in the City of Jogja
There are several tips that you can rely on when choosing a Avanza car rental in Jogja. Please see the description below!
1. Choose one that provides an expert driver
The first tip that you should consider when choosing a Avanza car rental service in Jogja is to make sure you get a driver who is an expert and knows the Jogja area well. With such experienced experts, the chances of getting lost or arriving late at the destination are very slim.
2. Choose one that offers affordable prices
We recommend that you choose one that provides Avanza rental prices in Jogja at cheap and economical rates. However, you also have to make sure that these services not only offer low prices, but are also able to provide good quality for you as a car rental service user.
3. Choose a Quality Car
The next tip that you should consider when you are going to rent a Avanza car while on vacation to Jogja is to choose a car with the best quality. You have to make sure that the car of your choice is kept clean, comfortable, and neat. So, it will make the trip feel more different and enjoyable.
Read more:
4. Choose a Car That Has Insurance
It is undeniable, that misfortune can happen to anyone and at any time. Therefore, insurance is very necessary to compensate for the unlucky fate that might happen to you while traveling in the city of Jogja. So, you must ensure that the Avanza car that you rent in Jogja has insurance to ensure that your trip remains safe.
Well, those were the advantages and tips for choosing Rent avanza in Jogja. Hopefully you can be more observant and thorough when you want to choose a rental car.
Enjoy the gudeng typical of Yogyakarta!
Gotravela Jogja +62853333 99175 | Avanza rental in Yogyakarta.