As the prima donna of beach tourism in Lombok, the Gili Islands can only be reached by water transportation. Well, Bangsal Harbor is the only way from Lombok to get to those beautiful dykes (Gili). Here are some important things to know about the port.
Bangsal Harbor's Gateway to Gili Bliss
Hey there, travel enthusiasts! If you're on the lookout for an off-the-beaten-path adventure, let me introduce you to the charming Bangsal Port nestled in North Lombok. Just a stone's throw away from Juara, this little harbor may seem like just a pitstop, but it holds the key to unlocking the wonders of the Gili Islands.
Strategic of Bangsal Harbor
A Stone's Throw from Paradise: Bangsal's Location Magic
Situated approximately a mile from Selamat, Bangsal Port is your direct ticket to the Gili Islands. But don't let its size fool you; this tiny haven is a bustling hub for those seeking island paradise. It's conveniently located just a 30-minute drive from the lively Senggigi and a breezy 30-minute boat transfer from the mesmerizing Gili Islands.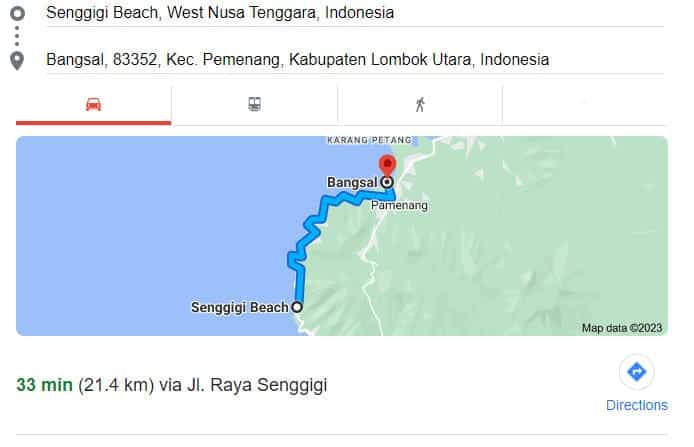 Bangsal Port is the closest to the 3 Gilis compared to other ports, namely Lembar Port and Senggigi Port. Administratively, the port is in North Lombok Regency.
This area includes a bay, so the sea is calm and you don't have to worry about extreme tides. This is advantageous for the wharf because enough small boats and fast boats that are large can dock.
Motorboats are also widely available here. There are even public boats that carry many passengers at once.
Fast Boat to Gili Islands
Boats Galore: Navigating Your Way to Gili Bliss
Now, let's talk boats – Bangsal style. You've got two options: the local charm of public boats or the exclusivity of charter (private) boats. Picture this – local boats, usually ferrying around 20 eager passengers, offer a communal experience. Alternatively, you can go all-in and charter an entire boat, especially if Gili Trawangan is calling your name. The price tag? Well, that's where your negotiation process comes into play. Be warned, though – some well-intentioned helpers might be looking for a commission, potentially turning your boat ride into a pricey affair. Keep your wits about you, especially in the afternoon when ticket-hustling might be at its peak.
However, choosing to use a fast boat from Bangsal Harbor to Gili Islands is the best choice. The reason is that they are also more comfortable in addition to the many choices of provider companies. In addition, the departure schedule is regular, so you can also predict which ship and when it will depart.
Gotravela Indonesia has a number of the best recommendations for boats from Lombok to the Gili Islands that you can choose from, starting from Eka Jaya Fast Boat, Invinia Fast Boat, Gili Ocean rides, Patagonia Xpress Bali, to Golden Queen Fast Boat Gili.
Of course, you can order these tickets at our place. Meanwhile, the distance from Bangsal Harbor to Gili Trawangan is around 20 minutes, 15 minutes to Gili Meno and 10 minutes to Gili Air-water in Indonesian means water.
Timing is Everything: Bangsal's Dance with Departures
Why make the pilgrimage to Bangsal, you ask? It's the doorway to and from the Gili Islands, my friends. If you're all about catching the morning boat, aim to arrive by 10 AM – that's your golden hour. And here's a little insider tip: the public boat office tends to call it a day around 4:30 PM. So, plan accordingly if you're eyeing a sunset sail back to Bangsal from Gili.
InterestingView
Then, another important thing you need to know about Bangsal Harbor is its landscape. Located on a bay, it has a charming natural view.
While you are getting on the ship, you can see the blue water with views of the green island from a distance.
Calm water conditions allow all modes of transportation to dock well here. So, you can see various transportation options to the Gili Islands while waiting for your scheduled departure.
This will be another fun object photo and of course, it can also give you valuable experience.
Smooth Sailing with Gilitransfers: Your VIP Ticket to Gili Paradise
For those who prefer a seamless, stress-free experience, consider the VIP treatment with Gilitransfers. Imagine this – a transfer car from Lombok International Airport to the port and your very own private boat to whisk you away to the Gili Islands. It's the epitome of luxury travel, right at your fingertips.
Very Important To Know!
One more thing that is important for you to know, the latest news states that at Bangsal Harbor there will be a one-gate system to the Gili Islands. That's what Gotravela quoted from the local news media, Radarlombok.id.
This plan refers to the safety factor, which is to protect tourists who enter for fun. And not for other violations, such as drug smuggling.
Another reason, this plan relates to the existence of Gili as a conservation area. Yes, Gili is interesting because of the coral reefs underneath.
However, if the fast boats passing by do not follow the route they should be, it is feared that they will damage the coral reefs.
Those are important things for you to know about Bangsal Harbor. We hope this info will help you get to know Lombok and the Gili Islands more closely.
Beyond Bangsal: Exploring Lombok's Treasures
But wait, there's more! If you're the type who craves a taste of adventure before hitting the beach, Traviora.com has you covered with enticing Lombok package tours. From the lush landscapes to the cultural gems, this is your chance to savor every moment of Lombok's natural beauty before making the jump to Gili or Bali. And calling all thrill-seekers – the majestic Rinjani volcano, a mere 99 kilometers from the airport, awaits your conquering spirit.
Meet also
In a nutshell, Bangsal Harbor isn't just a pitstop; it's the prologue to your Gili adventure. So, whether you're negotiating boat fares, embracing the VIP treatment, or exploring the wonders of Lombok, let Bangsal be your guide to an unforgettable journey. The Gili Islands are waiting – are you ready for the ride of a lifetime?
To get the best vacation packages to these islands complete with other accommodations, as well as car rental in Lombok, etc.
Don't hesitate to contact us about travel. We will welcome you warmly.