Klungkung Attractions
Up-to-date information on Klungkung admission tickets.
Hi travela, Indonesia, our country which is rich in natural beauty, will never run out for us to explore or explore one by one.
This time we will review a tourist spot in one of the regencies of Bali Province, namely: Klungkung Regency.
On the previous page Bali Attractions Entrance Ticket we have tried to make a list of tourist attraction information and tourist entrance tickets for the entire archipelago, especially the island of Bali per district & region.
So on this Klungkung Tour Entrance Ticket page, we hope that this Klungkung tourist attraction info can be useful information for all travelers and tourists.
Klungkung Regency is one of the 8 districts of Bali and has the smallest area.
Klungkung Regency consists of 4 sub-districts, 6 sub-districts and 53 villages. In 2017, the population was recorded at 215.852 people with an area of ​​315,00 km² and a population distribution of 685 people/km².
The capital city of Semarapura, the Klungkung area is bordered by Bangli Regency to the north, Karangasem Regency to the east, Gianyar Regency to the west and the Indian Ocean to the south.
Friendly people
The people are known to be friendly, although almost all Balinese and Indonesians in general have friendly local wisdom, noble character and eastern culture is still very well preserved.
Imagine, if you get lost in Klungkung "lost in klungkung..???", no worries hehe.. Don't worry!! The local Klungkung people are very friendly and will give you directions and detailed answers when you ask for directions to your destination / return.
In addition, on the "Klungkung recreation area" page, I hope it will help you explore one of the regencies that is starting to develop.
As many people already know, that Bali Island is one of the world's tourism destinations that has natural beauty, culture and customs that are popular to the ends of the world.
This of course makes all regions on this island and its districts have worldwide tourist ratings. Likewise, of course, the Klungkung area is no exception.
Nusa Bali Spots
The Klungkung tourist attraction itself has many interesting tourist spots that you must visit and should not miss.
This Klungkung tourist attraction and entrance ticket is also quite popular among local and international tourists.
Example Nusa penida with manta ray snorkeling spots, Nusa Ceningan snorkel buddha statue and Nusa Lembongan with its Goa gala gala.
For more details, travela can read: Bali 3 Nusa Pesona and its Natural Beauty
Klungkung Regency is a coastal plain so that the potential for marine fisheries. The length of the beach is about 90 Km and the mainland is 20 Km and the Nusa Penida Islands are 70 Km.
The land surface is generally uneven, wavy and even mostly in the form of steep hills that are dry and barren.
Only a small part is lowland. The slope of the top soil on an average of 40% (steep) is 16,47 Km2 or 5,32% of Klungkung Regency.
Geographical Conditions of Nusa Penida
The highest hill and mountain is named Mount Mundi which is located in Nusa Penida District.
Water sources are springs and rivers are only found in the mainland area of ​​​​Klungkung Regency which flows throughout the year. As for the Nusa Penida sub-district, there is absolutely no river flowing.
The source of water in Nusa Penida Sub-district is springs and rainwater that are accommodated in the cubang by local residents. Klungkung Regency has a tropical climate. Wet months and dry months between Nusa Penida District and mainland Klungkung District are very different.
You can click and select per destination in the column "Klungkung Tourism Entrance Ticket" in greater detail.
This is the list of Klungkung Bali 2021 Entrance Tickets, get information and don't miss it.
Klungkung Tourism Entrance Ticket
The region
Tourist attraction
Entrance ticket
Klungkung
Kusamba Beach
Free
Klungkung
Goa Lawah
Adults: Rp. 6.000/Person
Child: Rp. 4.000/Child
Sarong rental: Rp. 4.000
Klungkung
Kerta Gosa & Gili Park
Adults: Rp. 12.000/Person
Child: Rp. 6.000/Child
Klungkung
Kamasan Village
Free admission ticket
Klungkung
Klungkung Japanese Cave
Free
Klungkung
Tukad Undu Waterfall
Free
Klungkung
Melangit River Rafting (Bakas Levi)
Adults: Rp. 290.000/Person
Klungkung
Taman Sari Klungkung Temple
Free
Klungkung
Gelong Gunaksa Hill
Rp. 5.000/Person
Klungkung
The Grand Palace of Klungkung
Free
Klungkung
Nyoman Gunarsa Museum Museum
Rp. 25.000/Person
Klungkung
Nusa Penida Packages
Free klungkung tour entrance ticket
Nusa penida
Kelingking Beach
Rp. 5.000/Person
Nusa penida
Broken Beach (Pasih Uug)
Rp. 5.000/Person
Nusa penida
Crystal Bay
Motorcycle Parking Rp. 5.000
Car Parking Rp. 10.000
Nusa penida
Howling Tree House
Rp. 10.000/Person
Nusa penida
Angel Billabong
Rp. 5.000/Person
Nusa penida
Andus Beach/Smoky Beach
Free
Nusa penida
LoveTree
Donation (as class)
Nusa penida
Teletubbies Hill
Free
Nusa penida
Giri Putri Cave
Rp. 20.000/Person
Nusa penida
Atuh beach
Rp. 10.000/Person
Nusa penida
Temeling Natural Pool
Motorcycle parking
Rp. 5.000
Lembongan
Nusa Lembongan Packages
Free
For tour packages you can click
Noted: The price of the Klungkung 2021 entrance ticket above does not include the parking price, but if it is written only the Parking Price! means the ticket for the person/tourist is Free or Free.
We will continue to try to update the Bali Tour Entrance Ticket Price List 2021 – 2022, if there is a price change.
Best Way To Location
This Klungkung Bali Recreation Area is quite close to denpasar or Kuta and since the Ida Bagus Mantra bypass, the journey from Nusadua/Kuta takes 1 hour with a distance of 40 km.
The distance from Kuta to Klungkung is still closer than from Kuta to Karengasem, even though both positions are on the east of the island of Bali but of course we will go through Klungkung first to go to Karengasem.
Because the distance is relatively close (1 hour drive) so if you want to travel to Karangasem full day, it's better to include or in combination visit Klungkung tourism as well.
Using Taxi
If you arrive at Ngurah Rai Airport or Kuta and want to go to Klungkung, the price range of taxi fees that are charged is around Rp. 500.000 – 650.000 per one way delivery, the same is the case with Karangasem.
From the airport to the Klungkung tourist attraction, which is no more than 40 km, of course it is relatively expensive and costs quite a lot of money, right?
There are many taxi services available and it is very easy to find in the Airport area or Kuta Hotels.
Using a Motorcycle (Our Motorcycle Rental Service)
Service provider Motorcycle Rental in Bali very much, the price range for automatic motorbike rental is around IDR 50.000 / motorbike for 24 hours.
You can ask the services of a motorbike rental provider in Bali to send a motorbike to where you are staying and just visit and follow Klungkung Tour Entrance Ticket above.
We Go travela Indonesia is one of the companies transportation rental terbaik untuk wisatalah Eastern Indonesia.
Using Car Rental Services in Bali + Our Driver
The best way for a vacation to tourist attractions in Denpasar and its surroundings is to use Car rental service back with driver because there's a reason why we say it.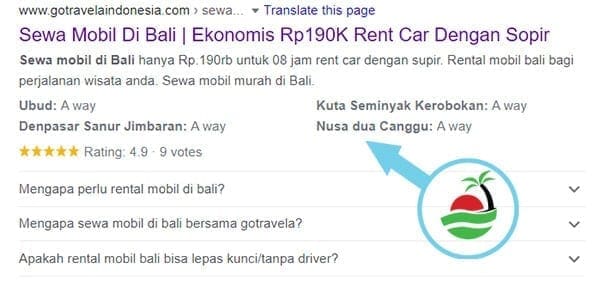 Want to know the reason? let's see the illustration below;
Illustration: Cost Avanza car rental and driver in Bali is IDR 300.000 / 10 hours, of course not including gasoline and Klungkung tour entrance tickets.
The Toyota Avanza is very economical with gasoline, so if you go around tourist attractions in Klungkung and visit it Tukad Unda one of hidden waterfall in klungkung for 10 hours.
At most you will spend 17 liters of gasoline (No more than Rp.120.000) right?
Compared to using a one-way taxi, of course the cost you will spend will be much more expensive.
Choosing Our Bali Tour Packages
For those of you who don't want to be complicated and dizzy and have a sufficient budget on vacation, you will definitely choose a Bali Tour Package, because almost everything in your vacation has already been planned and arranged.
We provide Tour Packages in Bali at reasonable and reasonable prices without hidden prices or without hidden prices for you such as;
If you have any questions or suggestions. Don't hesitate to write in the comments column below or contact us.
If you liked this article, then please subscribe to us YouTube Channel for support us in presenting tourist video forward. You can also find us on Instagram or direct to Whats-app me to consult your travel plans.
Appreciate us if you leave travela trace in the comments
keep reading: Want to know 101 popular tourist attractions in Bali? »
Klungkung Tourism Entrance Ticket