Information on tourist entrance tickets in Denpasar and Badung is the most complete below in 2021.
Hi Indonesian Traveler, it's nice to meet you again, this time we will write and share information about Entrance Ticket List Tourism in Denpasar Badung.
Hopefully this information on the list of tourist entrance tickets in Denpasar, Badung, can be useful information for travelers.
Tourist Entrance Tickets in Denpasar & Badung
Denpasar City is the capital city of Bali Province which was once the territory of the Badung Kingdom in the 19th century.
Geographically, Denpasar is very close to Badung Regency.
Get & read also:
Ngurah Rai International Denpasar Airport
Have you ever noticed this when you were about to land on a plane? "Welcome to Ngurah Rai International Airport in Denpasar, Bali", that's the announcement usually made by flight attendants before landing at Ngurah Rai International Airport, right?
But in fact, do you know a traveler ..?? actually territory Kuta and Ngurah Rai Airport included in the Badung Regency and not in the area of ​​the capital city of Denpasar Province.
Possibly because Bali International Airport is more familiar with the term Denpasar Airport (DPS).
Therefore, Denpasar Airport has become a habit, even though it had become a hot issue that was disputed by the regent of Badung Regency.
As the Capital of the Province, Denpasar City experiences economic growth that increases every year. One of the benchmarks is the construction and congestion on the busy Denpasar protocol road.
The History and Meaning of the Name Denpasar
Before we further discuss the list of interesting Denpasar Badung Tourism Entrance Tickets, we need to know what it means "Denpasar" that?
The meaning of Denpasar is "New Market" the area that was once controlled by the Badung kingdom which was founded in the 19th century.
Because Denpasar City was a former kingdom, of course there will be many historical relics from the Badung kingdom.
Such as temples, museums and historical monuments, and Badung Regency also has beautiful beaches that are famous to all corners of the world.
[spacerheight="20px"]
The right time to see a Balinese art party is in June every year. Program
PKB Bali Arts Festival
adalah unjuk kesenian untuk seluruh wilayah dan kabupaten yang ada di
Bali Island
. yukk… Jangan lewati travela, gratiss!!
[spacerheight="20px"]
Badung regency
Badung regency is a district located in the province of Bali, Indonesia. This area which also includes Kuta, Jimbaran and Nusa Dua is a famous tourist attraction.
The capital city is Mangupura where the capital city was Denpasar.
But in 1999 there was a big riot that the Badung Denpasar Regent's Office burned to the ground.
Badung regency currently led by a regent, Badung regency borders with
Buleleng in the north
Tabanan Regency in the west
Bangli, Gianyar and the city of Denpasar to the east.
BThere are many tourist attractions that you must visit such as:
Hamlet Campground, Blahkiu
Bungy Jumping
Evening Village
Plaga Village
Ship Village
Pillow War (Village Ship)
Padang-Padang Beach
Tukad Bangkung Bridge
Penataran Puspem Badung Temple
Seseh Beach
Batu Bolong Beach
Brawa Beach
Badung Industrial Estate (Jalan Bay Pass Sunset Road, Kuta)
Oberoi Malam Night Tour Area
Baha Tourism Village
Garuda Wisnu Kencana GWK
ITDC Nusa Dua area
Travel Mandala
Bali Bombing Tragedy Humanitarian Monument
East Kuta Art Stage
Kedonganan Beach
Kuta Beach, Legian, Seminyak
Legian International Area
Labuan Sait Beach
Nyang-Nyang Beach
Statue of Satria Gatot Kaca
Deluang Sari Turtle Hatchery
Coffin Temple
Pucak Tedung Temple
Sadha Temple
Uluwatu Temple
Horse Safari
Sangeh
Jaya Indonesia Reptile Park
Mangupura City
Wuk land
Tanjung Benoa
Waka Stairs
Water Boom Park, Kuta, Badung
Pelaga Agro Tourism
This is the list of tourist entrance tickets in Denpasar & Badung in 2021. Get information here with many attractions that are worth visiting and not to be missed, traveler.
Denpasar & Badung Attractions Tickets
(You can click the link per destination in the column below for clearer details).
Tour
Entrance ticket
Kuta beach
Free
Sanur Beach
Free
Jimbaran Beach
Free
Kedonganan Beach
Rp. 5.000/Car
Nusa Dua Beach
Free
Tanjung Benoa Beach
Rp. 5.000/Car
Dreamland Beach
Rp. 15.000/Car
Padang Beach 2
Rp. 5.000/Person
Pandawa Beach
Rp. 8.000/Person
Blue Ocean Beach
Rp. 10.000/Car
turtle Island
Tanjung Benoa
Rp. 10.000/Car
Mangrove forest
Rp. 5.000/Person
Canggu Beach
Free
Table Stone Beach
(Echo Beach)
Free
Berawa Beach
Rp. 15.000/Car
Batu Belig Beach
Free
Seseh Beach
Free
Menening Beach
Free
Green Bowl Beach/Bali Cliff
Rp. 15.000/Car
Balangan Beach
Rp. 5.000/Motorcycle
Nyang Nyang Beach
Rp. 5.000/Motorcycle
Bingin Beach
Free
Gunung Payung Beach
Free
Pure Luhur Uluwatu
Rp. 20.000/Person
Rp. 5.000 Parking
Uluwatu Kecak ***
Rp. 75.000/Person
GWK ***
Garuda Wisnu Kencana
Rp. 70.000/Person
Rp. 50.000/Child
Rp. 10.000 Parking
Several choices of tours in the Denpasar tourist entrance ticket
Swing Park
Rp. 10.000/Person
ArtCenter
Rp. 5.000/Car
Bali Museum
Rp. 10.000/Person
Badjra Sandi Monument
Rp. 10.000/Person
I AM BALI 3D Museum ***
Rp. 50.000/Person
Kuta Waterbom ***
Adults: Rp. 280.000
Child: Rp. 230.000
DMZ Museums 3D ***
Adults: Rp. 50.000
Child: Rp. 50.000
Upside Down Bali ***
Adults: Rp. 65.000
Child: Rp. 39.000
aquatics
Tanjung Benoa ***
Banana Boat: Rp. 55.000
Parsailing: Rp. 80.000
Seawalker: Rp. 300.000
Bounty Day Cruises ***
Rp. 280.000/Person
Sea Safari Cruises ***
Adults: Rp. 275.000/Person
Child: Rp. 150.000/Person
Ground Zero Kuta
Free
Sangeh
Monkey forest
Rp. 15.000/Person
Nungnung Waterfall
Rp. 15.000/Person
Noted:
1. The list of tourist entrance tickets in Denpasar Badung above does not include parking prices, but if it is written only Parking Prices! means Ticket for the Person/Tourist Free aka Free. We will continue to try to update the list of tourist entrance ticket prices in Bali 2021 – 2022, if there are price changes. Please also inform the traveler by commenting in the column below if there is updated information on other entrance tickets in Denpasar.
2. sign three star (***) You only get this price, if you order directly + 6281 999 565 666.
The Best Way To Tourist Attractions In Denpasar and Badung
Tourist attractions in Denpasar and Badung are very easy to access from various tourist attractions in Bali, because they are in the city center and the center of tourism highlights on the island of Bali.
The majority of 70% of tourists stay in the Kuta, Denpasar, Sanur and Nusadua areas, of course, these areas are part of Denpasar City and Badung Regency.
The distance is also relatively short, for example Kuta tourist attractions, you only need 30 minutes by car to arrive in Denpasar City (depending on road traffic conditions).
Using Taxi
If you arrive at Ngurah Rai Airport and want to go to Denpasar city, the price range for taxi fees is around IDR 100.000 – 150.000 per one way.
From the airport to Kuta, which is no more than 6 km, the charges range from Rp. 100.000 to 120,000. There are many taxi services available and it is very easy to find them at the airport or Denpasar and Kuta central tourist areas, Tourism Entrance Tickets in Denpasar and Badung.
Using a Motorcycle (Our Motorcycle Rental Service)
There are many motorbike rental providers in Bali, the price range for automatic motorbike rentals is around IDR 35 thousand - 50 thousand / motorbike for 24 hours.
You can ask the service provider Rent a motorbike in Bali to send a motorbike at the place you are staying and just visit and follow the tourist entrance ticket above.

Using Car Rental Services in Bali + Our Driver
The best way for a vacation to tourist attractions in Denpasar and its surroundings is to use our services Rent a car in Bali with driver 2021.
There is a reason why we say, using a car + driver rental service is the best way to vacation in Denpasar and surrounding tourist attractions.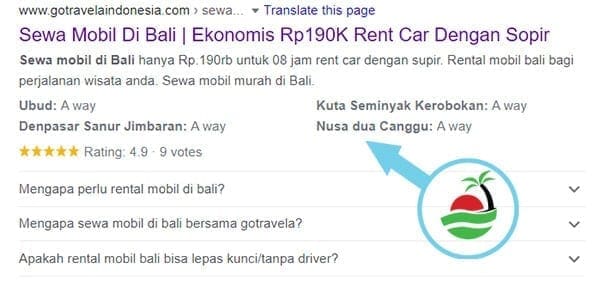 Illustration: The cost of renting a car Avanza + driver is IDR 300.000 / 10 hours, of course not including gasoline and tourist entrance tickets.
Toyota Avanza very economical with fuel oil, so if you go around Denpasar tourist attractions for 10 hours, at most you will spend 14 liters of gasoline (No more than Rp.95.000) right?
Compared to using a taxi for 10 hours, of course the cost you will spend will be much more expensive.
Choosing a Bali Tour Package with Go Travela
For those of you who don't want to be complicated and dizzy and have a sufficient budget on vacation, of course you will choose Bali Tour Packages.
Because almost everything in your vacation has already been planned and arranged. You stay relaxed enjoying the natural beauty of the island of Bali.
Our offer of Tour Packages in Bali at cheap and reasonable prices above, of course, without hidden prices or without hidden prices.
Thus, we present the Denpasar Badung Tourism Entrance Ticket page, hopefully it will be useful for all travelers.
Appreciate us if you leave travela trace in the comments
keep reading: Want to have fun with watersports in Indonesia? »
Denpasar & Badung Tour Entrance Ticket