This Sumbawa culinary tour is the most exciting topic to discuss for Indonesian culinary lovers. Sumbawa Island consists of several districts in the province of West Nusa Tenggara.
Sumbawa Island has many tourist destinations that have not been exposed and there are several world famous spots such as Jitu Eye Waterfall favorite bathhouse of the late Diana Princess of Wales.
Culinary Tourism in Sumbawa
Many tourists hunt for Sumbawa culinary tourism because it is famous for its deliciousness.
When visiting Sumbawa destination It's not complete if you haven't tried various culinary specialties. As in other areas, this island has a lot of mainstay menus.
Starting from heavy food with a savory salty taste to snack sweet. Everything is guaranteed to complete your vacation with family in Sumbawa.
Are you curious about what menu to try? The following is a complete list of the mainstay menus for culinary tourism in Sumbawa.
Sumbawa Mainstay Menu List
All of the menus below are dishes that are the mainstay of culinary tourism in Sumbawa. No wonder every tourist who comes always after him.
1. Lion
The first menu that you must try while on a culinary tour in Sumbawa is Singgang. This dish is similar to fish curry. Singgang is a processed milkfish or snapper that is cut into pieces, then sauteed.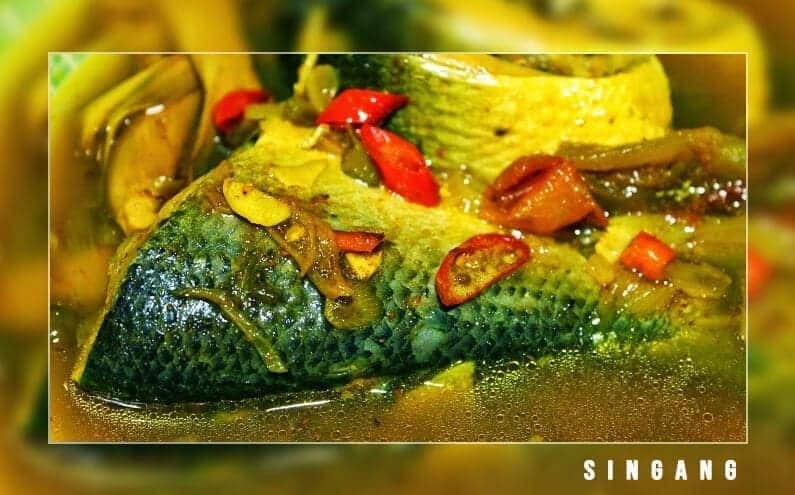 The subtle spices consist of garlic, onion, red, candlenut, turmeric, and tamarind. In addition, also added cayenne pepper and basil when the fish is half cooked.
This typical Sumbawa food is guaranteed to make you addicted. Because it tastes so savory, spicy, and slightly sour. There are many food stalls that provide Singgang, especially the area near the monument towards the big Sumbawa city.
2. Palumara
For those of you who are visiting the beach in Sumbawa, don't forget to eat Palumara. This is a processed fish head in coconut milk.
The fish used are usually tuna, skipjack, or snapper. The freshness of the red tomatoes and starfruit in the sauce makes Palumara suitable to be eaten during the day.
Some culinary attractions in Sumbawa that provide this dish include, around Lakey Beach, Kenawa Beach, and Mount Tambora.
3. Sepat
Processed fish seems to be a mainstay of tourism and culinary in Sumbawa. Not only Singang and Palumara, there are other processed fish called Sepat.
This dish is in the form of snapper or grilled baronang served with sepat sauce, rice, tomato sauce, and cucumber.
The most favorite of this Sumbawa typical menu is the strong sepatnya which is so delicious and fresh. Sepat sauce is made from pieces of young mango, eggplant, aru leaves, cucumber, tomato, wuluh starfruit, candlenut, and Sumbawa tamarind.
All these ingredients are then mixed with warm water. For those of you who want to taste Sepat, you can visit Goa Beach.
4. Uta Londe Puru
Not only processed fish with soup that is offered by culinary tours in Sumbawa.
You can also feel the pleasure of jumbo-sized grilled milkfish. Interestingly, this roasted milkfish seasoning is only salt water, but it tastes so savory and a little sweet.
Uta Londe Puru is usually served with soy sauce and sliced ​​lemon cui.
It is very suitable to be enjoyed while watching the beauty of the cool beaches of Sumbawa.
5. Don't Bage
Different from the previous fish preparations, Do Not Bage is mangkawal fish served by frying.
To remove the fishy and add flavor, this fish will be soaked in tamarind water before frying.
It tastes so delicious, especially if you dip it with the spicy nampol sauce.
As a typical coastal food, you can find this menu at restaurants or restaurants on the coast of Sumbawa.
6. Uta Janga Puru
You may be familiar with Lombok's typical Taliwang chicken.
Sumbawa turns out there is also a similar processed chicken called Uta Jangan Puru. Bekak is a medium-sized chicken, then seasoned with shallot, garlic, white pepper, salt, and vegetable oil.
After letting it sit for a few minutes, the chicken is grilled until brown on both sides.
Uta Janga Puru is usually served with dhoco sia dungga sauce as a dip. For those of you who like it sweet, you can ask to add a spread of honey before the chicken is grilled.
It is not difficult to find a restaurant that provides Uta Janga Puru. You can find it in almost every tourist destination, especially the beach.
7. Uta Forward Puru
Have you ever eaten venison? For those of you who don't know what it's like to try Uta Maju Puru when visiting Sumbawa.
This menu is often used as a souvenir of tourists. Uta Maju Puru is deer meat jerky which is made by drying, then roasting.
The seasoning is very simple, namely only in the form of salt.
8. Shake
Still want to eat savory and fatty? Don't worry, Sumbawa culinary tourism has a lot of stock.
This dish called gecok is made from beef, liver and beef offal. The way of processing is frying and mixing the inputs in the typical sauteed spices of Sumbawa.
Don't forget the wuluh starfruit slices that make the taste even fresher. Gecok is also easy to find in roadside restaurants to the city of Sumbawa.
9. Rarit
You want to try other beef preparations? Sumbawa also offers a beef menu named Rarit. This dish is in the form of minced meat, then half-dried.
The rich spices give the rarit an appetizing aroma. Not only eaten during Sumbawa culinary tours, tourists usually make this food as a souvenir.
10. Uta Mbeca Ro'o Parongge
The next menu that you must enjoy while on a culinary tour of Sumbawa is Uta Mbeca Ro'o Parongge.
As an Indonesian, you are certainly familiar with Moringa leaves. Yes, this dish is Moringa leaves cooked into clear vegetables or sour vegetables.
Usually there is also additional kale or bean sprouts. It tastes so fresh and addicting. If you want to enjoy Uta Mbeca Ro'o Parongge, you have to come to a food stall in the city of Bima or Dompu in the morning.
11. Rampe
Some people may not like papaya leaves because of its bitter taste. But especially Sumbawa papaya leaves you can enjoy it without the slightest bitter taste.
The people of Subawa call this preparation rumpu rampe. The dish is in the form of sauteed papaya leaves with special spices.
Some restaurants sometimes add cassava leaves. This can be a healthy culinary choice during a tour.
12. Jawad
Are you full of heavy food? Now move on to the snack or snack menu. You must taste Jawada as a complement to Sumbawa culinary tourism.
This snack is made from rice flour, sugar, sap, salt, and coconut oil.
The way of making it is quite unique, namely using a coconut shell mold that has been perforated into small pieces.
From this mold will pour the dough for frying. Jawada has a triangular shape and is served with brown sugar.
The sweet and crunchy taste is perfect for accompanying your tour in Sumbawa.
13. Catemak Corn
As the name implies, the main ingredient of this snack is corn, which is processed like compote. Usually add pumpkin and green beans, then serve with sliced ​​brown sugar.
This sweet and savory taste is perfect if eaten while still warm. You can make catfish corn as a friend to start your tour in the morning.
See also:
14. Palopo Porridge
If generally porridge uses coconut milk, it is different from this typical Sumbawa porridge. As the name implies, Palopo porridge uses buffalo milk as a substitute for coconut milk.
Other additions are brown sugar and yellow eggplant boiled water. The question of taste is guaranteed to make you addicted, because the sweetness is just right and savory.
15. Assorted Sambal
Just like other regions, Sumbawa also has a variety of special sauces. You can choose according to the main menu.
Sumbawa's special sauces that have the most fans include sambah mbohi jame, tumi sepi, dhoco toma, sia dungga, and parado.
Sumbawa culinary tourism usually provides this as an additional sauce.
That's a list of menus that you must try while on a culinary tour to Sumbawa. Which one you can't wait to eat?
If you have a lot of time in Sumbawa, there's nothing wrong with tasting all the culinary menus that we have recommended.
Please prove the deliciousness for yourself with your beloved family and friends.
Appreciate us if you leave travela trace in the comments
Keep reading: want to know Gili's seabed world in Lombok? "
15 Typical Menus for Sumbawa Culinary Tourism Must Try