Complete Information on Gili Trawangan Lombok seems to be a complement to the paradise offered by the island of Lombok to tourists all over the world.
Island Lombok become the main destination of several foreign and domestic tourists due to the many natural and cultural beauty stored in it.
Name one of them Mount Rinjani which is famous for nature lovers and world climbers.
Complete Information on Gili Trawangan
The charm of the beauty of the island of Lombok is also complemented by the presence of so many small islands called Gili with white sand and beautiful beaches.
Gili Trawangan is one of thousands of dyke on the island of Lombok, NTB. In this article, we want to discuss and explain complete information on Gili Trawangan.
Until Travela can get more and up-to-date information when Travela makes Gili Trawangan included in your tour list.
The charm of Gili Trawangan Lombok
One of the other beauties it has to offer is Gili Trawangan Island which has extraordinary exoticism with marine nature and culture.
Even the beauty of the beaches on this island is not inferior to the beauty of the beaches in Bali.
Gili Trawangan with a length of 3 km and a width of 2 km, an area of ​​2,954 meters, latitude 8º 20º – 8º 23º South Latitude and longitude 116º00º – 116º 08º East Longitude.
Location of Gili Trawangan, North Lombok Regency, West Nusa Tenggara
Gili Trawangan is the largest of the three other islands on the tip of the island of Lombok. Two other small islands named Gili Menu and Gili Air.
Here is some complete information about the island full of charm Gili Trawangan that can help you when visiting there.
[spacerheight="20px"]
History of Gili Trawangan
There are many versions that present the history of the island of Gili Trawangan. However, some of the old buildings on this island seem to bear witness to the history that during the colonial period, this island was used as a prison for prisoners.
More than 350 prisoners who were rebels were exiled to this island.
The rebels are native tribes from Lombok who want to defend their area called the Sasak tribe.
Then came someone named Miss Sona who came from the tribe of the Mandar Balanipa kingdom (South Sulawesi).
From Jambianom, Medana Village, Tanjung District, North Lombok, Wak Sona then moved to Gili Air and brought his children and grandchildren and had many descendants until they spread to Gili Trawangan.
This will later create its own tribe and rules on the island.
One of the rules on this small island is, severe punishment for thieves. With sanctions that will not be forgotten for life.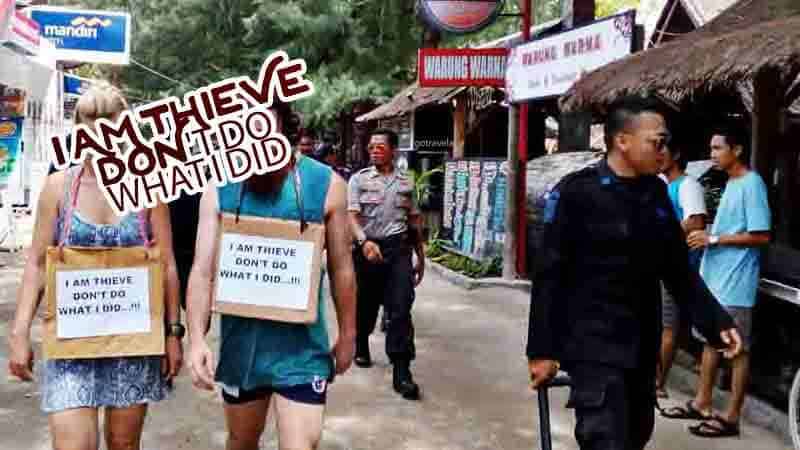 Sansi is paraded around the island by security island and carries a written necklace "I'M A THIEF / I'm thieve don't do what I did" applies to all those caught stealing.
Whether it's done by tourists or local residents will receive the same moral punishment before being brought to state law.
The meaning of the name Gili Trawangan
As for Gili Trawangan Complete Information, the name Gili Trawangan is formed from two words, namely gili and Trawangan.
Initially this island was called "frankly" or a turtle nesting place.
while said gili has the meaning of small island which describes 3 islands and small islands on the other side of the island of lombok.
Gradually the words frankly so difficult to pronounce and finally many people refer to it as Trawangan whose meaning and meaning is not much different from tarangang.
[spacerheight="20px"]
How to get to Gili Trawangan
Lombok to Gili Trawangan
There are many ways to choose from to come to Gili Trawangan and enjoy the charm of Gili Trawangan Island, but what is most often used is tourists stopping at the harbor ward.
Apart from the large number of public transportations from the Bangsal port, public boat tickets are only available Rp. 15.000 one way from the port also doesn't make your pocket hole.
For those of you who want to get to Gili Trawangan quickly, you can also rent a fast boat in Nare Bay.
The difference is only in the type of boat and the estimated time. From the Bangsal port it takes about 30-45 minutes to arrive at the Gili Trawangan island pier.
If you want to go faster, you can take a fast boat from Nare Bay which can be reached in 15-20 minutes, but at a different price of course.
Bali to Gili Trawangan
Another way to get complete information on the popular Gili Trawangan is from the island of Bali to get to Gili Trawangan quickly and easily by driving fast boat / fast boat bali gili trawangan.
This fast boat is operated by a number of fast boat companies in Bali.
For most tourists who live in southern Bali (Kuta, Sanur, Nusa Dua) ​​and want to continue their tour to enjoy the charm of Gili Trawangan.
Will go through how to go to dyke trawangan by ordering this fast boat departure from the port of Serangan Bali and Port of Padang Bai.
This is the best choice if you cross the Lombok strait from Bali Island. Meanwhile, the easy fast motorboat service departing from Serangan Island takes only 2,5 hours to reach Gili Trawangan and 1,5 hours from the harbor bai.
Most of these fast motor boat operator services provide the convenience of a further hotel pick up service at 07:00 before departing from Serangan/Padang bai for Gili Trawangan.
Current speedboat services available from Bali include:
Gili Getaway
Blue water express
Gangari Fast Boat
Eka Jaya Fast Boat
Scoot Fast Cruises
[spacerheight="20px"]
Transportation in Gili Trawangan
This is one of the unique factors why in complete information on Gili Trawangan, this island is a leading destination in Indonesia.
The unique factor is the prohibition on using motorbikes or any type of motorized vehicle on Gili Trawangan.
So the only transportation provided on the island is Cidomo or Andong (a horse-drawn carriage) managed by the Cidomo cooperative. CV. Beautiful January and only 35 cidomos only operate on the island.
The number of cidomo and the cost is much more expensive than using a taxi, especially during the high season or high season.
From the port of Gili Trawangan to the villa of the waves, Natya, Aston Gili during the low season only IDR. 60.000 but it's different when the high season can reach IDR. 250.000 per one way. Or you can rent a bike only Rp. 50.000/24 ​​hrs to be used as a means of transportation while on Gili Trawangan. This has an impact on Gili Trawangan's air which is protected from pollution and also far from noisy.
Back to nature is the right word to describe the healthy way of life promoted by the people of Gili Trawangan. Moreover, walking is not too tiring because to reach the north to south area it only takes 1 hour to walk with a distance of 5 km. So there's nothing wrong with exercising with a beautiful view on Gili Trawangan.
[spacerheight="20px"]
Hotels and Guest Houses in Gili Trawangan
Don't worry about housing problems on Gili Trawangan, because you can choose lodging according to the budget provided.
Starting from simple inns to 4-star accommodations are provided to satisfy the visit of tourists on Gili Trawangan.
The price also varies and is adjusted to the facilities provided.
Currently, there are many resorts that offer cheap lodging and directly face the beauty of the beach on Gili Trawangan.
Many people even offer their houses to be used as guest houses for tourists to stay when there are many visitors.
Of course, the price given is cheaper and lighter than five-star lodging.
[spacerheight="20px"]
Boat and Snorkeling Equipment Rental
The number of spots that can be visited for snorkeling and diving make many vendors offer snorkeling and diving tour packages in the Gili Trawangan sea.
Many boats can be rented which of course adds to the impression of your vacation being more enjoyable.
The price of the boat itself is not set expensive so you don't have to worry about enjoying the beauty of the Gili Trawangan sea.
In addition to snorkeling and diving packages, our boat also offers services around the island in the afternoon and morning so that you will get a different atmosphere when enjoying the sunset or sunrise.
[spacerheight="20px"]
Snorkeling Spot Area on Gili Trawangan
The snorkeling spots on Gili Trawangan are so wide that visitors can choose the right location. There are 3 spots that we will visit in snorkeling activities on the 3 gilis, namely
1. Spot coral garden,
2. Spot turtle point/ Statue
3. Spot blue coral / Bounty Wreck
There are three different locations for snorkeling and diving because they are distinguished according to the depth of the sea.
Indeed, the sea around Gili Trawangan cannot be separated from the observation of tourists because it has a warm temperature and relatively light currents, making it very suitable to be used to enjoy the underwater beauty.
For the price of snorkeling at 3 Gili's, it's certainly not too expensive, there are many variants of snorkeling that are laughed at, ranging from sharing boats, private boat snorkeling to diving.
In fact, many say (released: complete information on gili trawangan) that the underwater dyke trawangan is commensurate with the marine park in Bunaken.
For those of you who already have a diving certificate, then you can try scuba diving to get a memorable vacation on Gili Trawangan.
If you are lucky, you can swim with leopard sharks and turtles that are hundreds of years old.
[spacerheight="20px"]
Restaurants and Food stalls on Gili Trawangan
For the problem of restaurants and food stalls in this Gili Trawangan Complete Information article.
You don't need to worry because there are many menus ranging from the original island of Lombok to European food, all served in full, so you only need to choose the location.
Recommended Restaurant in Gili Trawangan:
Scallywags Restaurant
Restaurant Natys 1 & 2
Casa Vintage Resto Beach
Pearl Beach Lounge
Santi Lounge
Seafood is a typical dish ranging from lobster, clams and fresh fish you can find in five-star restaurants.
If a five-star hotel restaurant seems quite expensive, you can also try to stop by the night market. The name is Gili Trawangan night market, where there are many seafood culinary vendors.
Food stalls on Gili Trawangan
Also recommend if a traveler is looking for a local food stall typical of Lombok at a price that doesn't make a hole in the pocket.
Ibu Astuti's stall serves Lombok and halal specialties. The location is Gili spa/Gili Inn (ATM BRI Gili) and then enter the alley next to Gili Spa, about 2 meters away, the Wr sign is clearly visible. Mrs. Astuti.
Many friends from Jakarta also eat there after snorkeling – they also provide lunch boxes for snorkeling activities on the 2 Gilis.
There you can also meet merchants Jinggo Rice around which only offers packaged rice starting from Rp. 5.000 – Rp. 10.000 per pack with a menu of sea fish and Lombok's famous chili sauce, which is famous for its spicy.
Some of them also face directly to the beach panorama so that the waves and white sand will accompany you when you eat food on this island.
[spacerheight="20px"]
ATM (Automatic Teller Machine) in Gili Trawangan
For those of you who are on vacation to Gili Trawangan, you don't need to bring a lot of money because in addition to reducing the risk of crime, this method looks simpler and more practical.
Don't worry about the existence of an atm on Gili Trawangan because even though it is located far from the city and the mainland, the facilities in it will not be inferior to other tours.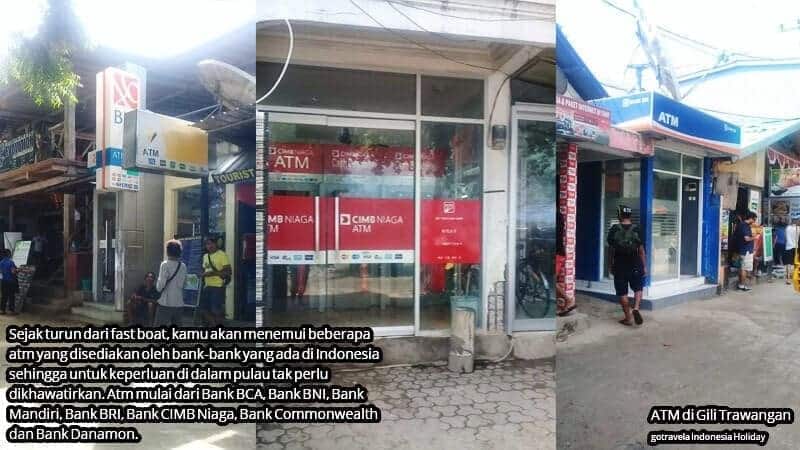 Since getting off the fast boat, you will find several ATMs provided by banks in Indonesia, so you don't have to worry about your needs on the island. Atm starting from BCA Bank, BNI Bank, Mandiri Bank, BRI Bank, CIMB Niaga Bank, Commonwealth Bank and Bank Danamon.
Moreover, the location of the atm is not far from the information center so it is easy to find and not worrying about carrying money.
So what about paying for hotel and food? Take it easy, because almost every hotel and restaurant is also provided with a debit or credit card for the payment system.
[spacerheight="20px"]
Nightlife on Gili Trawangan
You could say that the nightlife on Gili Trawangan is almost without a gap because it has its own schedule to hold beachside parties.
Unlike other beach tours that provide fun only during the day, on Gili Trawangan every day there are always small parties lined up on the beach playing typical beach children's music.
The night club / Gili Trawangan nightlife that presents parties on Gili Trawangan is carried out in rotation from Monday to Friday and when entering Sunday and Sunday night all nightclubs party together.
Schedule starting from 9 pm to 3 am, it can even be up to 5 am if the conditions are busy in high season.
In complete information on Gili Trawangan nightlife, here are some nightlife clubs that are available Tuefavorites:
You're welcome
jiggy jig
sand bar
Evolution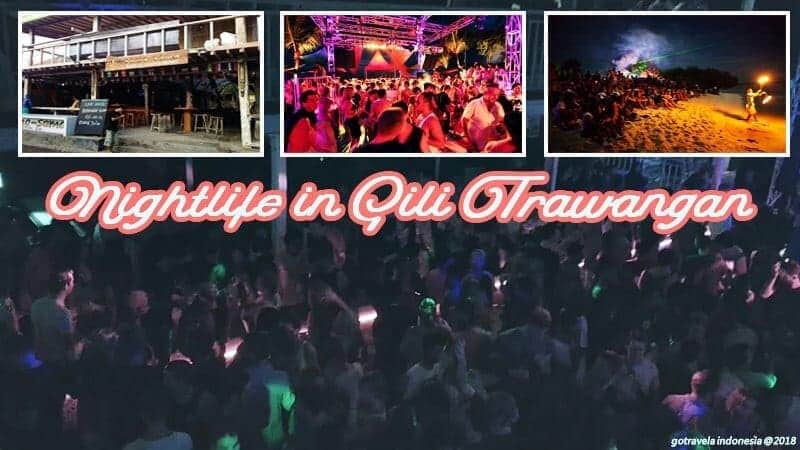 All visitors are immersed and immersed in the music and dance around the bonfire which is kept lit.
That's why tourists often prefer to stay and stay on the beach because in the morning they will find fresh air accompanied by a beautiful sunrise panorama.
Complete information on Gili Trawangan source: Gili Trawangan Indonesia, Gili Trawangan Information, Gili Trawangan, North Lombok Regency, West Nusa Tenggara, complete information on Gili Trawangan Maps, Gili Trawangan Nightlife, Gili Trawangan Attractions, Gili Trawangan Party Night, Gili Trawangan Snorkelling, Gili Trawangan, Gili Trawangan 2024, Lombok trawangan party, Gili Trawangan Lombok, Gili Trawangan weather, Gili Trawangan guest house, How to get to Gili Trawangan
This is the complete article on Gili Trawangan Lombok Information Page | We present the charm of Gili Trawangan Tourism 2024 for loyal readers and travelers of Gotrawangan Indonesia.
See also:
Hopefully this page is useful for all readers and becomes the best reference when you want to travel on Gili Trawangan Lombok.
Greetings tourism – Alfonso giostanov
Destination Management Bali – Indonesia – Directions to the Archipelago
Appreciate us if you leave travela trace in the comments
keep reading: Want to know interesting facts on Gili Trawangan? »